How to Get More Followers on Twitter – From Zero to Hero

19

min read
Reading Time:
12
minutes
In the words of Robert Downey Jr's Twitter bio: "You know who I am". Ok, so maybe people don't know who you are just yet. But how do you start getting more legit followers on Twitter?
This isn't a game of numbers. Because, lots of followers don't equal increased engagement. But unlike other social media platforms, Twitter has a 100% reach (yay!) But here's the catch: only with your followers and theirs.
That's why it's important to build a strong network of supporters who are genuinely interested in your brand and content. The more engaged followers you have, the more potential for conversions.
Are you upgrading your current social media marketing plan with a Twitter account? Or simply looking to measure your vanity metrics? Either way, you've come to the right place. We'll cover:
Why are Twitter followers important?
It's no accident that most industry leaders are on Twitter.
There are a lot of variables within the various social media sites. From user demographics to the optimum number of daily posts. t's clear that businesses and brands shouldn't be just on Facebook, Instagram or LinkedIn.
Your Twitter feed can be used as part of your marketing strategy to help paint a picture of your target audience. You can also use it to keep an eye on the competition by connecting with brands and companies with similar interests.
Twitter followers are valuable. And they can turn into product or service purchases:
There are over 230 million daily monetizable active users worldwide. This means you can focus your marketing efforts towards global potential customers.
Types of shareable, valuable content
If you're looking to increase your following naturally, the journey begins with great content.
Creating your own content can be fun, but it's time-consuming. This is where curation (and Quuu) can help.
You might have the world's sexiest Twitter profile and post regularly at peak times. But if your content is rubbish, people won't want to follow you.
It needs to be valuable and high quality. So, here are some examples to get you started:
Images
Did you know, according to an MDG Advertising study, posts containing images receive 94% more views?
Humans are visual creatures. So, this statistic isn't too surprising. But that doesn't mean any visual is okay. Some of the top dos and don'ts from Venngage when it comes to images on social media sites are:
Don't use boring stock images: There are too many talented photographers out there. Do some research and always make sure to credit the source.
Do create templates: These can be a great way to keep your feed original, create some consistency, and even include your company branding.
Don't use bland colour schemes: Keep it interesting with vibrant, bold choices.
Do use drawings and illustration: These can be as detailed or as simple as you like. It'll still stand out in a feed full of photography.
Another form of image (and sometimes video) you can't have missed is the 'meme'. Defined as "a digital file that is spread via the internet'" – these are usually funny, or ironic.
According to Richard Dawkins (who coined the term in the '70s) a viral meme must be replicable, spread rapidly and have longevity. We're looking at you Sean Bean.
Infographics
An infographic is a visual representation of any kind of text or information (scroll back a little to see one in action!).
Although these can technically fall under the category of 'imagery', these babies are so powerful they deserve their own heading.
There are many reasons that infographics can boost your content marketing strategy:
Detailed text is easy to read and process
SEO can be boosted (because other blogs will link back to your page)
They're extremely shareable
Brand awareness can be increased
What more could you ask for?!
GIFs
Want to upgrade your regular non-moving image but still appeal to your Twitter followers who haven't got time to watch a video? Enter the GIF.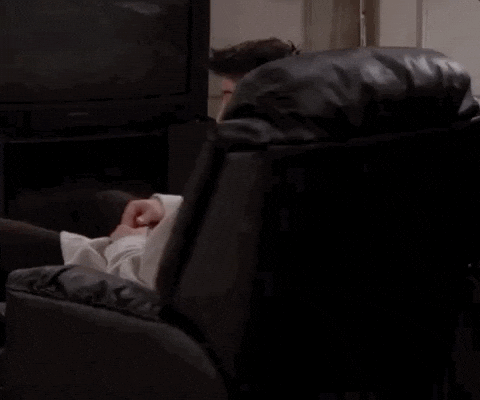 GIFs can be a great way to showcase your brand personality. They can also add some charisma when engaging with your followers. Or, use them to tell a story or explain instructions in a visual format.
Whatever the reason, we at Quuu are here for it.
Videos
It's no secret that video is currently dominating social media. But don't think its only goal is to increase engagement. You can use it throughout the entire customer buying journey. And it can all begin on your Twitter account.
There are many examples of how video can be used in content marketing. Here are a few to get you started:
Branding – give your followers an insight into what you're all about!
Expert interviews – find your industry influencers to entertain/educate your followers.
Educational and 'how-to's – demonstrate how your product works or teach your viewers something new.
360° and virtual reality – allow viewers to see your content from every angle, real or fantasy.
Go live – give a 'behind the scenes' look into an event or your business itself.
How to update your Twitter profile
It may seem like an easy one but first impressions matter. Like Tinder, you're trying to reel in your potential followers with your profile's good looks and cracking personality.
But wait. You've only got a small photo, a link and a couple of lines to get your whole vibe across. It has to be as slick as Paul Allen's business card (without the unfortunate result.)
There are many things you can change on your profile. Some of these more regularly that others (depending on branding updates or marketing plans.)
To briefly outline, these are your:
Twitter handle
Profile picture and header
Twitter bio and link
Pinned tweet
Twitter handle
There are currently 200 million daily active users on Twitter. With millions of inactive accounts on top of this, your preferred username could be gone. Unless your business is a registered trademark, there's sadly not much you or @TaylorSwift13 can do about this.
Anyway, the main things to remember when picking a handle are; keep it relevant, short and catchy.
Profile picture and header
If your profile photo is a logo, make sure it's optimized for Twitter feeds. So it stands out and is instantly recognizable.
If you're using an image of yourself or a team member, make sure to choose a high-quality, professional-looking shot. Not something that looks like it was shot on a potato during Spring Break.
Check out this example of a great profile picture (which is in no way a form of product placement whatsoever).
Top tip: don't forget, profile photos on Twitter have been circular since 2017!
Now, this doesn't need to be a plain background, white shirt and tie affair. Different styles of images will work for different industries. So use common sense when deciding what will best represent your brand.
When it comes to your header image, this is pretty much your headline for your Twitter profile. Just like when you speed down the highway with billboards flying overhead, there are usually only a few seconds to get your message across.
With that in mind: keep it simple, make it bold, and don't forget to size it correctly.
Twitter bio and link
Your Twitter bio is your first (and possibly last!) chance to inject some personality into your profile and convince new followers to climb aboard.
Unless you're a household name, this is a brilliant time to focus on SEO. So, head to Google and do some research on keywords.
This is also a great place to highlight your brand voice. But remember to keep your target audience in mind when choosing your tone and language.
If you have a company website or blog, great. Get that linked up to drive traffic that-a-way.
Pinned Tweet
If your potential followers are impressed by your initial Twitter 'business card', their next move will be your feed.
Maybe you're pushing a current marketing campaign or once tweeted something popular that you're proud of. Use your pinned tweet to draw attention to what makes you and your brand unique.
Stay active and be present
How often should you post?
One of the most frequently asked questions when it comes to Twitter is "how often should I be posting?"
There are so many social media platforms (each with their own unwritten set of rules). So, it can be difficult to find that sweet spot to keep your audience engaged without spamming their feeds.
Studies have varied widely – with their results ranging from 1-51 times per day!
If you came here expecting a magic number, we're sorry to tell you folks…there isn't one.
The optimum number of posts per day differs depending on your particular business, target audience and industry. We know you don't want to hear it but the key to social media marketing success is trial and error.
Be consistent
So, you've figured out how often you should be tweeting. The next stage to master is consistency.
Create a daily schedule that'll ensure your content is being posted regularly and at optimum times. You may be sipping cocktails on vacation, living your best life. But your loyal followers still want to hear from you.
This handy guide from SproutSocial even tells you the best times to post for your industry.
Engage with Twitter followers
Congratulations! At this stage, you should have earned some followers.
While it can be nice to have a large number of followers, a smaller list can actually be easier to manage.
If you've posted some great content and people are engaging, the next stage involves something very simple – engage back.
There are many ways to do this:
Retweet/Reply
Mentions
Direct messages
Twitter lists & chats
Retweet/Reply
So, you've mastered your post timings and you're posting high-quality content with the help of some tools. But people still need to know there's a human behind the account.
By regularly chatting with other users (via retweeting and replying), you can get to know your followers on a more personal level.
These particular tactics won't work for everyone, but fast-food chain Wendy's is a great example of this.
When they started this new strategy, users found their unique take on typical corporate responses hilarious and refreshing. The sarcastic, sassy tweets quickly went viral.
Though it may seem too easy to be truly effective, retweeting your fans and followers can also help introduce you to new ones.
With 94% of shoppers revealing that a negative review has convinced them to avoid visiting a business; if you find a positive product review on Twitter; a simple retweet could be the difference between a customer gained or one lost forever.
Mentions
Mentions are one of the easiest ways for Twitter users to directly communicate with businesses and people. But what if people don't use them when talking about you? This can mean you miss relevant conversations and lose out on potential followers.
Social listening can help you see what is being said about your brand on social media, without you having to go looking for it.
You can do this yourself on some level by using Twitter's advanced search option and inserting specific keywords. Or you can use tools like Mention, which will track mentions from across the web.
Direct messages (or DMs)
If you're not free when someone sends you a DM, you could use automated direct messages to send a quick welcome message.
According to Twitter Business "people can start engaging with your chatbot immediately…before a person has time to read the first message, enabling much faster and easier resolutions".
Twitter's instant nature makes it an ideal platform for customer service.
Using DM's to handle enquiries or complaints can also steer any negativity away from your feed, while adding a more personal touch. Better yet, use a separate Twitter account to handle support queries.
Twitter Lists & Chats
If you've no idea what these things are:
A List is a curated group of Twitter accounts
A Chat is a scheduled, real-time conversation between a brand and its following (focused around a specific hashtag)
Lists can be a great way of streamlining the accounts you follow. Interacting with the same people repeatedly is a great way to build relationships, whilst also allowing you to keep secret tabs on the competition (shh).
On the other hand, Twitter chats are a very public affair that can provide an excellent way to discover new audiences and followers.
If you're new to the concept of Twitter chats, check out this great guide on how to start one from scratch.
Top tip: whatever form of engagement you're focusing on, check out your Twitter analytics. These can provide brilliant insight into your account, followers and Twitter as a whole.
Finding followers outside of Twitter
Your current social network
Up until now, all of our efforts have revolved around finding new followers within the Twitter boundaries. We all know that it's much easier to retain a customer than it is to find a new one. So why not start by contacting your existing networks who are already interested in what you have to say?
Look at your other social media sites too, such as your LinkedIn. A link to your Twitter on that page could entice connections over there.
Many bloggers will also include a share or follow button on their posts for those who enjoy their content. Why not do the same?

Another simple tip is to edit your email signature to include your Twitter handle. This is so quick and easy, you'd be a fool not to!
The power of influencers
If you've done everything you possibly can and have cleaned out your network, it may be time to enlist the help of influencers in your industry.
This type of influencer marketing can range from costing nothing to some ridiculously large sums of money.
If you're looking to go down the cheaper option, start by making a list of all the accounts and blogs you read that inspire and educate you. Note down all the ways you can connect with them.
There's a fine line here between being engaging and just plain annoying. Make sure you don't overdo it when getting in touch or this could result in an unfollow or two.
If you are creating impressive content (and we know you are) then higher-profile figures in the same industry as you should find it genuinely valuable. They may end up showcasing your brand for nothing.
Some of the best practices for achieving this are:
Tagging them in your Tweets
Retweeting their relevant updates (always adding a personalised touch)
Connecting on other social networks
Attending the same events and meeting face-to-face
Use hashtags
What is Twitter without hashtags? They can be your best friend or worst enemy.
Relevant hashtags can maximise your brand reach, if used as part of a sound Twitter strategy. However, while they are important, you need to limit their use or you risk looking spammy.
Engage with your target audience
The humble hashtag was first brought to Twitter in 2007. Its purpose was 'gathering discussions and online exchanges' for specific topics. The same rules apply today.
You can make your witty remarks visible in trending conversations and start reeling in the likes, retweets and new followers.
It can also help to check out your competitors. This can be a really simple way to dip into the same hashtag pools and help your target audience find you.
Don't forget about Twitter Analytics, either. These can be a great tool to find the top-performing hashtags related to your business.
Build your brand
While getting involved in current conversations can be extremely valuable, why not consider building your brand with a unique hashtag campaign?
If you do, remember to do your research and set focused goals when designing your campaign to ensure the best chance of success.
A great example of this is Charmin's #TweetFromTheSeat campaign which is STILL ongoing!
Need some help?
Websites like Hashtagify can be an awesome help if you're new to using hashtags or want to up your game.
If you're struggling as to where to start, you can get "instant hashtag suggestions for images and text on desktop and mobile". All based on real-time engagement.
Otherwise, if you already know what you want to say but just need a little assistance, you can get hashtag suggestions for a particular word or image.
Conclusion
Getting more followers on Twitter is a game of patience. You need to focus on creating valuable content for your followers without asking for anything in return.
It's frustrating, but you need to make sure you can be present on the app daily. Post your own content, but make sure to engage with everyone else's too. Twitter is a balance of give and take. Make the most of hashtags too (but don't go overboard.)
You've got to be in this for the long run to see any results. So, get that profile updated and let's get to work.
We would love to hear how you get on with these tips. Please let us know if there's something we've missed that has helped you grow your follower base in the past!
Source: GIPHY