8 Content Curation Strategies You Need To Know in 2020

12

min read
Reading Time:
7
minutes
We've written an updated version of this post for 2022. Check out: "6 Essential Parts of a Solid Content Curation Strategy" once you're done here!
It is no secret – the demand for relevant and exciting content is always growing. As such, brands must increase the amount of engaging content to retain the attention of their audience in 2020. This raises the critical question – should brands only share the content they create? 
The answer is no. Sharing only the content brands create in-house has limited scope. A wiser idea would be to curate content from multiple reliable sources, create a pool of valuable and unique content, and keep sharing it with the target audience.
Content curation is a powerful tool for growing your customer base while saving time and money on quality content creation. Getting more done with less is what every business strives to achieve irrespective of its size. This is what content curation does for an organization.
What is Content Curation?
Content curation is the practice of searching and identifying meaningful content that is generated by third parties and sharing it with your target audience. Given the benefits it provides, curation has become an integral part of a great content marketing strategy.
With the high volume of information available online today and the reducing attention span of readers, curating enables marketers to share content that is both valuable and convenient for their target audience.
From seasoning blog posts with essential statistics to sharing articles from influencers or industry leaders on social media, content curation has no boundaries. There are many spaces where curated content can be shared. These include blogs, emails, newsletters, and social media platforms.
Why Content Curation?
In a 2017 survey, 49% of B2B marketers identified content creation as one of the challenges that contributed to the stagnation of their content marketing efforts. Content creation is resource-intensive, yet 55% of marketers have small teams for developing their own content. This means they don't have sufficient workforce inhouse to build relevant content consistently.
A content curation strategy can help address this problem. By finding and sharing the best content that resonates with the audience, marketing teams can grow their thought leadership, improve relevancy, increase efficiency, and bolster their editorial calendars. Besides, digital curation can also lead to
Higher search engine ranking (SEO)
Increased brand visibility
Increased website traffic
Improved customer engagement
Building thought leadership
Further, 85% of B2B content marketers attributed content curation to their organizations' increased success.
So, what curation processes can help your business achieve their content marketing goals effectively?
Understand Your Target Audience
Successful content curation begins with understanding your target audience. Most marketers create buyer personas for the same. Whether you decide to do this or not, asking yourself some questions will give you clarity on the needs of your audience. Some of these are –
What does your target audience look while seeking information?
What is their greatest need – do they want to be informed, entertained, or inspired?
What content do they share on social media?
Do they prefer reviews and comparisons, or are they into new industry trends?
The most effective way of knowing what buyers want is by conducting online surveys. For this, put up questions that enable customers to express their desires. Consider:
Asking open-ended questions. Instead of asking, 'Do you like posts about cars?', ask them, 'What kind of posts would you like to see often?'
Asking your audience to prioritize options
Allowing customers to share their suggestions
2. Have a Clear Content Curation Goal
Knowing what you want to achieve with content curation is critical because it will determine the kind of content you share and where you share it. There are four strategic benefits of content curation. You can turn each of these benefits into a goal.
With this goal, you provide sales enablement content that is relevant to your prospects or leads at specific times during the lead nurturing campaign. Also, you don't have to wait for a campaign to share content. If you feel the content is helpful, you can directly share it with your prospects. The best way here is to have a sales enablement content strategy in place, as it helps you pick the right content.
Here, you curate content that enables you to showcase your in-depth understanding of an industry, the community and the needs of your customers
A great example of a company that curates for thought leadership is INC.com. The site has an 'Expert' section where it curates content from experts and influencers from which leaders are happy to learn.
Source – Inc
Search engine optimization
Here, you share curated content in the form of intra-page links, infographics and summarized articles on social media to increase your ranking on search engines
By reviewing content produced by third parties continuously, you get the hang of what's going on in the industry. This helps you come up with new ideas for creating original content.
3. Curate From Credible Sources
With the vast amount of information available online, there is so much content to choose from. The only challenge is – how do you find high-quality content that is relevant to your audience? Having pre-defined criteria during the curation can help ensure you only curate and share credible content. Here are several aspects you could consider including in your criteria:
Criteria
Focus
Credibility
– How trustworthy is the source of the curated content?
– Has the website where the content is published distinguished itself in a way that earns it respect among readers?
Relevance
– Is there relevant information for your target audience?
– Does it address their needs?
Validation
– Is it possible to verify the accuracy of the content?
– Has the content creator linked to data sources, and can people who are quoted be validated?
Value
– Does the content provide value to you and your target audience in the form of new insights, ideas, strategies and trending topics?
It is important to note that any time you share content with your audience, you give it a nod of approval. This means you need to read every article you curate before sharing it.
4. Share Unique Content
In sharing content that you have curated, you must make the content unique and attractive to users. One way of making curated content appear unique is by adding your opinion or giving it your own spin.
Also, you can contextualize the content you share based on the communication channel that you are using. For instance, you can ensure that the content you share on Twitter or Facebook is newsworthy. On other platforms such as blogs and websites, opt for evergreen or fresh content on a specific topic, and avoid sharing outdated pieces that are more than one or two years old.
Source – Unsplash
5. Be Ethical
Content curation should be approached ethically. Companies that include curation in their content marketing strategy should observe the three golden rules that successful curators tend to follow. These are:
Respecting Copyrights- not infringing on them deliberately. You can do this by avoiding over-reliance on a handful of sources.
Crediting bloggers, content owners and thought leaders prominently in every piece of content. The most obvious way to do this is to always reference the source by linking back
Adding value to curated content. One way of doing this is by avoiding sharing the original content as it is. Give it your own twist. Sprinkle it with your opinions and insights, while encouraging readers to click on the source for more.
6. Leverage Content Your Readers Haven't Discovered
Ever seen a famous musician share a great video of an upcoming artist that people have never heard of before? He or she gets very excited about it, and so does the audience. You can do the same with content too. Find and share valuable content that your readers haven't discovered yet in a way that impresses those who created it.
By doing this, your website quickly becomes the go-to place on Google for readers who want to read great content. To grow your following and brand awareness, you need to be a trend finder and analyst. One of the ways to find undiscovered content is through the use of Twitter feed – RSS.
This Twitter feed sends you an alert as soon as articles get posted, even before companies promote them. These alerts present you the opportunity of sharing fresh content, promoting the content owners, and elevating your brand visibility.
7. Add Real Value to Curated Content
How you frame the first sentence of a post matters a lot. Whether you are curating for a Tweet, Facebook, or a blog post, this sentence can determine how effective your curation would be. Instead of auto-sharing article headlines just as they are, take a few minutes to add your thoughts to contextualize it. Dress your content well so that it sticks with the audience.
Good curation includes gathering information from credible sources and adding something new to it to make it interesting and worth sharing. Some effective ways to add unique value to curated content include twisting words, adding opinions, or commentary. This also gives a human touch to the content, which helps readers connect in a better way.
See the content curation example below-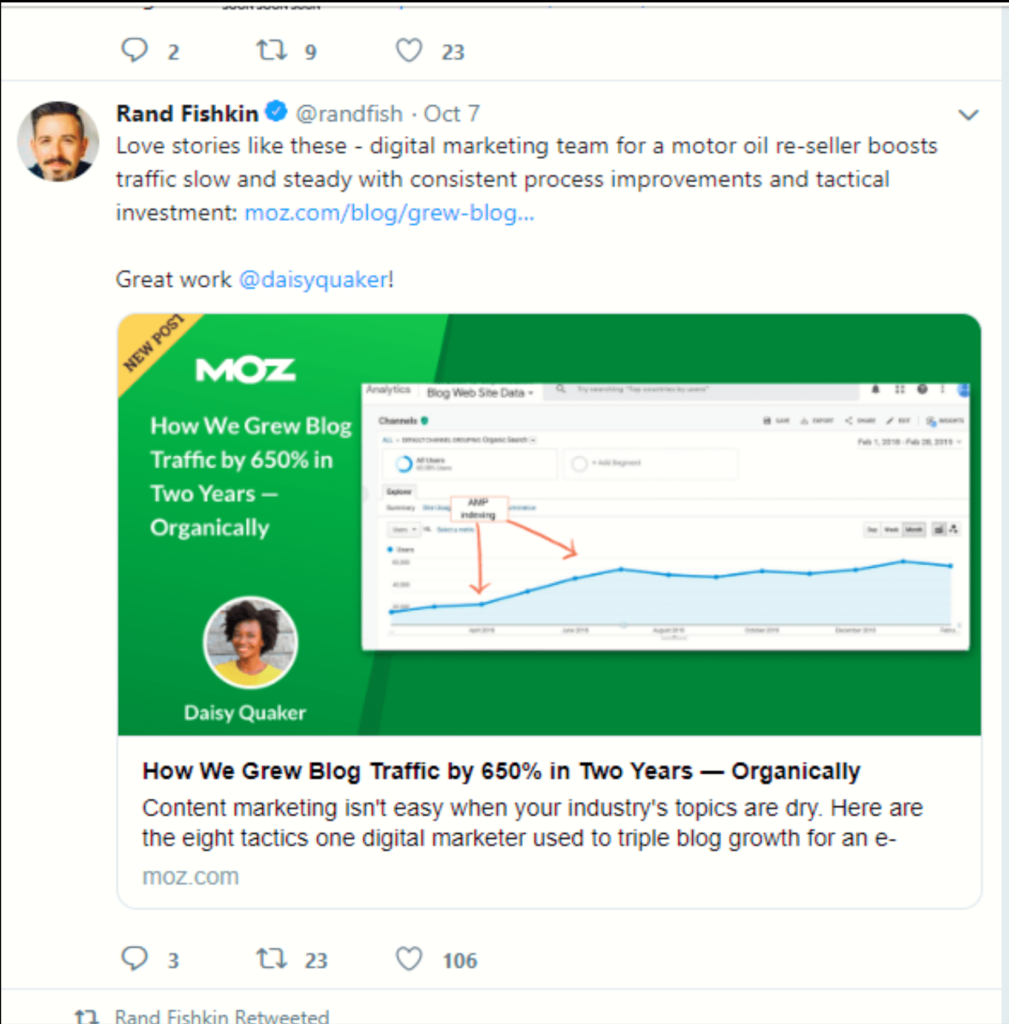 Source – Rand Fishkin's Twitter
8. Evaluate the success
Like any other marketing strategy, the impact of content curation can only be established when there is a deliberate effort to evaluate its success. Marketers need to identify metrics for measuring the impact of each platform that a company uses to share curated content.
The table below shows some of the metrics that businesses use to track the impact of their content curation efforts and what they mean for firms.
| | | |
| --- | --- | --- |
| Platform | Metrics | What it means |
| Email lists | Growth in subscriptions | Increased subscriptions indicate a rising interest in curated content among visitors. |
| | Click-through rates | Indicate content relevance. |
| | Opt-out or unsubscribe rate | Indicates loss of interest in curated content. |
| Blogs & Websites | Number of visitors and page views | Focus on the number of repeat visitors as this points to the trust that they have in your content. |
| | How long visitors take before visiting the site or blog again | This enables you to establish visitor trends – weekly, monthly and much more. |
| Social media | Changes in the fan or follower base | Increased social shares and viewership could indicate increasing interest and content relevance. |
| | Retweets | Increased retweets also indicate interest and content relevance. |
Wrapping Up
Content creation is one of the biggest challenges that marketers struggle with. With a shortage of time and limited staff, content creation is an uphill task. Content curation provides a great alternative to this. It saves time while ensuring that marketers are able to share valuable content that their readers want.
It can increase customer engagement by attracting shares and drive traffic to your site. It provides you with opportunities to open dialogue with influencers that you wish to connect with. Use the eight strategies discussed above to power your content curation strategy.
There are several content curation tools that marketers can use to curate great content. These include, but are not limited to:
Whatever you use there's no denying the importance of content curation within any team's marketing strategy in 2020, it saves time, money and positions you as a brand which is on-the-ball.
What are your tips and experiences of content curation? Are there any methods or tools that you use that we've missed in this post? Let us know in the comments below or via social media!