Influencer outreach: how to connect with micro-influencers

8

min read
Reading Time:
6
minutes
Do you want to reach your target audience on a more personal level, and make them feel like they can trust your brand? One of the most effective ways to do so is an influencer marketing campaign.
But instead of working with top influencers, you may want to consider working with micro-influencers. Micro-influencers drive higher engagement rates than top-tier influencers. And they are an effective way to reach a highly targeted audience, and gain their trust.
The thing is, even though micro-influencers may seem like everyday consumers, it can be challenging to find, and connect with them.
How to Evaluate Micro-Influencers: Metrics to Consider
Don't just go around pitching every micro-influencer you can find. First, you need to start with a clear idea of what will make a micro-influencer a good fit for your brand.
There's no single "perfect" micro-influencer for every brand or campaign. But there are some essential metrics you should consider when filtering out the wrong influencers from your list.
To determine whether or not a micro-influencer is right for you, consider the following:
1. Relevance
First of all, it's important that the micro-influencer will be able to reach a relevant audience. They have a smaller reach than other influencers. So you need to make sure that their followers are the types of consumers you want to target with your campaign. Which means that you need to make sure the influencer is relevant to your brand, industry, niche, and/or campaign.

For example, health and fitness micro-influencer Sadie Jane Sabin promoting a healthy probiotic drink in the following screenshot can be deemed highly relevant.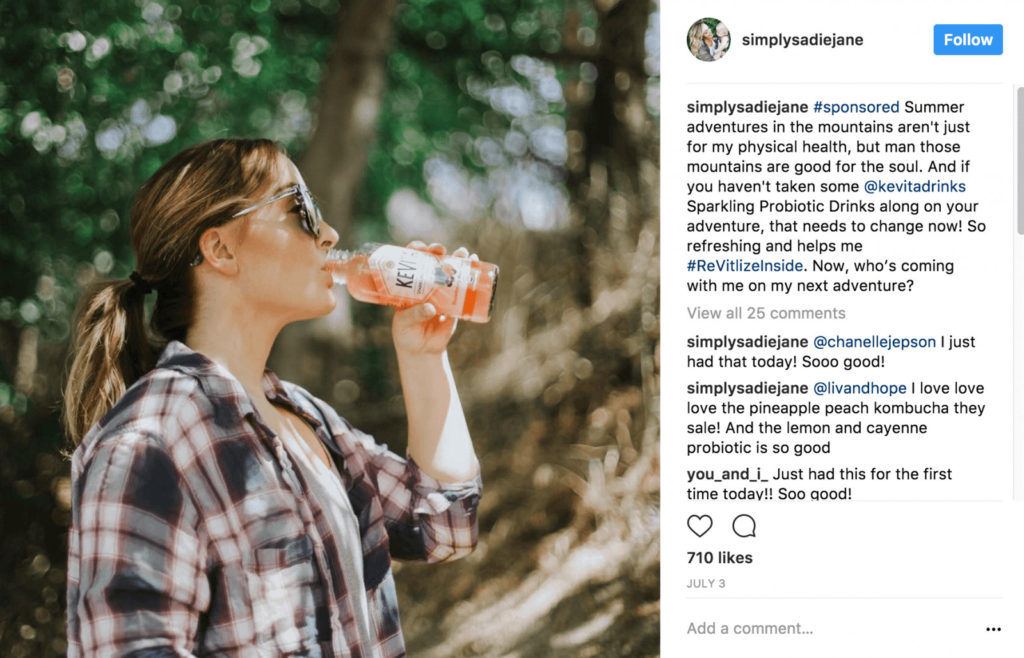 2. Content Quality
Another crucial factor to consider is the quality of an influencer's content. Take a look at the content created by some of the influencers you like, and see if they are creative enough in their positioning of brands and products.
Are they able to seamlessly blend promotional or sponsored content with their usual content, and still maintain their authenticity? Also make sure that the aesthetics of their content is a good fit for your brand's image.
Usually, you can look at the influencer's Instagram profile, and examine what kind of aesthetics their posts maintain. Bright and uplifting, minimal and neutral, dark monotones, etc. are some of the common aesthetics you'll find. Just make sure you pick influencers whose aesthetics fit with the message you want to deliver.
If an influencer isn't relevant to your brand or campaign, or if they often post content that's less than high quality, you should avoid wasting your time connecting with them. They likely would not be right for your campaign.
(These are just a few of the most important metrics to consider when searching for micro-influencers. Check out our latest post on 'How to Reach Out to the Right Micro-Influencers for Your Small Business' for more guidance!)
How to Connect with Micro-Influencers: The Right Way
According to Econsultancy, one of the top three influencer marketing challenges is to get the attention of influencers, and engage them.
You may think that micro-influencers will be easy to approach, but that's not necessarily the case. It's important to remember the main reason why micro-influencers are so unique is because they are authentic.
And for this reason, they value authenticity, and want to make sure they provide their followers with only the most honest opinions. So it's no surprise that they prefer to promote brands and products that they truly love.
That's why you should approach micro-influencers very carefully. And then work on building and nurturing your relationship with them before you ask them to promote your products or services.
Here are a few tips to help you connect with micro-influencers effectively:
1. Start with Social Media Interactions
Since micro-influencers value authentic relationships with brands, the best way for you to begin your connection is by befriending them.
Follow them on social media, and keep up with their activities. To begin your friendship, like, share, and comment on their posts.

Some influencers may be unresponsive to comments on their posts. If possible, try finding micro-influencers who often engage with their followers, and make an attempt to start a conversation with them.

If you've chosen a micro-influencer who consistently has a high engagement rate, it's likely that they will notice your likes, shares, and comments quickly. To strike up a conversation, comment on a micro-influencer's post with a compliment and a question.
Take a look at the following post from micro-influencer @aldentediva, for example.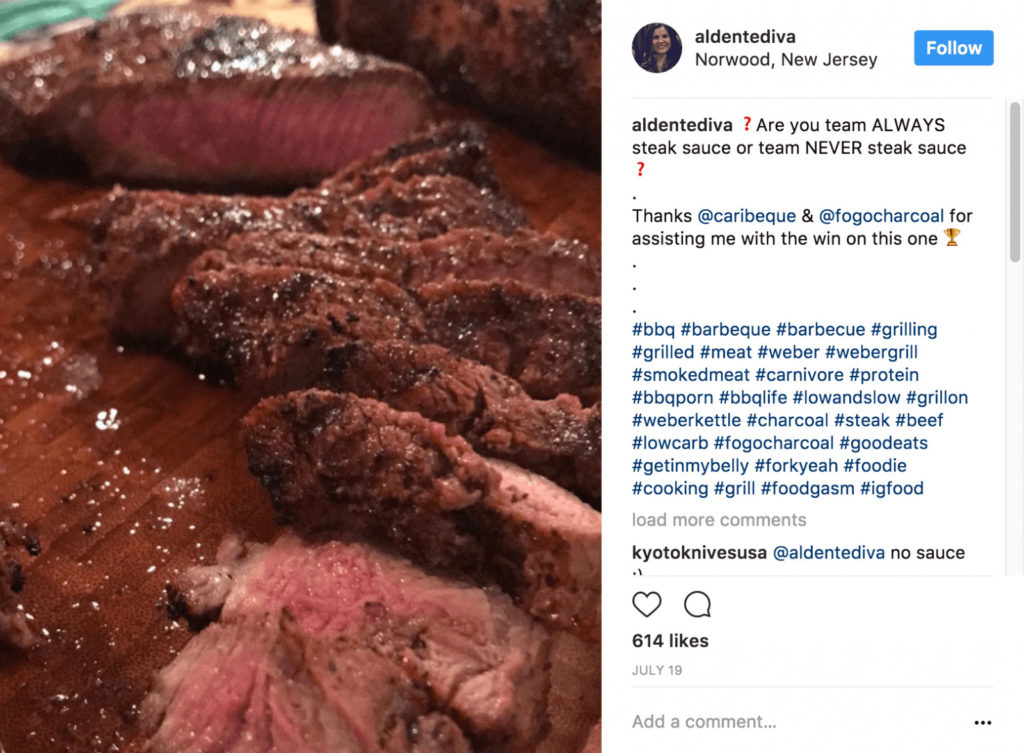 She asked her followers a question about whether or not they prefer steak sauce. That's a sign that she was attempting to start a conversation with, and engage her audience.
And if you go through the comments, you can see that she's responded to all of her followers. Which is a good sign that she would respond to you if you commented on her post.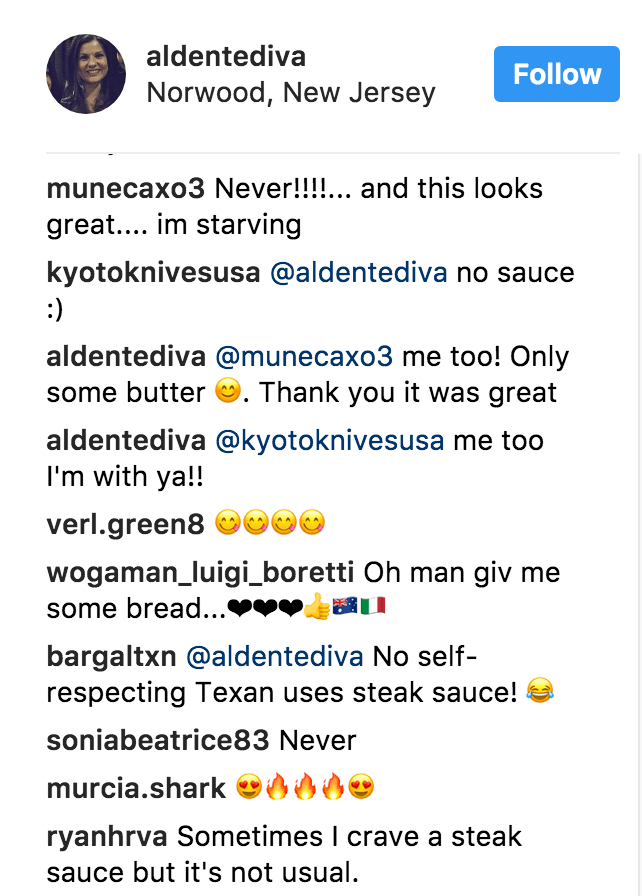 If this were a relevant influencer for your brand or campaign, you could follow her, and try engaging with her content on social media until she becomes acquainted with you.

You can even try reposting or sharing photos and videos from influencers if they're relevant to your brand. This is an excellent way to stand out from the hordes of comments influencers may receive on their posts.
2. Look for Influential Fans and Followers
Influential fans and followers are the best types of micro-influencers to work with, regardless of your industry or niche.
Since these influencers are already huge fans of your products, you won't have to spend as much time and effort to convince them to work with you compared to an influencer who isn't familiar with your brand.

You can try conducting branded hashtag searches to look for micro-influential users who are already posting content about your brand. And you can also look through tagged photos of your brand to see if there are any micro-influencers who have tagged you in their posts.

There's also the option of going through your list of social media followers to see if any of them fit the role of your ideal micro-influencer. The chances are that these micro-influencers already genuinely love your products, so your partnership with them would also seem more authentic.
You can just send them a direct message on social media, or even email them about a partnership opportunity.

Brands like Spartan Race have implemented this technique of activating micro-influential fans, and have experienced impressive results. According to a case study by Scoutsee, the influencers Spartan Race worked with generated 39.9% click-through, and 10.1% conversions.

3. Be Direct and Honest
Although you initially started out by befriending micro-influencers, you need to be direct about your intentions when you do approach them for a partnership. Whether you send them an email, or a direct message on social media, try not to beat around the bush as it can frustrate the micro-influencers.

Lay out the exact reason why you wanted to connect with them. Include why you chose them specifically, and what goal you want to accomplish with your campaign. Don't forget to talk about your compensation plan. This will give micro-influencers the feeling that you're honest, and you don't want to waste their time.
Your outreach email to them should go something like this:
Hi [Influencer's name],

I've been following your posts on Instagram/Facebook/Twitter for a while, and I absolutely love them. My name's X, and I work for BRAND/BUSINESS. My team and I have been in search of content creators like you to promote our latest line of products.

So I wanted to reach out to you to see if you might be interested in checking out these products. If you are, I can send a few free samples to you right away for you to review. And it would be awesome if you could share your thoughts and feedback with us, and maybe even your fans.

Although we're a startup on a limited budget, we can still discuss some compensation options if you'd like. We value your time and creativity. Please let me know if you're up for a discussion.

I look forward to your response.

Thanks in advance,
X

For social media messages, you can start with a simple message that states that you're interested in discussing a partnership opportunity with them. If they respond, you can go into more detail.
Conclusion
These are some of the best ways to find, and connect with the most effective and relevant micro-influencers for your influencer marketing campaign. Remember, you should be friendly and honest with influencers, right from the start.
To maximize your campaign results and ROI, it's also important that you work on building, and nurturing strong relationships with influencers.
Do you have any tips to add? Or any questions about connecting with micro-influencers? Let me know in the comments below.
Further reading:
How to find the right micro-influencers for your small business