If you own a small business, chances are you have some budget limitations. These limitations can be a huge setback when launching influencer marketing campaigns, and might make you avoid them altogether.
But there's good news! You can still launch a successful influencer marketing campaign, even on a budget. The key lies in micro-influencers.
Micro-influencers are influencers who have a small following, of about 1,000-100,000 followers. This is a small number compared to the tens of thousands (or even millions) of followers their macro counterparts have. But working with micro-influencers still offers plenty of benefits. For example, they can drive higher levels of engagement, and help you gain the trust of your target audience.
What to Look for in Micro-Influencers
So you're interested in finding micro-influencers to help you with your influencer marketing campaign. But before you begin your search, you need to know the qualities that make for a good micro-influencer. When shortlisting potential micro-influencers to work with, ask yourself the following questions:
Are They Relevant?

The most important characteristic to look for in a micro-influencer is their relevance to your industry or product. Micro-influencers are often niche experts. They have an audience of people interested in said niche. For example, beauty bloggers have followers who are keen on learning beauty tricks and advice. So you should look for micro-influencers who have built a name for themselves in a niche relevant to your products or services.
Are They Engaging?

Engagement is another important factor when determining whether or not a micro-influencer is right for you. Ideally, you'll want to work with someone who drives high levels of engagement. On Instagram, the formula for calculating engagement rate is (Likes + Comments) divided by (Number of Followers). For Twitter and Facebook, you'll have to include the number of shares or retweets along with the likes and comments.
Do They Have Sufficient Reach?

While reach isn't the most important factor to look for in a micro-influencer, it still has some importance. Once you've made a list of micro-influencers who are both relevant and engaging, you should select those with the largest reach. This will help ensure that your campaign has significant impact in terms of visibility.
How to Find Micro-Influencers
Now that you have a clear idea what to look for in a micro-influencer, you can begin your search. Here are a few tips to help you out:
#1: Look for Micro-Influencers Who Already Love You
The best kind of micro-influencers to work with are the ones who are already fans of your brand. You won't have to spend any extra time convincing them to promote your products or services.
In fact, they may already be promoting you without your knowledge. What's more, their promotions will seem much more authentic because they truly love your products. Here are two ways you can find them:
Search for Branded Hashtags
Branded hashtags help you find users who are already talking about your brand. When you conduct a search of your brand's unique hashtag, you'll get a list of posts that include the hashtag. You can then look through the users who have posted the photos and then try to find potential micro-influencers for your campaign.

Let's try searching Instagram for the hashtag #firstaidbeauty, which is the branded hashtag for First Aid Beauty. You will get the results shown in the screenshot below.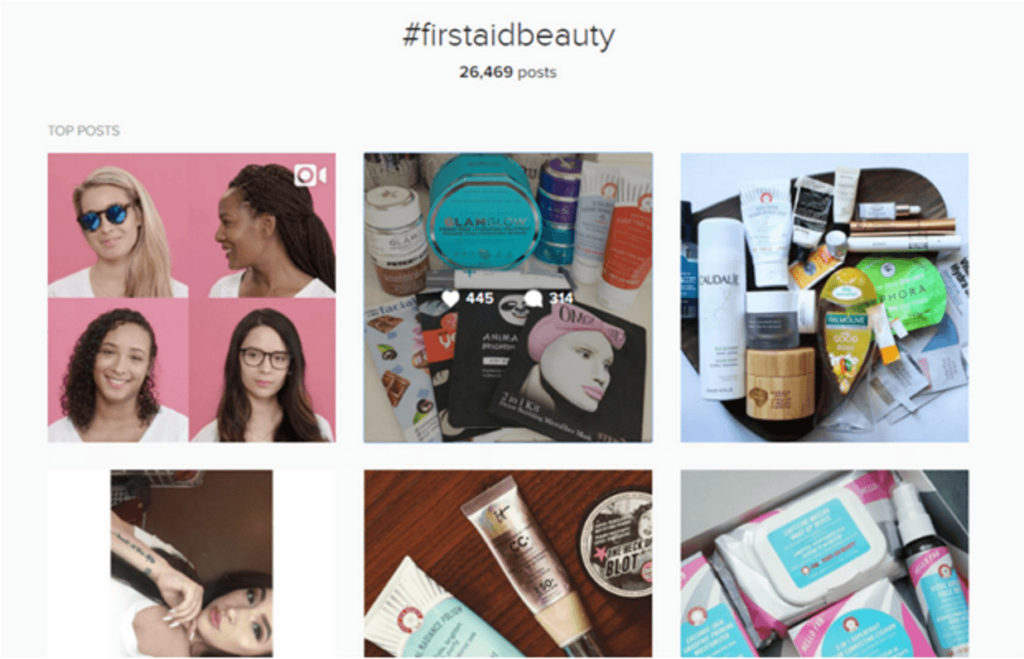 Next, all you have to do is check out each of the top posts to see if any of them were posted by a micro-influencer.
The first post is from the brand itself. So let's check out the second post. As you can see in the screenshot below, the post has 445 likes, and more than 300 comments.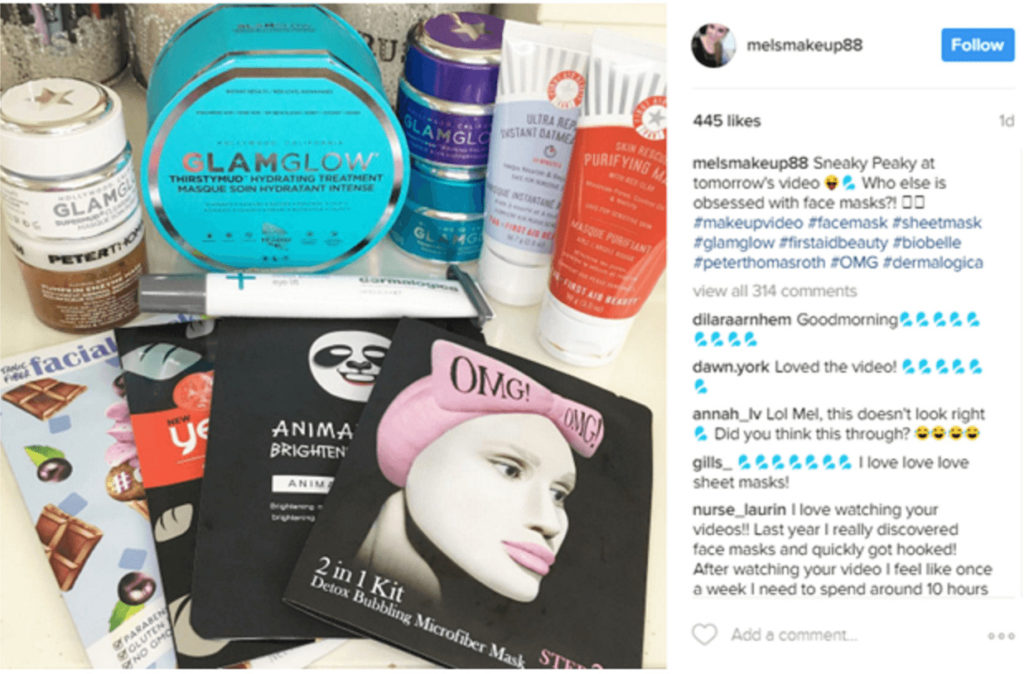 Next, you can go to the user's profile to check out their following size, and the types of content they typically post.
The screenshot below shows that this user has 9,700 followers, which qualifies her as a micro-influencer. She also regularly posts about makeup, which makes her a relevant micro-influencer for First Aid Beauty, and other beauty and makeup brands.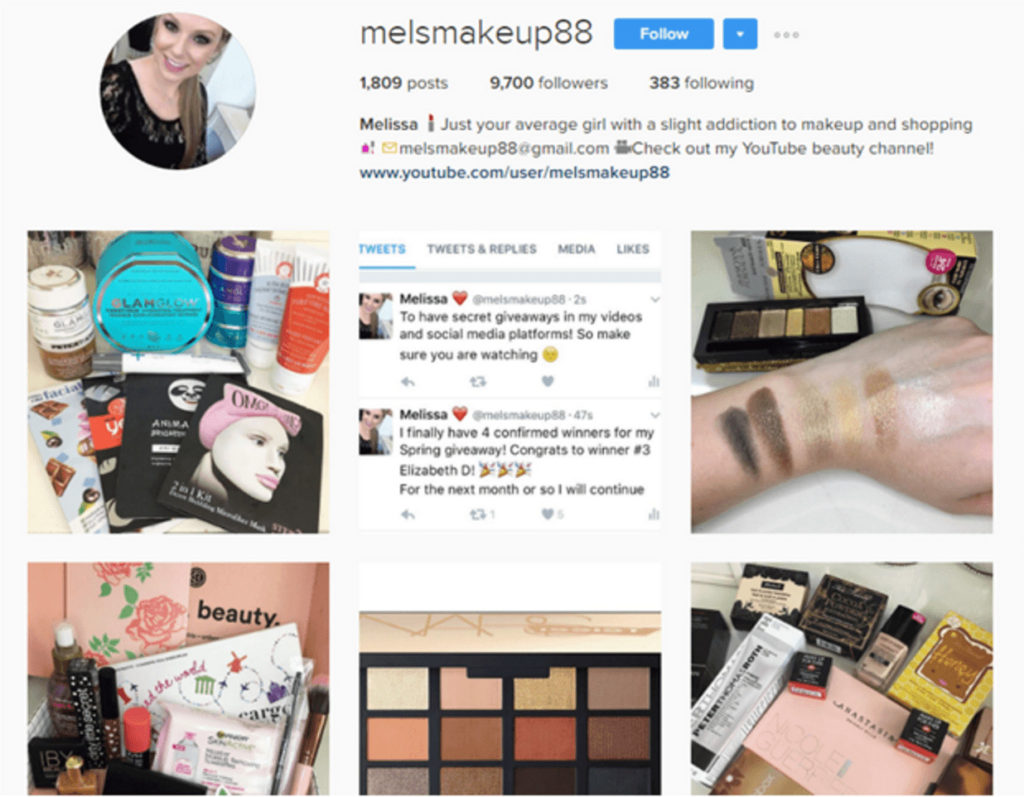 You can conduct a similar search on Twitter and Facebook. Here you can switch things up by searching for just your brand name (without the hashtag). This will show you posts that talk about your brand.
Search Your Followers List
If a micro-influencer is a fan of your brand, it's probable that they're already following you on social media. Another way to find influencers who already love you is to go through your Facebook, Instagram, and Twitter followers.
Although this may seem a bit time-consuming, the payoff is well worth the effort. To make your search easier, try looking at the usernames and bios to see if they might be worth checking out.
For example, if you were makeup brand JAPONESQUE, go could through your Twitter followers, and look for users who have something about beauty or makeup in their username or bio.

In the following screenshot, you can see some of the brand's followers. Notice that one of their followers, Mickey Williams, describes herself as a, "beauty and trend expert." Hey username, "@mwmakeup," also includes the word, "makeup." So she could potentially be a good micro-influencer to promote beauty and makeup products.


You just need to check out her profile, see how many followers she has, and see how frequently she posts about makeup and beauty.
If you look at her profile, you can see that she has more than 2,500 followers, which categorises her as a micro-influencer. You'll also see her posts are typically related to beauty and makeup, which makes her relevant for the JAPONESQUE brand.

#2: Conduct Keyword and Hashtag Research
In the first tip, we talked about conducting a branded hashtag search. On Twitter and Facebook, a regular search of your brand name also works. We also covered searching your followers for potential micro-influencers to partner with.
If you're a fairly new brand or business however, you may not have many fans just yet. But you can still search for potential micro-influencers on social media using relevant hashtags and keywords.
This means you'll need to come up with search terms that are related to your industry or products. For example, if you're in the makeup industry, you could search using terms like "beauty," "makeup," "makeup tips," etc. On Instagram, you'll need to turn the search terms into hashtags. But Twitter and Facebook allow you to use both hashtags and regular search terms to conduct your searches.
For example, if you search for, "makeup tutorial" on Twitter, you'll get the results shown in the following screenshot. You can then check out the profiles that come up in the search results for potential micro-influencers. You can also go through the posts that turn up in the search results, and check out the users who posted them.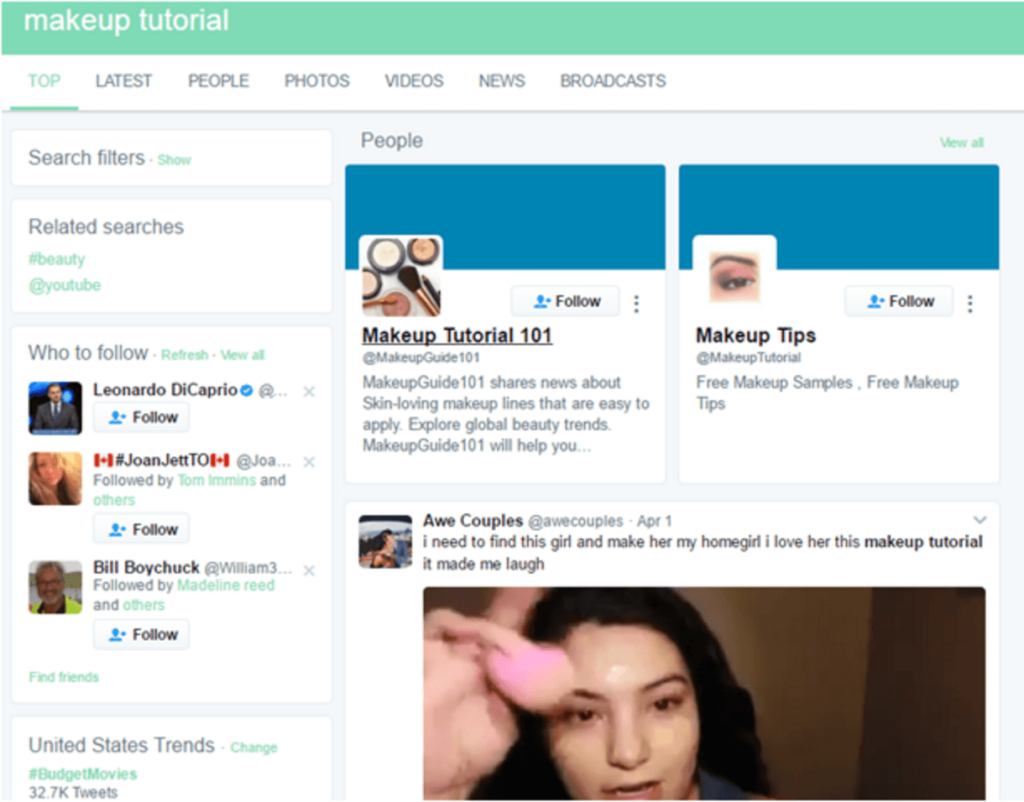 #3: Use the Right Tools
These manual searches can be a bit tedious and time-consuming. If you're pressed for time, and if you can afford to invest some funds, there are several tools that can help you find the right micro-influencers. Here are some of the most useful ones:
Influence.co –

This tool can help you discover relevant influencers for free. You can search for influencers by username or category. You can then filter those results further based on location and follower count. Once you find influencers that you like, you can check out their profiles to learn more about their stats.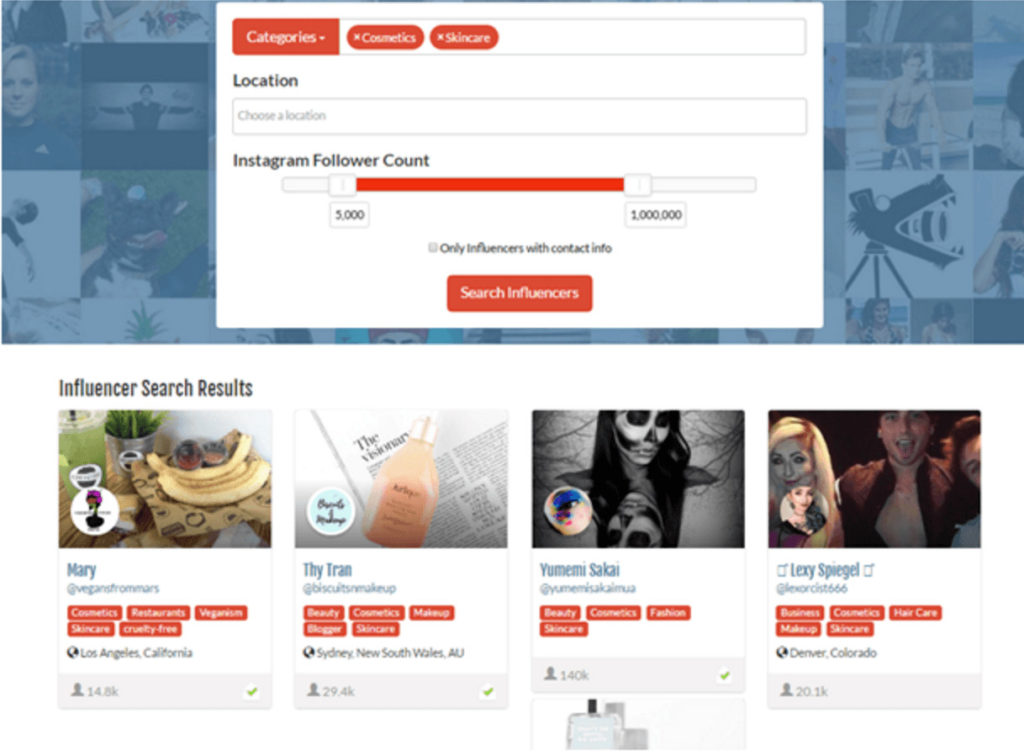 BuzzSumo

– BuzzSumo can help you discover potential influencers using relevant keywords. You can easily view stats such as follower count, engagement rate, etc. on the results page. It's a paid tool, but it's worth the investment if you also need to do a lot of content research. You can use it to find trending topics and articles to

boost your content marketing

efforts.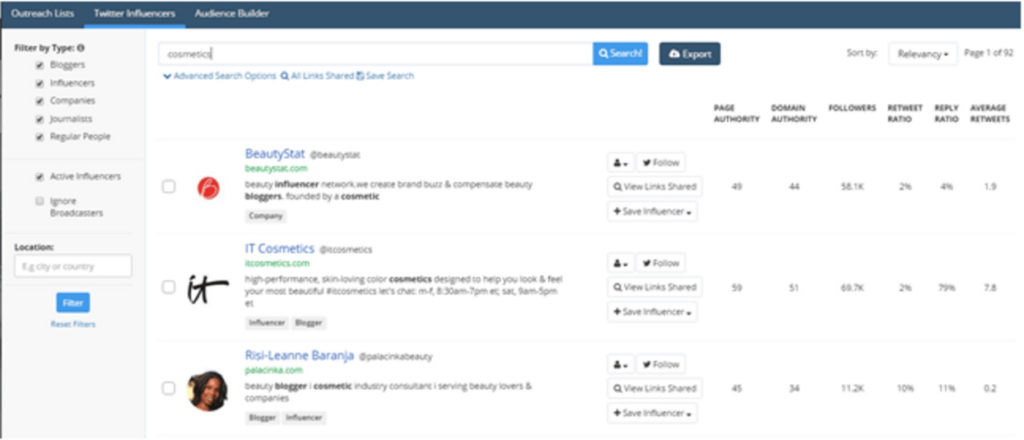 Besides these two tools, there are other platforms like Insightpool and HYPR, that can really help your influencer research. The ones highlighted above are ideal for startups and small businesses that may have limited funds to invest in such tools.
Conclusion
Now you know what you should look for in a potential micro-influencer. You also know several ways to find the right micro-influencers for your small business. Just remember to always prioritise relevance over other influencer metrics.
Got any questions about the tips mentioned here, or other influencer marketing tips to share? Let me know in the comments below.
Shane Barker is a digital marketing consultant who specialises in influencer marketing, product launches, sales funnels, targeted traffic and website conversions. He has consulted with Fortune 500 companies, influencers with digital products, and a number of A-List celebrities. Find him on Twitter, LinkedIn, Facebook or Instagram.