With the new Facebook update for publishers, it might seem like there's no reason to even entertain organic content promotion efforts anymore – but you might be surprised to find out that organic promotion can still be a good precursor when strategizing ways to make your paid campaigns more successful without spending an "arm and a leg".
1) Get organic social proof before you promote
Many psychological studies have shown if others say it's good and you don't have time to research yourself, popular opinion tends to win out and guide decision making. Consumers are 71% more likely to make a purchase based on social media referrals. Thus, a post with lots of engagement provides social proof for any new viewers of that post.
It might be better to get this engagement organically and then pay to promote those posts that have received the most. Knowing not only that more people tend to engage when positive engagement is already received but that this can also help boost posts exposure in feeds, it's not a bad tactic to save for ad spend on those posts that most resonate with your audience.
Example: Buffer had a really successful campaign where they sought to re-target users who had been to the Buffer blog, but not visited the homepage where their product is more predominantly featured. After assessing a few organically posted articles, they promoted the top ones using the "Use Existing Post" option within Facebook Ads Manager.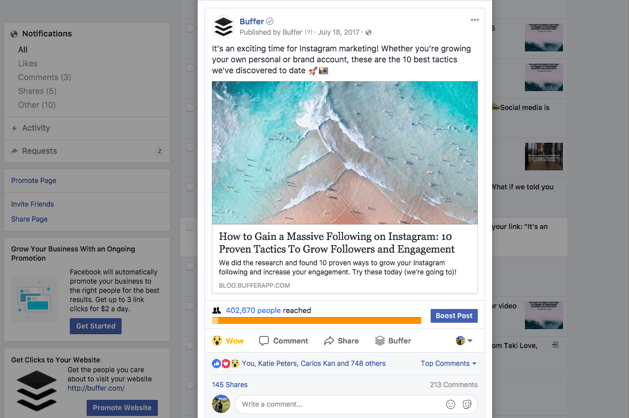 We'll talk more about retargeting in a bit. But for now, here's another trick: Facebook Dark Posting. After you start running ads, make sure to copy the same post ID for all your ads in the ad set – so the accumulated engagement you receive stays across them all rather than you having to build up social proof for each.
Why put more work in than you need to?
2) Get a bigger picture of audience insights
Before you pay for campaigns, take a look at any insights or analytics readily available on social media platforms to give you at least some qualitative and quantitative data to base campaign tests off of. You don't want to waste money on empty assumptions or from data that's not representative of your audience on that specific platform.
Let me illustrate. Let's say you get 50% women and 50% men visiting your website per your Google Analytics report. But let's say 50% comes from Twitter, where you're looking to advertise and that 50% is just women. You wouldn't want an ad targeting both women and men on Twitter. Website visitors do not equal platform audience in all cases.
It comes full circle, because then you can use the paid campaign insight and analytics to support your choices for some of your brand's organic content pushes. At least you have a targeting baseline to go off of before you begin engaging, whether it's a paid or organic effort.
Let's take a look at Facebook as an example of where you can gather insights. When you go on Facebook, there's actually three places to look at Insights:
Click on the Insights tab on your Business page to get a general overview.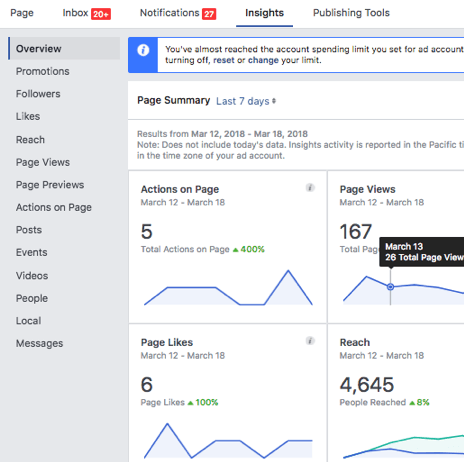 2) Or, you can go to Ad Manager and find more detailed insights.

3) Once you run campaigns, you can view a Breakdown report to get further insight.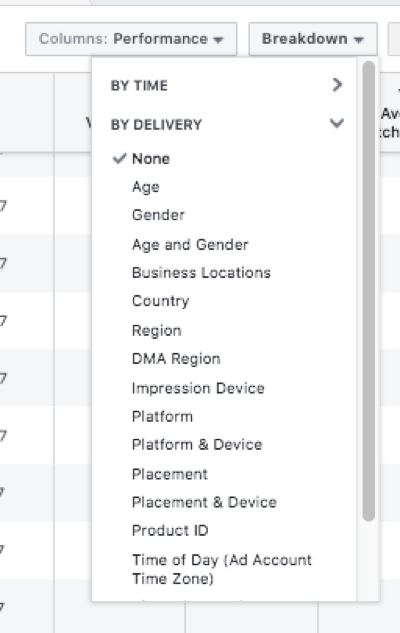 You can view everything from demographics, to what interests your audience have, to what other pages they've engaged. Then, you can form content partnerships, include mentions and tags, and further tie-in your content with what's resonating most with your audience. And with those changes to the Facebook algorithm, this becomes even more key.
You're enhancing the delight and relevance of the content you provide. Utilizing the audience insights already gathered, Estelle's Secret found that it's audience was highly interested in Game of Thrones and that new episodes were being released soon.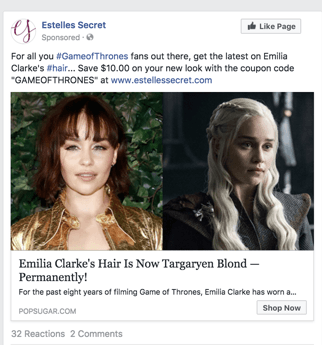 They promoted a social post of an article mentioning the lead character's use of hair extensions and providing a coupon code for their hair extensions product. The post performed well for the brand in comparison with the other posts being run during the time. But it went beyond platform engagement to actually drive sales.
3) Remarket based on organic engagement
I told you we'd come back to remarketing.
Paid remarketing/retargeting, in general, can cost less since it's more targeted – and your audience has at least shown some interest in, or engagement with, your brand.
But not only that – if someone has already shown interest in a social post sharing a recent blog post, rather than just promote that blog post to those who may not have seen it yet (seeking to expand audience reach) like we do once we get enough social proof, you can also re-target those who have engaged with the next level in your funnel (i.e. nurture current engagers). For instance, if a user engaged with a blog post, perhaps, re-target them with paid ads offering a whitepaper.
The organic sharing helped in two ways: 1) you see what content would potentially work in engaging even more of your audience and 2) you already cover one step of the funnel without having to pay, meaning you don't have to pay to promote the blog post – just the whitepaper.
But perhaps, you take it even one step further. Rather than pay to promote the whitepaper, if you already had lead information from the initial engagement with the blog post, you can re-target via email or other methods that may not cost ad spend.
This may seem to go against what people say about putting ad spend toward more qualified or warmer leads. Just because you give more attention to a particular lead level, doesn't mean you necessarily have to pay to do it.
Because we all know…
You may find that email retargeting works better than social retargeting when moving more qualified people through the funnel. Every business is different.
Either way, you engage in the initial assessment with organic — and then if you decide to use paid methods, remarket by doing the following: 1) choosing the most engaged content and 2) choosing the most engaged audience.
4) Using paid & organic for different offers
Maybe you want to use organic tactics to gather "vanity metrics" like shares, comments, and likes – and use paid tactics to get those metrics that are more closely tied to your bottom line. Luckily, platforms like Facebook can be great for direct response as well if the offer is low-threat like a blog post as opposed to an offer to buy a product.
There's a place for both paid and organic efforts to drive results and it may be with different offers.
An offer varies from content topic…We may find that "marketing" is a topic of interest to our audience, but an offer to read a marketing blog post is going to perform differently than an offer to sign-up for your amazing marketing platform. Another example: an offer requesting name, email and phone number in exchange for a lead magnet is going to perform differently than an offer requesting just email to receive the same
Sometimes it might be as simple as rephrasing copy so your offer is less threatening while still providing the same piece of content. Other times, it may be the way the content is presented. You can try organic posts on various channels with various offers like blog post vs. ebook vs. direct promotion of your product to see what resonates with that particular audience – and then promote an offer that gets the most engagement.
So, now we're not talking about putting the ad spend toward a particular platform or audience, so much as we're talking about putting ad spend toward a particular offer. Some offers may do perfectly well organically, while others may need to have ad spend to get the same results.
If I have an offer for a blog post that drives traffic and an offer to pay to join an Academy course, it may seem like the ad spend should go toward the second as it directly ties into dollars being made. But, if people are reluctant to engage, because it's too much of a request before they're ready, you're wasting ad spend on that offer. Keep in mind how your audience engages on a platform and the mindset they may be in. It might make more sense to put ad spend toward that blog post that drives traffic to your website instead.
5) Optimize for the path to purchase
So, we mentioned that not all people on social are necessarily top of funnel. In fact, they may have been to your website before and are perfect for retargeting. But as we mentioned before, you're on a budget and need to know how you can utilize organic and paid together in the most cost effective way.
If you have trouble getting people into the funnel period, you might focus on paying more at the top of the funnel. If you have trouble nurturing leads and keeping them engaged, you might put more money toward the middle of the funnel. If you're on a limited budget, the key is to find your weakness or leak in the funnel — and then focus your efforts and spend there.
When we think of our goals, it's easy to go straight to conversions or making money – but we have to remember that the top of funnel or your pipeline should continue to be engaged, so you have a steady flow of leads (and therefore, sales) coming in. That's where paying, like we previously stated, for that initial brand awareness may be important.
Not every lead is considered equal. If you find a particular channel or persona is more likely to convert, you want to invest in those leads a little more with paid ads – and maybe leave the organic methods for those that just have a passing interest (just on the off chance that they might eventually have more of an interest or need).
There may be an assumption that your funnel is a particular length, but beware of making assumptions. For instance, at KlientBoost, we find that those people who read our blog posts often are ready to utilize our service without needing to engage with further lead magnets. If I just assumed our funnel was the same as everyone else's, I might mistakenly put ad spend toward lead magnets.
Moral of the story: use organic to test your funnel and path to purchase before wasting money delivering additional content that may not be needed to get a conversion or close a sale.
6) Tap into influencer marketing
Influencer marketing is a cost effective way to get more "viral" engagement without having to put tons of spend toward paid ads. But it goes beyond just getting that social proof we spoke of before…
Twitter research shows 49% of consumers rely on product recommendations shared by influencers for their purchases.
But keep in mind that with Facebook's algorithm change, those posts that are published by friends and family will have priority over brands. So, it's one thing to say that influencer engagement drives purchases — but if you don't even see that post they engaged on, what good would that do? Still, it's worth a shot.
Influencer marketing has a slightly different psychology behind it. With the previous social proof mentioned, you might see everyday people share that you relate to or perhaps, the sheer number drives you to engage. With influencer marketing, it may be more about who's sharing and admiration for them rather than relating to them from the get-go. If a top influencer a user follows is sharing content and talking about how cool the brand is, that user may be more anxious to jump on the bandwagon because he/she wants to be "cool" too.
One free platform you can utilize for influencer marketing is Slack. They have several promo channels where individuals post their links to content. Then, from there, those who are members of the channel will share or engage with your content with the understanding you'll do the same with theirs. If you have similar but large audiences, co-promotion efforts can be highly beneficial to getting that initial domino effect of engagement without having to pay for it by, say, paying an influencer network.
So, for instance, if you're trying to do #1 in this blog post and are finding that people aren't seeing your post organically or not engaging with it, for whatever reason, maybe simply asking influencers to be the first movers in this effort can get the ball going. They have profiles/pages that already have active audiences and perhaps, their audiences are more eager to engage.
Maybe you offer an additional incentive. For Estelle's Secret, an online hair extensions and beauty product provider, by helping share content with your Instagram friends, you may qualify to become one of Estelle's Angels. So, each influencer gets more exposure.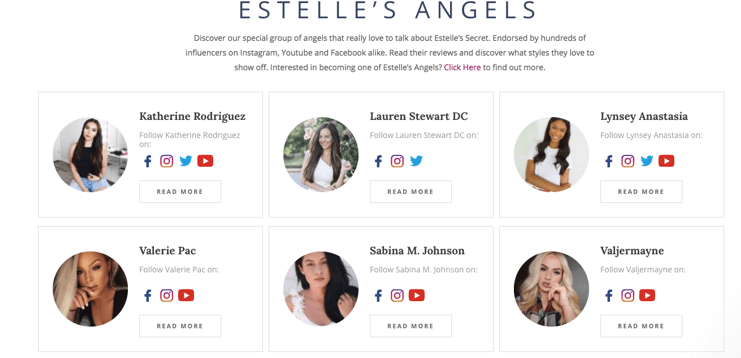 This doesn't necessarily replace paid social, but influencer marketing can certainly help build more social proof and get more exposure faster (since they probably have more followers than your random follower Joe Schmoe who no one knows) — and the two combined can certainly help boost each other.
7) User Generated Content
What if you took #6 one step further and asked influencers to create content themselves – User Generated Content. Now, it's even more genuine and trustworthy, because it's coming from the perspective and voice of the influencer.
I'm sure a lot of users are wise about seeing influencers like a brand's product – thinking, he/she probably got an incentive to do that. Product placement within films an paying celebrities to endorse products has been around for some time. Influencer marketing runs on a similar vein of buyer psychology.
User Generated Content can be handled in two ways: 1) the influencer creates the content and you promote it along with yours on your channel, so that people begin to connect you with said influencer and have a variety of content to engage AND 2) the influencer uses your content, but just creates the post that will be shared or promoted.
But wait, there's a third option: we often engage in content swap partnerships. Our partners get access to our audience and vice versa, so it's a win-win for both parties. Now, be careful, because you probably don't want to pay to promote a post that takes people back to another's website over your own — but you can organically share theirs, so that they continue wanting to place your content in front of their audience and still get that organic exposure. Then, for your own content hosted by your website, you can utilize paid ads.
The above is one example who's content you're sharing determining whether paid or organic will perform best – is it your own content or someone else's?
Conclusion
It's not a simple formula.
It's not necessarily that organic or paid social is better than the other overall – but when, where, and in what circumstances one would be over the other. Both may have their own purposes or complement one bigger purpose — one may drive more initial engagement, while the other helps close the leads.
But at least armed with the tactics and suggestions in this post, you can begin to visualize the relationship paid and organic social media might have in regard to content promotion.
I would love to hear about any times you've employed both paid and organic social media to drive results in the comments below, whether with the tactics mentioned in this post or any you think I might have missed.