What does social media have to do with the buyer's journey?

9

min read
Reading Time:
8
minutes
Research shows that three out of four customers use social media to make purchasing decisions. Moreover, using social media to conduct post-sale support is becoming a huge trend for brands.
While a website is surely the most important aspect of a business's online presence, social media is becoming increasingly critical. That being said, having a social media presence and using it to influence the buyer's journey is an obvious advantage that many marketers are overlooking.
Social media offers buyers an opportunity to interact with brands in real time while researching products/services before making a purchase. When 78% of consumers agree that a brand's social media posts influence their purchasing decisions, it is important to ensure your potential customers don't experience a muddled content strategy.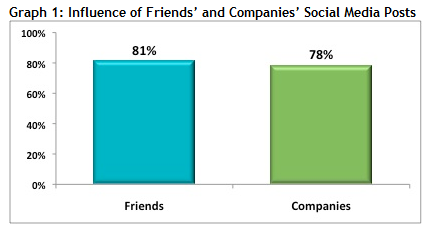 In this post, we're going to look at how you can shape your social media strategy to positively influence potential customers at every stage of the buyer's journey.
But before that, let's do a quick recap of what the buyer's journey looks like exactly:
The buyer's journey
The buyer's journey, according to Hubspot, is "the process buyers go through to become aware of, evaluate, and purchase a new product or service." From a marketer's perspective, it has four stages:
Attract:

Also known as the top of the conversion funnel, this is where a prospect realises that they have a problem and start looking for solutions online. At this stage, the objective is to engage prospects with shareable, entertaining and educational content.
Convert:

This is when the buyer has started researching different solutions to their problem. At this stage, the idea is to create and share content that proves that your product/service is the ideal solution to their problem and compels them to visit your social media channels/website.
Close:

This is where the buyer has realised that your offering is the best solution to their problem. At this stage, your objective should be to show your value proposition while creating a sense of urgency that leads to a sale.
Delight:

The post-purchase stage, this is where your brand is expected to nurture the relationship further by offering great customer experience along with educational content that enables the consumers to use your offering to its full potential.
Now that we know what the buyer's journey looks like, let's move on to understand how it can be supplemented with social media marketing.
Stage 1: Attract
As mentioned earlier, at the first stage of the buyer's journey/conversion funnel, the objective is to attract new prospects by creating interest. Building awareness about your brand is the primary objective at this stage, which can be done by publishing and promoting engaging and entertaining content (Quuu and Quuu Promote can help with this!). If executed correctly, the content at this stage should compel your buyer personas to engage with your brand, while positioning it as a figure of authority in your niche.
Metrics to measure success
Since engagement is the primary objective, the metrics that matter at this stage are:
Number of followers on various social media channels

Impressions, reach, likes.

Shares and rate of engagement.
At this stage, it is important to understand that your target audience (or buyer personas) are not actively looking for a product/service. They are simply visiting their preferred social media channels for, well, social networking. In all probability, their objective is to interact with friends and find some entertainment. Since you are (probably) not on their friends list, try to entertain or educate your personas with interesting content that is relevant to your business.
Let's look at this post by RankWatch as an example: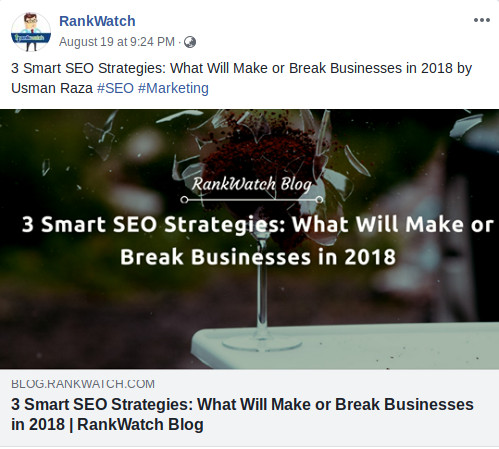 As you can see, the content here is targeted to RankWatch's buyer personas (i.e. marketing professionals). However, the post in no way promotes RankWatch or its features, and is only meant to educate audiences about a topic that they will find interesting.
This post, along with others of similar nature, is meant to position RankWatch as a hub of knowledge and an authority figure that communicates trust.
Other ways to drive interest at this stage are:
Connect with influencers: Connecting and collaborating with industry influencers is probably one of the easiest ways to get noticed. Not to forget, over 1/3rd of users trust an influencer's word over brand communications.
Join ongoing conversations:

Another great way to not only drive engagement, but also to enhance visibility, is to join in on a conversation about a relevant, trending topic. A great example of this was put out by Money Supermarket, a financial product comparison platform, when they released the following infographic: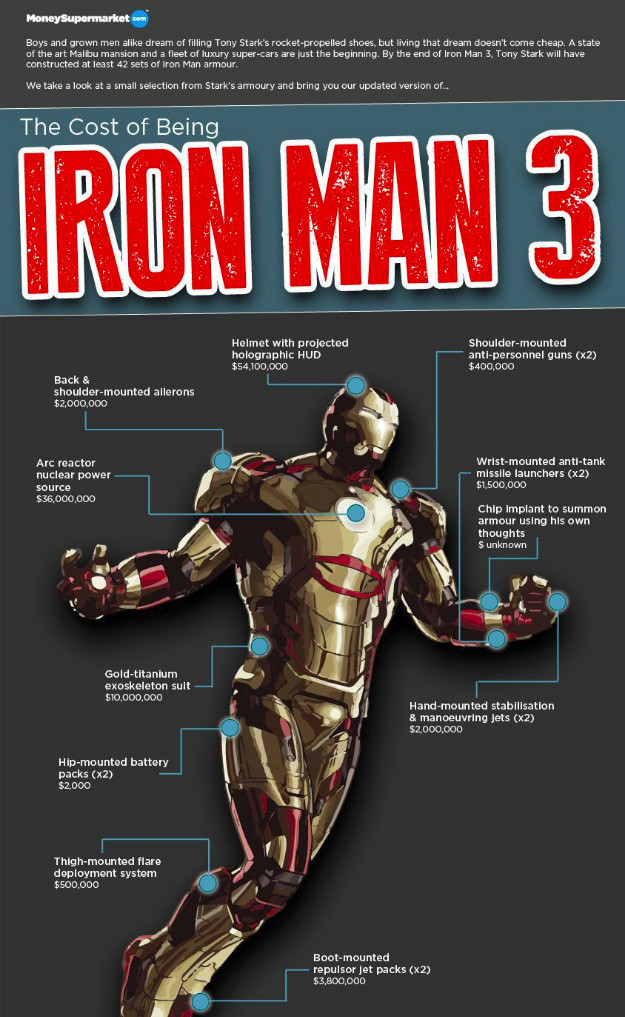 This infographic was published in 2013 when Ironman 3 had just come out, so it helped Money Supermarket drive great engagement.
Stage 2: Convert
Once you attract strangers into your conversation with entertaining content, it is time to convert them into potential leads. This can be achieved with useful, actionable content that can be accessed by filling out a simple form. By smartly targeting the content towards your buyer personas, you can easily create a "lead magnet" that will provide you with the contact details of potential customers, or simply put, leads.
Metrics to measure success
In the convert stage, the metrics become more quantifiable and meaningful:
Number of signups

Email list growth

Landing page conversions
By this stage, the prospects are already interested in your brand and, hopefully, your offering. It is time to reinforce this interest and your position as an authority and a knowledge resource. If the knowledge or information you promise is truly valuable, prospects will feel no hesitation in giving away their contact details in exchange.
This lead magnet by Digital Web Solutions is a great example:
Being an agency that targets other marketing agencies to outsource parts of their strategy, this e-book is aligned with the interests of their audiences, while also positioning them as the ideal outsourcing partner.
Not to forget, the e-book contains some valuable insight into outsourcing, which a prospect can attain by simply giving their email address. As a result, Digital Web Solutions not only builds positive PR, but also grows their email list.
Another great twist to the same idea is hosting a webinar. Similar to an ebook (or an infographic or any other kind of lead magnet), users will enter their email address to attend the webinar. The best part is that you can use the webinar to not only delight prospects with genuinely valuable information, but you can also utilise the opportunity to reinforce the importance of your business offering.
This is demonstrated exceptionally well with the below example: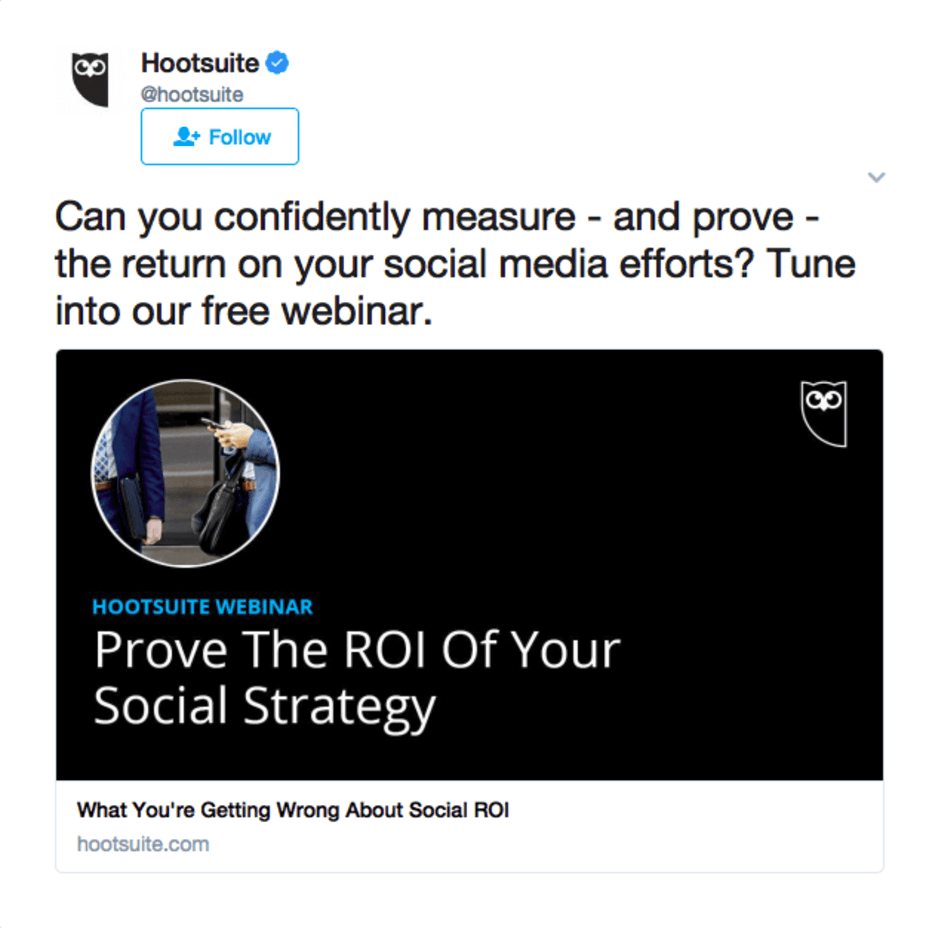 Here, Hootsuite, a
social media
tool, is hosting a webinar that will definitely be interesting to their audience, social media marketing professionals. Research supports this: over 61% of marketers report that quantifying the ROI of their social strategy is their biggest challenge.
Stage 3: Close
Arguably the most crucial stage of the funnel/journey, this is where leads are turned into paying customers. Throughout the buyer's journey, you have utilised your content to attract them to your brand, given access to valuable resources to convert them into leads; it is finally time to introduce them to your offering.
By now, the consumer has realised that your brand is the foremost authority figure in the industry. Regular interactions are clear proof that they think your offering is the solution to their problem. Making the sale should not be the challenge anymore; making the sale NOW is.
Metrics to measure success
Sales through social media
If, however, you think your customers need a bit more convincing, shower them with information on how your product has made lives better for others. If one of your existing clients is an already established brand/individual, consider it an enormous cherry on top! Look at how BuzzSumo uses a "shoutout" from one of their clients as social proof: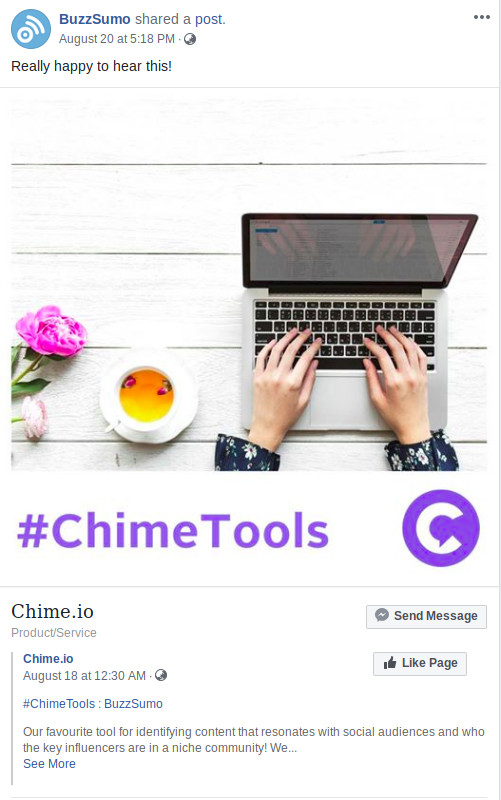 Another way to absolutely make sure that your prospects understand that your solution is ideal for their situation is through explainer videos. Videos are extremely engaging, and explainer videos help you use that to your advantage by simplifying and putting forward your proposition to potential clients. There are several examples of explainer videos leading to great results, the most popular one being the DropBox explainer video, which helped them lure in a whopping 10 million new customers!
Now that your prospects believe that your business offering is the ideal solution, it is time to create urgency in order to make sales now. Personalised communication, combined with an amazing personalized offer, is a great way to do this. This ad by Qatar Airways is a great example of an offer that communicates urgency: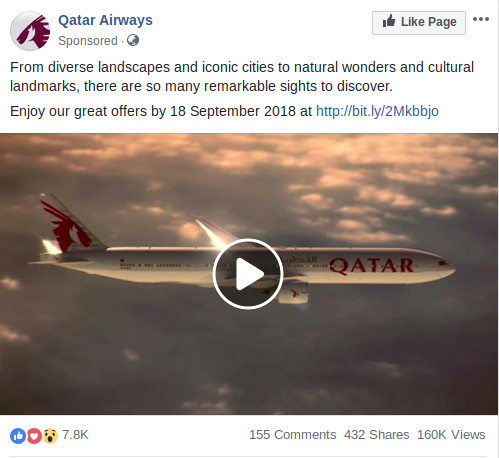 Stage 4: Delight
Remember how the "Close" stage was arguably the most important part of the journey? That's because according to Harvard Business Review, acquiring a new customer, depending on your industry, can be anywhere between five and 25 times more expensive than retaining an existing customer. For this reason, an absolutely fantastic post-sale experience is critical to success for any business. There are two aspects to ensuring this:
Customer service on social media
Social media is fast becoming the preferred point of contact for customers when they want to communicate with a brand. To put this into perspective, VentureBeat found that users lodge complaints about brands 879 million times a year. Despite this trend, many brands choose to overlook these complaints, resulting in a staggering 289 million unanswered complaints every year.
Ideally, you should personalise the response to each complaint you receive on social media. Being a public domain, such conversations on social media may bring out a few of your flaws, but will also demonstrate that, as a brand, you are willing to listen to your consumers and improve. Buffer's response to this user is a great example of social customer service: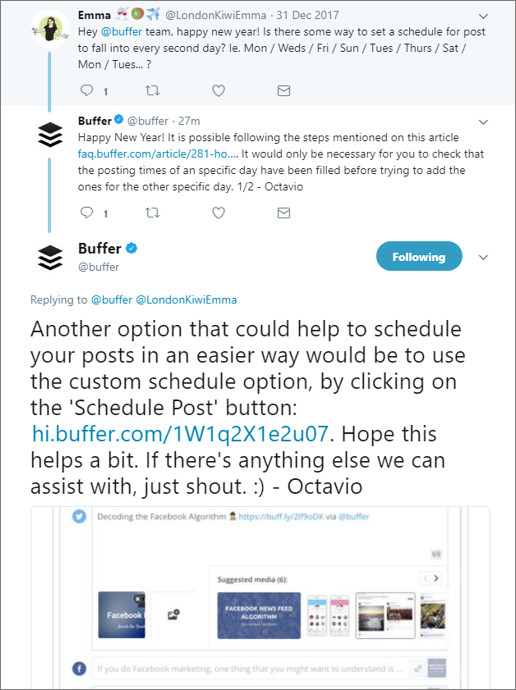 While personalisation for each message or interaction may not be possible, it doesn't hurt to try. A great way to tackle this is to have a "ticket" system where each query or complaint is responded to with a standard reply. Once the user proceeds with the instruction, a "ticket" will be raised which will only be resolved when the issue of the user has been resolved. Here's how Aircel India does it: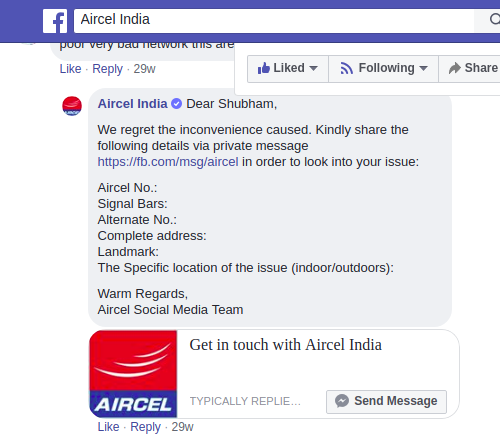 Educate the customer about the product
Awesome customer service is just one aspect of delighting your consumers. The other is empowering them to use your products/services to their full advantage. This can be effectively achieved with help of "how to" videos or blog posts highlighting the features of your product, or even webinars.  
A great example of this comes from one of our favorite brands, Nutella. In the post below, they share recipes for making waffles with Nutella: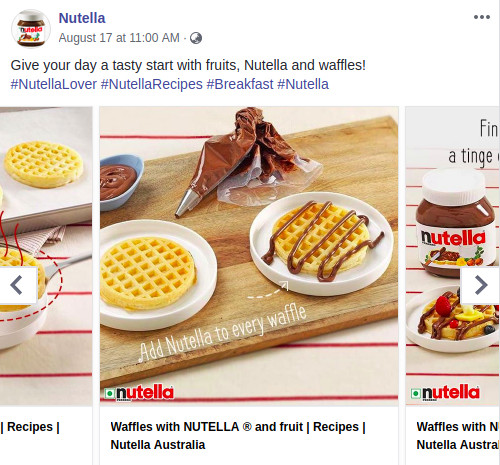 Conclusion
Social media is a powerful tool if used smartly. Since most of your audience is already using social media platforms, not incorporating them into your buyer's journey is a huge missed opportunity!
What role does social media play in your conversion funnel? I'd love to hear your tips and strategies.