We analysed our top performing tweets of 2018 so far – here's what we found

10

min read
Reading Time:
8
minutes
Twitter may not be the most glamorous social media platform – it lacks Instagram's millennial appeal, LinkedIn's professional polish and Facebook's knack for creating a scandal – but that doesn't mean it shouldn't play a vital role in your marketing strategy.
At Quuu, Twitter is one of our favourite marketing channels. We've previously written about best practices for Twitter marketing, but following some big changes to Twitter's automation policy, we wanted to revisit this topic to explain how marketers can use these new guidelines to their advantage.
To recap, Twitter users will now be penalised for using software that publishes the same or substantially similar tweets across multiple accounts. At Quuu, this means that we can no longer auto-post content for our users. We can still send you links to relevant blog posts, articles, podcast episodes or videos, but you will have to manually add these to your schedule and craft the accompanying share text.
If you think that sounds more time consuming, you're right! However, we believe that it's time well spent. These changes force us to be extra thoughtful about the content we're sharing, which results in a more authentic, on-brand experience for our followers.
Strapped for time as it is? Sign up to Craft by Quuu and we'll take care of your content curation, crafting & scheduling.
Creating engaging posts for social media is obviously an important skill for marketers to have, but it takes on all the more weight in light of Twitter's new regulations. We still want our users to enjoy higher social engagement using Quuu, so we decided to investigate the key ingredients of a successful tweet.
We analysed our top performing tweets of 2018 so far, recording the three tweets that received the highest engagement (likes, retweets, replies and clicks) each week for six months. From studying this data, we identified five takeaways that we hope you can apply to your Twitter strategy, whether you're curating suggestions from Quuu or scheduling your own content.
Here's what we found…
1. Twitter chats are consistently our highest source of engagement.
We've used Twitter for everything from customer support to content promotion, and it's helped us increase brand awareness, engage our users, drive traffic to our blog and generate new leads. The common theme underlying all of this? Starting conversations with people.
All social media platforms were born out of our basic human need to connect and form relationships with others. But because Twitter was designed for short bursts of communication, it's particularly well suited to having these conversations, often in real-time.
We've been hosting Twitter chats at Quuu for a year and a half now. Over 100 people have joined our Qchats during this period, with a strong community attending on a regular basis. To begin with, we hosted one Qchat a month, which we've recently bumped up to twice a month.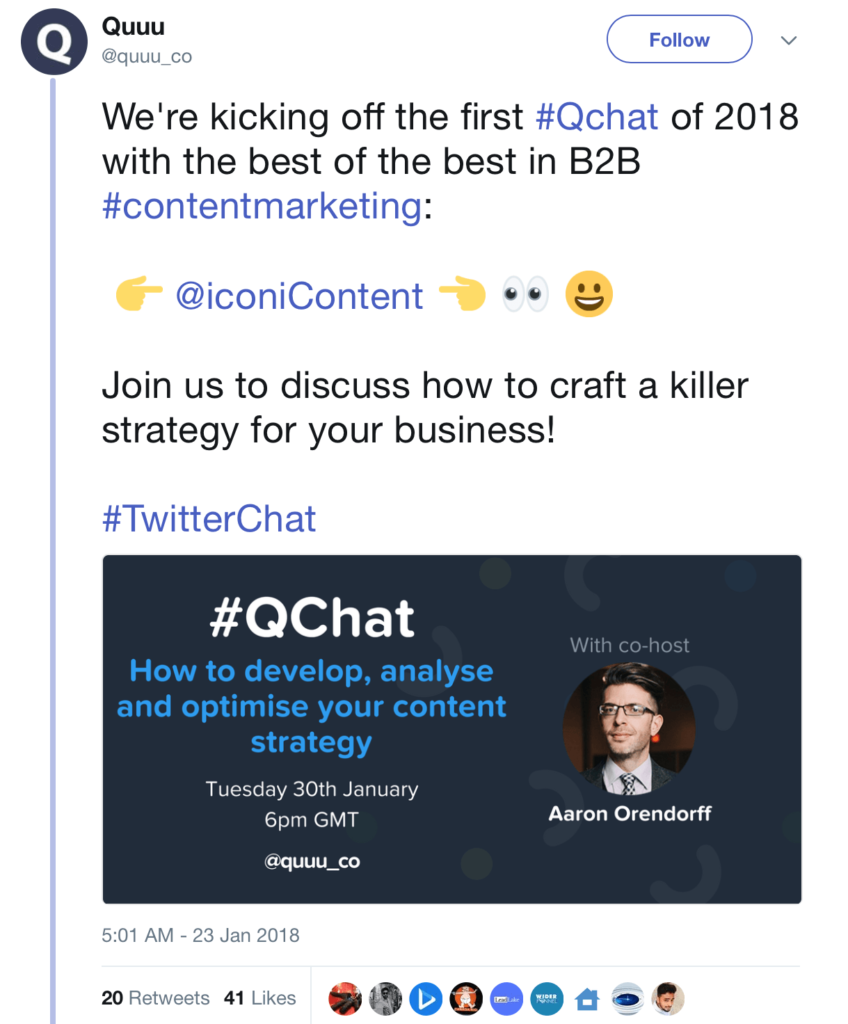 Our chats have become the pillar of the content we share on this network. A typical month looks like this:
Week 1: Announce first Qchat topic & promote
Week 2: First Qchat & recap content
Week 3: Announce second Qchat topic & promote
Week 4: Second Qchat & recap content
30% (a majority) of our top performing tweets related to our Qchats. That's roughly double other types of content: our own blog posts, other people's blog posts, company culture/news and editions of our newsletter.
30% of our top performing tweets related to Twitter chats.
A Twitter chat is a constant talking point for your brand, and we couldn't recommend hosting one highly enough. We all know by now that our customers should be the focus of our content. Twitter chats are a prime example of this: you're effectively stepping back and allowing your followers to take centre stage, whether they want to ask industry experts for advice or leverage themselves as thought leaders. It's all about them, not you.
2. Polls are the most engaging post type.
We began experimenting with polls as a way to inform our blog content: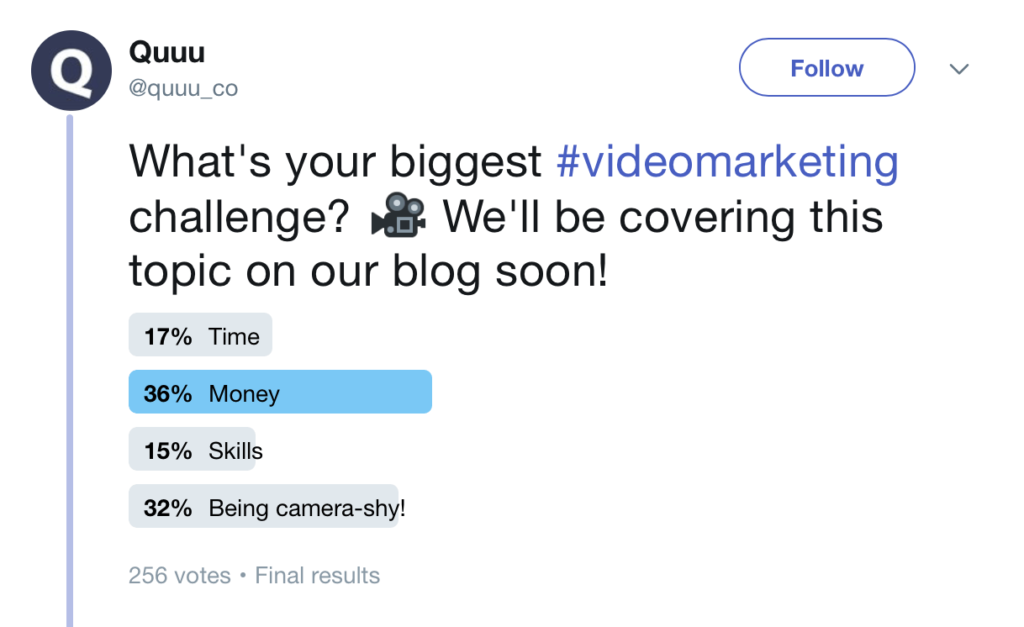 We were pretty blown away by the fact that this poll got 256 votes. To put that in perspective, the highest number of likes and retweets for a standard tweet in this sample was 40/20. That means our best poll had four times as many interactions as the normal tweet.
Since then, we've been using polls as a way to better understand our followers and it's proved to be the post type they're most likely to interact with: the average number of votes for polls we ran in this period was 195.
Polls can get up to four times more engagement than standard tweets.
You could run polls on things directly related to your business (feedback on your product, insights on your customers' interests or pain-points, etc.). Alternatively, polls are a great way to tap into a trending topic and increase brand visibility. For example, you could ask a question on a timely event that's likely to get a reaction from your followers. Just try to make sure that you tie it back to your brand – and don't be afraid to have a sense of humour either!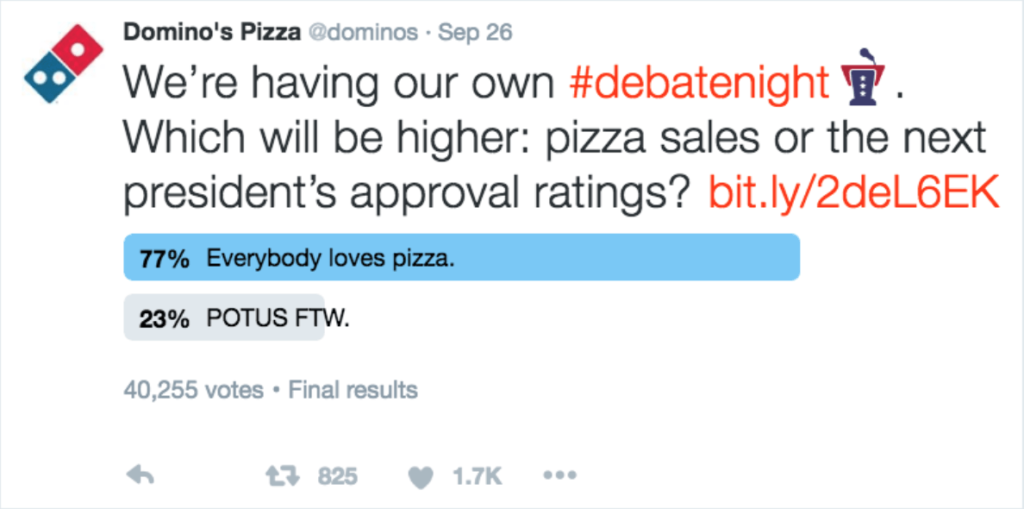 Image via HubSpot
3. Tweets with graphics or links performed better than images or plain text.
Around 6,000 tweets are sent per second on Twitter. That means you've got to cut through a lot of noise to make sure your followers notice yours.
Our Twitter study revealed two successful ways of doing this. Firstly, adding a visual element to your tweet will make it stand out more than text alone. However, it can't just be any old image. In fact, we found that tweets with custom graphics achieved more engagement than those with photos, getting an average of 15 likes and 8 retweets.
Tweets with graphics or links got an average of 15 likes and 8 retweets.
Using a tool like Canva, you can quickly and easily make graphics to complement your message, no design skills required. At Quuu, we'll always accompany our Twitter chat announcements, newsletters or product launches with a graphic, often built on a template that uses our brand colours, fonts and logos. Keeping these graphics consistent is really the key here, as it makes your tweets instantly recognisable among a sea of other brands.

Of course, you want to be recognised for the right things, and one of the ways to make sure your audience has positive associations with your brand is by sharing valuable resources with them. We know we bang on about the power of content marketing a lot (it is our job!), but it's a proven method of building long-standing relationships with your target customers. It follows, then, that our link tweets had equally as high engagement as those with graphics, also getting an average of 15 likes and 8 retweets.
Make sure you populate your feed with relevant content that is going to help your followers, such as blog posts, articles, podcast episodes or vlogs. Try to aim for a mix of your own content and other people's.
4. Tweets with 4 emojis got higher engagement levels than those with 0-3.
Language is constantly evolving, and one of the most exciting developments in recent years is the arrival of emojis. Think about it: they're a universal language that can be spoken all over the world, communicating entire concepts or sentiments in a single symbol. Pretty cool!
Of course, whether or not you use emojis depends on your brand. If you're a legal firm, for example, it's likely that you'll use a more formal brand voice, and so emojis might not be appropriate. In general, though, brands are becoming less formal in the way they talk to their customers, and social media is the perfect space to connect with people on a more familiar level.
When it came to our top performing tweets, it was a case of the more emojis, the merrier. We found that tweets with 4 emojis got an average of 28 likes and 13 retweets, whereas those with 0-3 emojis got an average of 11 likes and 6 retweets.
Emojis can add personality, humour and, well, emotion to your copy, not to mention the fact that they're simply more eye-catching than plain text (again, you've got to stand out from the crowd!). These days, it's not uncommon for marketers to include lists of emojis to use or avoid in their brand voice guidelines, just as you would do with words.
"Think of your brand tone, personality, voice, message, audience, content, platform, objectives. Will emojis enhance/add value?"  – Gabriela Cardoza
Quuu, for example, is a social media software startup and a fully remote team. So some emojis we often use are:
???? ???? ????‍???? ????‍???? ✈️ ???? ????✍️ ????
On the other hand, if you were a beauty eCommerce business, your list could look like this:
???????????????? ???? ???? ???? ????
In our recent Twitter chat, we asked marketers whether they recommended using emojis in their social posts. It was mostly a resounding 'yes', but Gabriela Cardoza had some words of caution: "Think of your brand tone, personality, voice, message, audience, content, platform, objectives. Will emojis enhance/add value?"  If you're unsure of whether to use emojis in your copy, this is an excellent point to bear in mind.
5. The optimum number of hashtags is 2 per tweet.
Another question we asked at our Qchat was whether there was an optimum number of hashtags to use per tweet. Opinion was slightly divided here, but the general consensus was no more than three.
Looking at our own data, we found that tweets with two hashtags got the highest amount of engagement, compared to those with none, one or three.
Tweets with 2 hashtags got an average of 11 likes and 7 retweets.
Let's stop and think about why we use hashtags in the first place: to make our content discoverable. Hashtags work for your tweets in the same way keywords do for your blog content, so you want to carefully select those that will attract your target audience.

Research popular hashtags in your niche and make sure to use them as naturally as possible in your copy – if you can use them within a sentence, all the better (e.g. 'Check out our top tips for #socialmedia').
6. Tweets that tag other accounts get more likes, retweets, shares and replies.
A surefire way to make sure that people see, like and retweet your post? Tell them about it!
Tagging other accounts in your tweets is simply good social media etiquette when you're sharing someone else's content. You should always credit the author and source when possible.
This also applies to announcing special guests or co-hosts of an event, or perhaps thanking contributors who featured in your latest expert roundup. Not only is this polite, but they're then likely to retweet the content themselves, expanding your reach.
We found that tweets including other user handles had a higher engagement rate. Specifically, they were more likely start conversations: the majority had at least one reply.
Tweets tagging other accounts had an average of 13 likes and 6 retweets.

61% of tweets with handles got one or more replies.
It may take a little extra time, but tagging is one of Twitter's best features for getting the right eyes on your content.

Conclusion
To recap, here are the six main takeaways from our Twitter research:
Start a Twitter chat for a constant source of content.
Create custom graphics to promote your product, events or content.
Use emojis to add some personality and a visual pop to your tweets.
Use two relevant hashtags per tweet and try to incorporate keywords in the main copy if possible.
Tag other accounts when appropriate.
Have you noticed similar trends in your Twitter analytics? We'd love to hear from you!