Employee Advocacy Programs: 7 Ways to Make Yours a Success

17

min read
Reading Time:
11
minutes
Employee advocacy is a growing trend that can have huge advantages for your business, – so why is it missing from your marketing strategy? In this post, Claire Trévien explains what employee advocacy is and how to develop a successful employee advocacy program for your company.
Working smart means making the most of what you've already got, and this is why employee advocacy is such a powerful approach. You don't need to hire anyone new or invest in additional tools. Everything you need is already there – it just needs a gentle nudge in the right direction.
Key takeaways
Onboarding your employees properly is key
Offer genuinely exciting incentives
Involve your team in content creation
Use content calendars for organization 
Proper social media training is essential
Don't be afraid of helpful tools
Measure your success
What is employee advocacy?
Employee advocacy is a content marketing approach that empowers all your employees (not just the marketing team) to be ambassadors for your business. Having an employee advocacy program in place means not just encouraging your staff to share company news across social media channels but also having them be actively involved in your marketing output.
Employee advocacy's advantages are well-known for the business: from increased organic reach and credibility to attracting top talent to your company. People trust people, so it's no wonder that a member of staff's tweet will have more weight than one coming from a corporate social media account.
Word of mouth is one of the most effective strategies in social media marketing. Yet, this is an approach that is still vastly underused by many businesses around the world.
Benefits of employee advocacy
The benefits for the employee advocates aren't often talked about, but they're not small either.
Increasing job satisfaction
If an employee feels like a valuable asset to the company they work for, they will feel satisfied with their job. Having the title of brand ambassador will empower employees and, therefore, make them more likely to remain in their position with the company.
Efficient teamwork
This, in turn, links to an increased work ethic. For this reason, you'll see your business become more and more efficient. What motivates you more than knowing what you're working on will make a genuine difference to the company?
Social media presence
Having a whole team working on increasing your content's reach will be a lot more effective than just the marketing team or just the social media team. Presence is everything on social media. Widen your audience, and you'll create more leads and, hopefully, more conversions.
Employee's social status
In terms of social status, sharing or creating insightful content regularly can also help your employee's own brand as an expert in their field. If your company is seen to only employ experts, your followers and customers are more likely to trust you.
What does an employee advocacy program look like?
This will vary from company to company, but some examples include:
Encouraging employees to take initiative and share company's social media posts on their own social networks to increase brand reach.
Providing employees with a bank of branded content for them to roll out regularly in their own voice.
Giving employees control over their own company platforms – to vlog, blog, or podcast, for example.
Involving employees in content creation
Encouraging employees to take part in content curation
Whatever approach you take to implementing an employee advocacy program, a few things remain true:
Make it easy for your employees. No one is going to pore over a 200-page document to find out how to use a piece of software that isn't fit for purpose just so they can share the company newsletter.
Lead by example. If you're going to implement the program in stages, then start at the top – make every line manager and senior staff member take part. You want your company to feel like a collective.
Here are a few questions to ask yourself before getting started:
What are your aims?
Who will be managing the program?
Who will be taking part?
How will they be taking part?
Why will they want to take part?
What training will be necessary?
What tools will be necessary?
How will you measure success?
To help you answer those questions, follow these 7 top tips to ensure your employee advocacy program is a success.
1. Onboard properly
A bit like breakfast, you shouldn't skip onboarding, or you'll spend the rest of the process on the wrong footing. You'll need to set out your employee advocacy strategy clearly, even if your employees are all incredibly social media savvy. This is a necessary step for a few reasons:
You get everyone on the same page by establishing clear guidelines
You get to manage expectations.
You show what software and platforms will be used and how
You increase brand awareness
You can share examples of formal employee advocacy programs
Guidelines
For sharing and/or creating content, guidelines are crucial to the success of your program. You need to decide what is appropriate and what crosses the line. At the same time, keep these guidelines short (so they'll actually be read) and don't get too restrictive. You want your staff to feel like they can take your content and run with it without you breathing down their necks.
A style guide is essential. This should include the uses of your logo, specific fonts, image guidelines, tone of voice, and more. This means, despite multiple people sharing your company's content, it will always remain consistent. This contributes to a professional presence across all social media channels.
Expectations
Are also important: how much extra work is it going to be, and what will success look like? When it comes to commitment, it's always best if this comes from the employee themselves, so ask them, can they commit to blogging once a month? Tweeting once a week? Write that commitment down.
Consistency is key when it comes to content marketing. Followers and search engines will always prefer consistent posting. This means all of those involved need to understand what is expected of them and be honest as to whether they can deliver it. 
Software and platform training
Training is essential, as your team is likely to have people with varying levels of experience. There's also a difference between blogging or using social media for personal use and doing so as an ambassador for a brand. The right training will highlight the subtle differences. When it comes to promoting your company's own content, you want to get it right.
2. Use the right incentives
Put simply, if you want staff buy-in, you need to explain to your own employees what's in it for them. This is why many employee advocacy programs are gamified and offer incentives to encourage engagement. But not all incentives and gamification techniques will work in the long term – and it's all about the long term!
Behavioral scientist Dr. Claire El Mouden has found in her research that KPIs and annual bonuses don't have a lasting effect on employee engagement. If you want to create a step-change in behavior with your employees, then you need to dig deeper.
Rewards to consider
Social prestige, such as public praise, personal messages, gifts, gift cards, and so forth, can have a much more powerful effect on an employee's engagement than an impersonal bonus. In fact, research has found that a pay rise will do nothing for an employee who feels undervalued.
Competitions between employees can lead the way to social prestige, but if you go down that route, make sure the competition is between groups, not individuals. Leaderboards are hit-and-miss. Maybe talk to your team first and see how they feel about them. Some people love them and feel motivated by a bit of healthy competition, while others feel an unnecessary amount of pressure and anxiety added to their job. Do what's right for your staff.  
Reward people whose behavior you want others to copy. In other words, don't give that plastic trophy to a rogue genius like Donald Draper because, good as he is, you don't want an office full of Donald Drapers. Thought leadership rewards are a great idea for encouraging your team to take their own initiative and put effort into employer branding rather than mindlessly sharing company content.
Whatever approach you choose, make sure you celebrate success.
3. Get your team involved
At its most basic, an employee advocacy program encourages your staff to share the content your company puts out. But we're not basic, are we?
If you're going to put your team at the heart of your marketing strategy and brand advocacy, then you might as well go the full hog and get them involved in your content creation!
Here are two options for you:
A) Feature them: interview them, and showcase their work as original pieces of content.
B) Include them: get them to blog, vlog, or podcast for new content.
The key to making either option work in the long term is to make things as simple as possible. For instance, come up with a stock list of questions to showcase a member of staff each week. These can be easily adapted if needed.
If you're getting them to create original content, you'll want to create templates and other shortcuts to ensure those efforts become a regular habit. Examples of best practices and structures are all very useful for first-time bloggers, vloggers, and podcasters.
People love insider information. TikTok is full of "a day in the life of" videos. By opening the door to your company and the people within it, your customers are likely to engage with your content and trust your service more. This will not only increase your audience, but it'll make it more likely to turn your leads into conversions.
Inspiration gets easier to find the more you create. However, when you're first starting out, it can be a bit of an uphill struggle.
This is where content calendars come into their own.
A content calendar is useful not just for your marketing team and making sure you're staying on brand with your content creation. It's also a useful source of inspiration.
Introduce the monthly or weekly themes to your employees and give them suggestions for how they could interpret them in content form. For instance, if the theme is "Recruitment", you could suggest the following (depending on what your business is, of course):
A day in the life of [person's name]: what working at X looks like
3 tips to make sure your CV gets read
The top questions my mum has asked me about my job
What to look for when you're hiring in X…
Organization
Alongside this, social media marketing takes a lot of planning, effort, and organization. With a mix of different content and plenty of different social media platforms to share it on, it can get confusing. Throw in a constant level of engagement on each channel, and it may start to look impossible. Especially with lots of people working on different aspects of your marketing strategy.
A content calendar can set out your workflow in a clear and concise layout. This will avoid unnecessary mistakes and regulate your content output on all platforms. Don't get overwhelmed with the amount of work needed for social media marketing. Get a content calendar. 
Some content calendars can offer an automation system as well. An added bonus! So sit back and relax. All of your social media accounts will be taken care of. Here's a free blogging calendar template for you.
5. Social media savvy
It's not just about encouraging your employees to share your content online – you want that content to make them look good. Would you turn up in a ballgown to a barbecue? Actually, yes, I probably would, but that's beside the point.
Many businesses still forget that social media is a social place and not just a vacuum in which to dump your newsletter. If you want your employees to share your content, then you're going to have to up your game.
Here are a few simple approaches to consider:
Craft your social media posts as carefully as your other content – get witty, get insightful.
Pair your posts with media – a block quote with an amazing statistic in it! A video of your business doing cool things! An infographic about a problem you're solving!
Feature your employees. Tag them. Show them at work. Get a quote from them.
Research, research, research – when it comes to social selling, you want to do your research. What hashtags are trending? What demographic are you trying to appeal to? What kind of posts get the most click-throughs?
Alongside sharing company content, sharing industry news and other useful resources can help employees build their personal brand. Content curation should be a core element of your marketing strategy. Quuu is a great place to find and publish relevant, high-quality content in your niche.
6. Using the right tools
Of course, you can do all the above without investing in new tools or pieces of software. However, employee advocacy platforms can make your life easier in the long run, especially if your company has more than 20 employees.
Employee Advocacy Management Tools:
There are many more you can explore.
Things you'll want to look out for when selecting your tool:
Are they easy to use? I like to ask myself: could my mum could use it? If she could, it passes the test.
Does it have the features you need? Sounds obvious, but sometimes you can get caught up in a sales pitch and realize too late that there's no RSS feed, it's not mobile-friendly, etc.
What are the analytics like? Analytics should be your best friend when it comes to content marketing. Make sure you have access to the most useful analytics for your company.
Will users get reminders through it to post and/or share? Automation is an awesome aspect of marketing tools. Whether it's just notifications about your schedule or maybe it can post on your behalf, it's super useful to stay on top of social media sharing.
7. Measure, measure, measure!
How can you tell if your program is successful if you haven't measured it?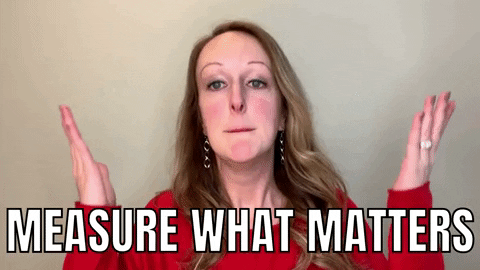 You'll want to measure success in terms of user engagement, content, and big-picture measurement.
Engagement
In terms of user engagement, ask yourself what percentage of employees are taking part and how many have dropped off. This will show you where you need to optimize the process to encourage long-term use.
Look at your most engaged users – is there a trend that could help you with your least engaged users? For example, you might find your 15 most engaged users are all posting from their mobile, perhaps you could offer some training to your least engaged users to show them how to share content from their phone.
Content
When considering content, your metrics will show you whether the program is increasing your organic reach. Find out which posts had the biggest reach, the most clicks, and the most engagement. You can replicate this in the future.
Big-picture measurement
Finally, in terms of your big-picture measurement, you need to see whether the traffic generated by your employees is converting. Is the program having an effect on your business as a whole?
These questions, and more, should be integral to your employee advocacy program!
Conclusion
Not only will these tips and tricks help you form or amplify your employee advocacy program, they will also create a unified company culture. If your company is made up of team members who are brand advocates and thought leaders in your industry, your business will grow stronger.
This will also help your employee retention. When your employees share your passion for the company and are valued for their work, they won't leave. 
Alongside the social sharing of relevant content across social media platforms, you will see the benefits of employee advocacy in all areas of your company. A strong team makes a strong business.