How repurposing your content affects your bottom line

8

min read
Reading Time:
6
minutes
It's no secret that perhaps the largest content marketing challenge we face is being able to produce enough content – and not just any kind of content, but truly engaging and high performing content.
The flipside to this is that the increase in demand for engaging content (the kind that attracts attention in a sea of competition) has given way to new and improved methods of pumping it out.
Behold the power of repurposing – it will save your sanity.
Repurposing content is the practice of taking old content and creatively implementing it in new ways and formats. For example, you could repurpose a popular blog post as a podcast, vlog, infographic, or social media post.
When it comes down to it, the possibilities are endless. So if you're interested in figuring out ways to effectively repurpose blog content for increased traffic and revenue, then you're in luck.
This post will show you the benefits of repurposing your blog content, outline a methodology for selecting content to repurpose, and discuss several real-world case studies from big-name brands, where repurposing has made a real difference to their bottom line. Enjoy!
Benefits
Repurposing content can help companies:
Increase reach and engagement
Establish influence
Boost SEO
Drive traffic
Increase lead generation

(by far the

number one goal

of content marketing)
Mixing things up with the kind of content you share keeps your readers on their toes, but, most importantly, it brings in new traffic and leads. For example, if you spread out your content on different platforms, you'll not only expand your reach to new audiences, but you'll also boost your SEO.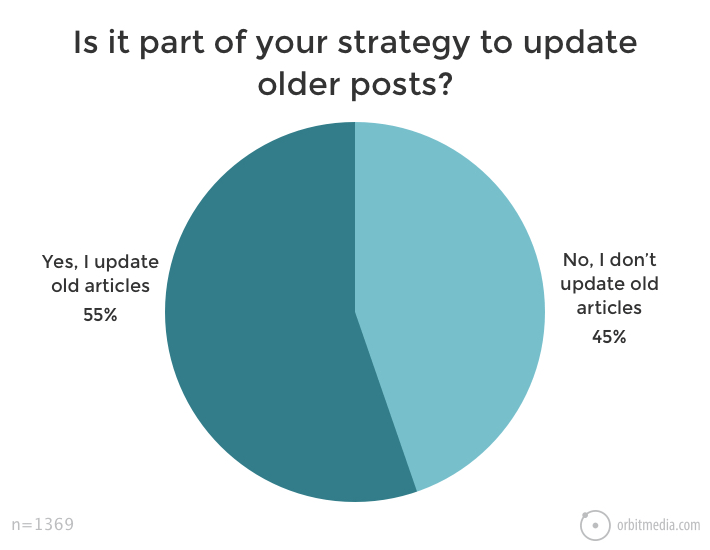 How to choose the best content
If you're relatively new to establishing an online presence, you'll have a much easier time selecting content for repurposing, as you simply won't have as much content to sift through.
For those who have a stronger and more established foothold in the digital sphere, you'll find yourselves in a tougher situation. You could have a long-standing blog, vlog, or social media presence with hundreds to thousands of content options to choose from.

If this is the case, the best approach to selecting content for repurposing is focusing on three major types of content:
Evergreen content is perfect for repurposing because the tenets and sentiments behind it never become outdated; they are ageless. For example, original research on a subject is what Copyblogger coins "evergreen gold."

Case studies are also great because they give you the opportunity to show off your research skills and expertise by analyzing a specific example. Likewise, how-to guides are excellent forms of evergreen content.
Data-driven content is ideal for repurposing when it is put in the context of the exact point in time it is referencing. This is because data is comprised of hard facts and statistics specific to a particular time and place.
For example, "100 Interesting Stats on the Beacon Marketing Trend in 2018" will be relevant to any future research or studies, which can draw on the original post. However, "100 Interesting Stats on the Beacon Marketing Trend", without the context of the year, can very quickly become outdated, as knowledge and awareness of beacon marketing are constantly progressing and evolving.
Popular content is pretty much the "no-brainer" in the list. I'm sure anyone reading this can already infer the implications that repurposing this type of content can have.
The LinkedIn Technology Marketing Community were polled on their views of the top three things that make content the most effective. The community came to the conclusion that content marketing success "starts with audience relevance (58 percent), followed by engaging and compelling storytelling (57 percent) that triggers a specific response (54 percent)."

Luckily for you, your most popular content has already embodied these very traits. After all, what is your most popular content if not content that has received the highest levels of engagement?
This content was tuned in to the needs and desires of your target demographic, and as a result was highly popular, which makes it extremely powerful for repurposing.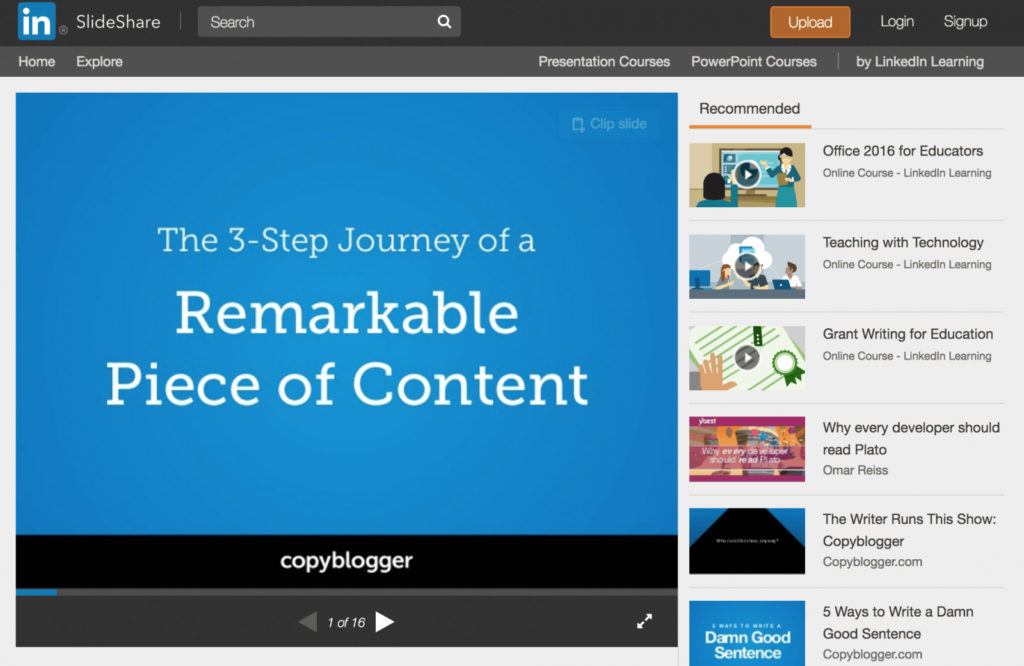 Case studies
Now you've decided which content to repurpose, it's time to look to some successful brands for inspiration. Let's see how content repurposing can drive real results for a business's bottom line.
Copyblogger
You might already be familiar with Slideshare, LinkedIn's presentation channel. While it could technically be classified as a social media channel due to its parent group, Slideshare has developed a name for itself as the online version of Microsoft PowerPoint.
Many companies have found success in utilizing Slideshare for repurposing content, as it gives them greater reach in their industries and strengthens their presence as thought leaders on certain topics.
Copyblogger is a well-known and established name in the content marketing world, and it has built up quite a reputation for itself. One awesome example of how the company made use of content repurposing is their transformation of a popular blog post, The 3-Step Journey of a Remarkable Piece of Content, into a tremendously popular SlideShare presentation.
How popular was that slideshow? Well, as of today, the presentation boasts a whopping 42.4k views. We call that a success.
[pic]
Buffer
In 2015, Buffer embarked on a "No New Content Challenge" – and their bold experimentation paid off. The team decided on repurposing 2-3 pieces of content per week for one month, monitoring and measuring the outcome along the way.
The results? Almost 200,000 views on their Slideshare presentation and a growth of over 4% in organic search traffic.

Ben Hardy/Goinswriter
A relatively unknown writer by the name of Ben Hardy started blogging in May of 2015 with a strategic goal of growing his audience. In just 12 short months, this marketing guru grew his email list to 100k and landed a $220k book deal. That's pretty insane.
So how did he do it?
Hardy began by consistently posting on his personal blog in order to gain traffic to use as leverage to connect him with a traditional publisher. Once published on his blog, he repurposed this content on Medium, which exposed him to an even greater audience. His posts were met with tremendous success.
They not only went viral, but caused a massive surge in traffic generation to his website, and within six months, he was able to grow his subscriber list from 0 to 22k. Fast forward six months after that, and he's more than quadrupled this number and landed an insane six-figure publishing deal.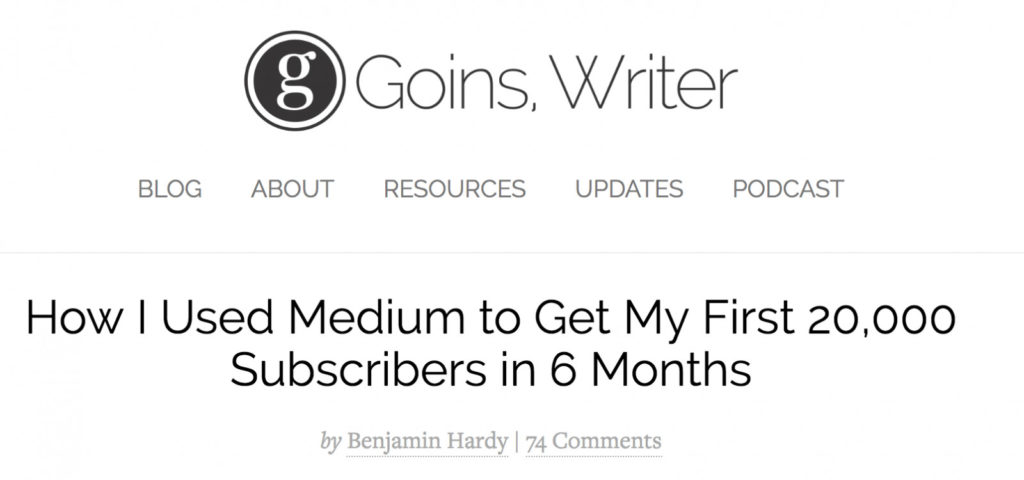 Internet Business Mastery Podcast
There are obviously countless ways to repurpose content, but in the end, it all boils down to creativity.
The Internet Business Mastery podcast is a pretty darn popular podcast that has been featured on high-profile websites such as Inc.com, Forbes, and Entrepreneur. Their content features interesting topics with funny and trendy spins, encompassing branding, books, business development, affiliate marketing and more.
The hosts, Jeremy and Jason, both had individual blogs they initially maintained (and still do). However, one day they decided to do a little experiment where they read and recorded their most popular blogs and then uploaded them to their podcast.
The result? Their audio blogs received 60-100% more downloads than their featured podcasts – and they haven't looked back since.
ProBlogger
Darren Rowse is most widely known in the content marketing world as the founder of ProBlogger, a blog dedicated to helping professionals find monetary success with their blogging efforts.
Well, Darren had a pretty genius idea. He realized he had a significant following and took the time to establish his online presence and industry authority status, gaining countless followers, subscribers, and clients in the process.
One of his series titled "31 Days to Build a Better Blog" performed so well that he decided to streamline and monetize the content. Row repackaged this series into an eBook and started selling it for $29.99, which is a heck of a lot of money for an eBook.

But he's Darren Rowse, so he can totally get away with it, because you know it's going to be chock full of quality.
This book became so iconic that it's even been bought and used as material in online courses.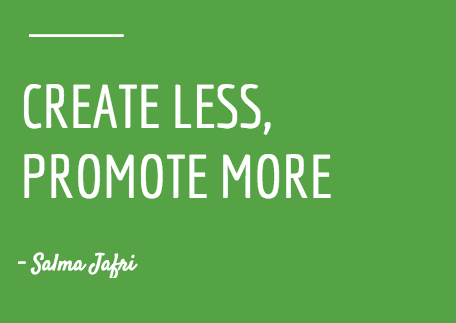 According to recent research by Curata, 29% of leading marketers systematically reuse and repurpose content.
Even more interesting, the Content Marketing Institute (CMI) found that 92% of marketers said their organization views content as a business asset.
When it comes to repurposing content, we can easily see the benefits by viewing the concept through the lens of the investment world: diversifying your assets is vital.
We hope that this post has given you a more in-depth understanding of the concept of content repurposing and that it will serve as inspiration for your own brand!
Remember – content repurposing is all about creativity, and what may work for one person may not be the best fit for another. The goal is to create a strategy unique to your situation and experiment constantly in order to achieve maximum efficiency and effectiveness.
Have you thought about repurposing content or implemented this tactic in some way, shape, or form? Tell us your story! We'd love to hear your thoughts.