Native Advertising vs Content Marketing: Which is Right for You in 2020?

11

min read
Reading Time:
7
minutes
Whether you're a seasoned marketer, social media manager, or just starting out learning about digital marketing, you will likely have heard about content marketing. But these days it seems that not everyone understands what native advertising is, or what it involves.
Both these forms of digital marketing came about as a result of marketers needing to overcome 'banner blindness' where essentially internet users were becoming increasingly frustrated with the continued featuring of blatant adverts, such as banner ads in-and-around the content they were reading. So much so that they just started ignoring them, we called this behaviour' banner blindness'.
From the ashes of regular, old-school ads, rose the phoenixes of content marketing and native advertising. Two brothers who looked nothing alike, but who were brought to existence to achieve the same ultimate goal – to drive conversions!
Source
More recently, two of the forms of native advertising: sponsored content and display ads, face much stiffer competition. Search engines are scouring the web billions of times per day for a relevant piece of content to match a user's web search, and typically they'll see more results satisfying their search criteria from content marketing than from native advertising.
This could be in the form of blog posts (or other editorial content), social media, videos, podcasts, infographics, presentations, webinars, white papers, the list goes on.
Definitions of Content Marketing and Native Advertising
Before we get into this blog, let's just make sure we're all on the same page by grabbing some definitions from Google.
Content Marketing (noun: content marketing)
A type of marketing that involves the creation and sharing of online material (such as videos, blogs, and social media posts) that does not explicitly promote a brand but is intended to stimulate interest in its products or services.
"social media is an integral part of content marketing"
Native Advertising (noun: native advertising)
Material in an online publication which resembles the publication's editorial content but is paid for by an advertiser and intended to promote the advertiser's product.
"even when it comes to native advertising, savvy Internet users can tell ads from stories"
Bit of a burn by Google there, but ok!
Let me elaborate in my own words as to the difference between these two approaches:
Native advertising is clearly marked as being a paid promotion. It has a shorter-term objective to drive a sale. You'll find these in the sidebars of websites, social platforms, and in the body of posts in between paragraphs. It's often in the form of a display ad, advertorial, content recommendation widget, or featured posts on social media. They will always have to say: "sponsored post", "paid advert", "featured product", "presented by…" you get the idea.
Whereas content marketing is the polar opposite, it's longer-term in its objective, it's subtler, and typically takes on a lengthier format. The intention is to educate, inform, provide value and keep on enticing the right audience to return, building trust with the brand of the target product. The end-goal, of course, is inducing a sign-up, sale or some form of conversion.
This blog post that you're reading right now, for example, is content marketing in action. I'm providing information to a targeted audience about different ways they can do it, I'm not forcing a sale down anyone's throats, and it's never in danger of being blocked by ad blockers. At its core, this blog post has the intention to help educate and inform the right audience for Quuu Promote, so this is why I'm writing it.
Brad Keys of SEMRush said in one of his articles on native advertising vs content marketing, that:
"Native ads are placed "seamlessly" within a website so that they don't disrupt the experience of the viewer, like in between paragraphs, and usually do not appear like a traditional ad in that they may not directly advertise for a service" — Source
Brad is totally right that this is the intention of native content, it should be seamless to be effective, but these days, in 2020 (rather than back in 2017 when he wrote this) they're often obtrusive and jarring to the reading experience. In my opinion, this isn't always because of how they appear on a site or app, but rather for the lack of relevancy to the content around it, and for its lack of added-value when you click through to the link.
We see a great deal more click-bait style headlines used for display ads that make them stand out as being blatant paid ads.
It is for this reason that with Quuu Promote (our content distribution app) we don't approve any content that has (a) too many adverts or (b) is overly promotional of any single entity. We made this decision based-on years of feedback from our users on Quuu who didn't appreciate sharing content with their followers that were littered with adverts and clearly pushing another person's agenda.
But going back to what Brad says about how native ads are supposed to appear, I found another definition which backs this up but with further instructions as to how you should aim to incorporate native advertising into your content marketing strategy with a particular focus on user experience.
So now we all understand the intention of a good native advert, but what absolutely must follow this native design is relevancy and value! Without that, I think people are just wasting their time! Nobody likes to be deceived, and content that is designed to make you click but doesn't deliver on its promise is a sure-fire way to damage your brand's reputation.
As Neil Patel says: "If you feel like you can't dedicate the time, energy, or resources to creating something of value to go along with your ad, you may want to stick to traditional advertising." – Source
Pro and cons of native advertising?
| | |
| --- | --- |
| Pros | Cons |
| It's relatively quick to produce. | It can be expensive to pay for sponsored placements. |
| It's easy to target people. | It can be off-putting to visitors to your site, disrupts reading experience. |
| Has an excellent CTR (click-through rate) on mobile. | Paid content is often considered to be biased and can be often ignored. |
| They avoid ad blockers. | Can be very bad for brand perception (depending on the individual). |
| If done right it's easy to track performance. | There's a common perception now that native ads are not worth clicking through to as they're rarely relevant. |
| The sales cycle is short from click to conversion. | |
| If people pay you for sponsored content then it's a good way to earn extra revenue. | |
| If carefully chosen you could help your visitors find unexpected helpful content/products/services. | |
| Can be very good for brand awareness. | |
Pro and cons of content marketing?
| | |
| --- | --- |
| Pros | Cons |
| It's totally free if you create your own content in-house (other than the time of your employees to create it). | It's time-consuming to produce good quality content. |
| It's generally easy to target people. | The sales cycle is long. It's normally top of the funnel marketing. |
| Avoids ad blockers because although the long game is selling, it's not an ad. | Learning all that's involved takes time and commitment. You can't simply post content and sit-back. |
| It can super-charge your SEO – Google loves content! | |
| It provides a catalogue of resources for users/customers. | |
| It provides lots of opportunities for content repurposing. | |
| If done right it's easy to track performance. | |
| You have endless opportunities to educate and provide value to your target audience. | |
| It's amazing for building brand loyalty. | |
| Offers fantastic opportunities for engaging with your target audience. | |
Which marketing tactic is better for me, content marketing or native advertising?
There is no barrier other than time and commitment to getting into content marketing, and the benefits of a good content marketing strategy are so far-reaching that I would recommend that it is a good fit for everyone to incorporate into their digital marketing in 2020.
Native advertising campaigns, on the other hand, rely on available budget o have your content strategically placed and therefore are not always feasible for everyone. Whether it's paying for a tweet to be promoted, an advertorial feature in a digital guide or journal or even a simple display ad in a sidebar, that being said, if you do have the budget to incorporate both strategies this year then if implemented correctly and the performance is regularly and reliably tracked and analysed, you could have a powerful marketing combo at your disposal.
There's no reason to only be in one camp or the other when it comes to your digital marketing, and there are myriad variants that dictate whether or not native advertising is right for you.
Some things to consider:
Do you have click heat map data that gives you insights into how your users browse your content? Do they tend to click multiple links in a list of available options, or are they selective and discerning?
Do you have the kind of product or service that people can buy with minimal thinking required before committing?
Is your target audience at all impulsive?
Are your target audience visually driven, or do they prefer to reading about things in general?
Do you have enough budget to experiment with it and if it fails then you won't need to look down the back of the office sofa?
Do you have click heat map data that gives you insights into how your users browse your content? Do they tend to click multiple links in a list of available options, or are they selective and discerning?
Useful content marketing and native advertising tools for 2020
Some content marketing tools that you may wish to check out are:
Bonus Giveaway: Manage your content marketing efforts this year with this Free Content Planner Template I designed for a recent blog post.
Some native ad networks that you may wish to check out are:
How will your digital marketing strategy look in 2020?
I hope you've enjoyed reading this post and that if you weren't fully aware of the differences between these two marketing tactics before, then you are now!
For the time being at Quuu, we're 100% focused on content marketing and upping our SEO performance. From 2015 until 2020, we've predominantly used Quuu Promote to market ourselves, we had minimal success with Facebook, Twitter and LinkedIn ads, and so we've stuck to what we know.
I'm not ruling out the prospect of trying native advertising for Quuu in the future, but for the time being, we still feel that we've got a lot of untapped potential to fulfil within the realms of content marketing.
I wish you all good luck and invite you to share your experiences of using these two strategies, especially if you've used the two together.
Summary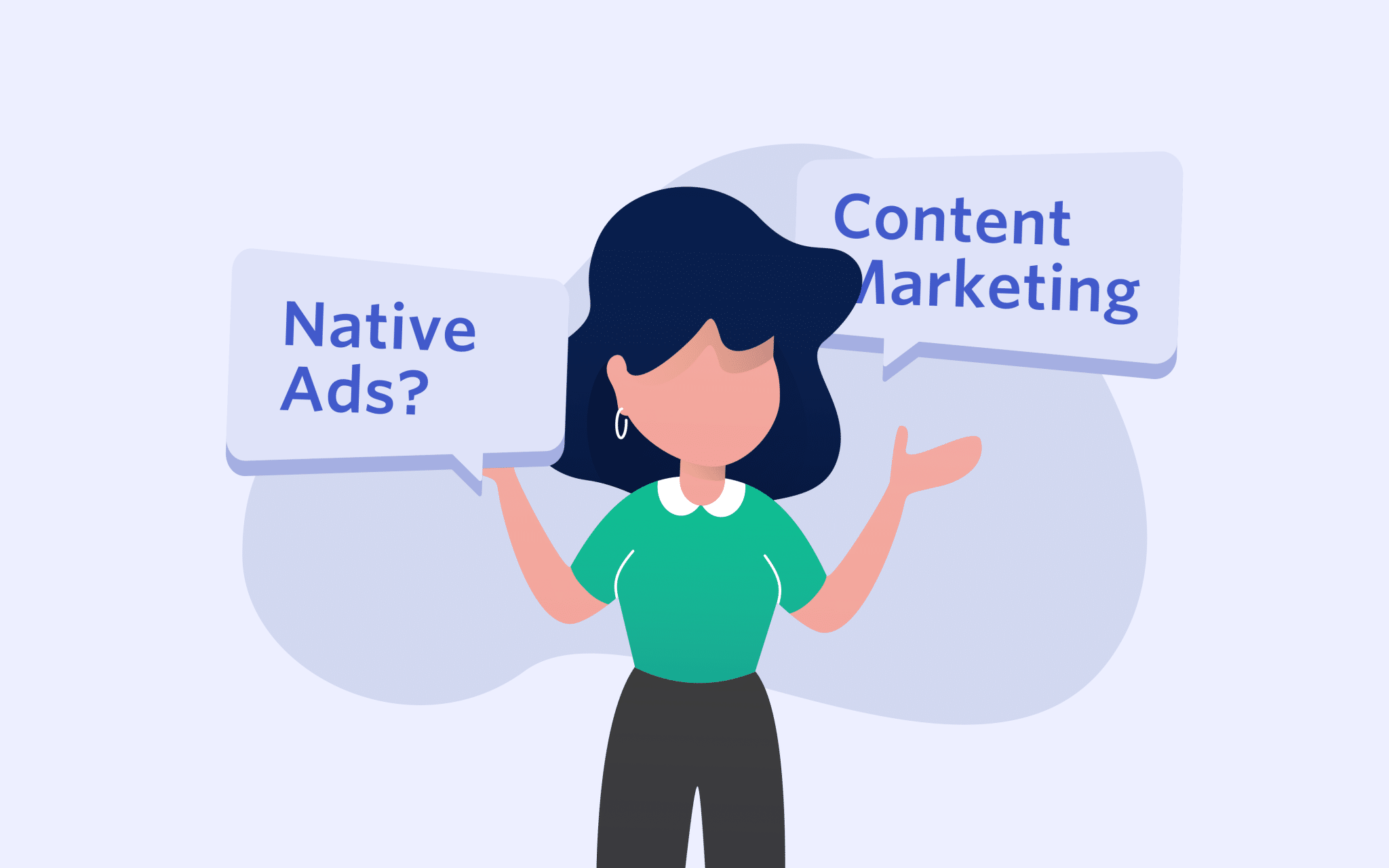 Article Name
Native Advertising vs Content Marketing: Which is Right for You in 2020?
Description
Get definitions of content marketing and native advertising, discover how they should be done and get tips for what tools to use
Author
Publisher Name
Publisher Logo