Remote working – Bringing sanity to mind & lessons worth learning

15

min read
Reading Time:
12
minutes
Ryan Hoover, founder of Product Hunt, recently ran a poll on Twitter, asking folks what was most important for them when looking for a new job.
The result? Remote working.
Out of the 8695 votes cast, 62% voted for 'the ability to work remotely.'
Let's say you're looking for a new job. What's most important to you? ?

— Ryan Hoover (@rrhoover) September 14, 2018
Remote working
is extremely desirable. And why shouldn't it be?
The flexibility of working anytime, anywhere, better work autonomy, the ability to arrange your day, higher productivity—you name it and this career trend offers it.
Yes, working in your ding dang jimjams included.
Image source: GIPHY
But despite the obvious benefits, there's something about the Remote working lifestyle that often goes unnoticed.
The dark side.
The side that doesn't get spoken about a lot.
Remote workers often battle anxiety, stress and depression. As it turns out, the negative after-effects of remote work are more common than you'd think.
Don't believe me? Here's a quick result from the survey we did for this article.
So, why do remote workers feel this way?
Having spent a considerable number of years as a remote worker, I feel that it is highly romanticized and that people often get blinded by the possibilities that this arrangement can offer.
Don't get me wrong here. Remote work is awesome and I don't deny it, but thinking of it as rainbows and unicorns is going a bit too far.
There are numerous reasons contributing to these negative after-effects.
For starters, it is difficult to disconnect when you work remotely. Remote work is demanding and often eats up more man-hours than a traditional 9 to 5 brick and mortar gig.  
Kate Harvey, who works as a freelance SaaS Content Marketer, echoes this sentiment.
"When I first started working remotely I wasn't great at work/life balance. With my office in the next room, it was easy to stay online and regularly work a 10 or 11 hour day."
She is not alone in her battle. Dan Honkanen, Founder & CEO of Ruggedseo, speaks the hard truth.
"If you work from home, it's easy to get sucked into the computer for hours without a break." Not being able to disconnect proactively adds to the already existing pressure, and "sometimes not being available can be seen negatively."
Another aspect of going remote is being a lone wolf. A traditional '9 to 5' setup offers umpteen avenues for interactions with co-workers/clients — brainstorming sessions, team activities, etc. — which keep the momentum going. But for most remote employees these are missing, especially for remote workers who work across time zones. Julie Bourne is one of them.
"I live on the East Coast, while the rest of my team lives on the West Coast – the time difference means I'm often not wrapping up work until 8:30 at night, which negatively impacts my sleeping patterns and productivity. I also often feel isolated as the only remote employee on my team. Moments of celebration and moments of being down in the weeds together is missed, as I don't get those little high-fives or moments in the elevator/water cooler that others get to debrief with each other. I'm missing that level of comradery."
Emma Siemasko, Founder at Stories by Emma, has a similar experience. She shares:
"Working remotely is stressful and anxiety-producing because you're all alone with your problems. This loneliness feeds on itself and it can be tough to get perspective."
While some foresee the impact quite early, for others it takes a while. Emma also says:
"It wouldn't be that depressing at first but when it's all you do and the situation did not change for a long time, it does affect mental health. It hit me after reaching the bottom and feared that I will also lose the one thing that connects me to other humans."
The end result?
Disconnection and social isolation. Erratic work hours, impaired judgment, mood swings, a decreased ability to learn and retain information. Fortunately, there are numerous ways to battle the situation.
I reached out to several remote workers (both freelancers and remote employees) to get their insights on what they do to maintain a sane mind while working remotely.
Here's are the tips that they shared with me:
1. Address the issue
"Don't be afraid to speak up for your mental health. It's equally important as your physical health." Erin Schroeder  
We tend to think of mental health disorders as something that happens to others. The denial is strong. By the time people get help, it is often too late. A lot of that is due to not recognizing symptoms early on. That's because we don't relate worries, anxiety, fears, and feelings of highs and low as legit symptoms of compromised mental health.
Mental health conditions manifest themselves slowly and are often initially behavioral. Normally, a change in behavior might just be the outcome of a bad day, but if you experience several of the symptoms listed above regularly, it's time that you take charge and get yourself assessed.
"Don't be afraid to admit you need help and go get it." Robyn Craig, QA Analyst
Lauren Cochran, a content writer at Getcodeless, has some strong advice for those who may be having trouble coping. She advocates being proactive and adds:
"'Better safe than sorry' is such a popular cliche for a reason — it's true. If you see a situation that might cause you stress or mental duress, speak up, step up, and address it before it spirals."
Things to do:
1. Are you easily overwhelmed? Are you experiencing melt-downs? Have you started to feel lonely? By studying your own behavior patterns you'll be able to keep a check on events that trigger and offset your mood. The MHFA England proposes a weekly wellbeing checkup.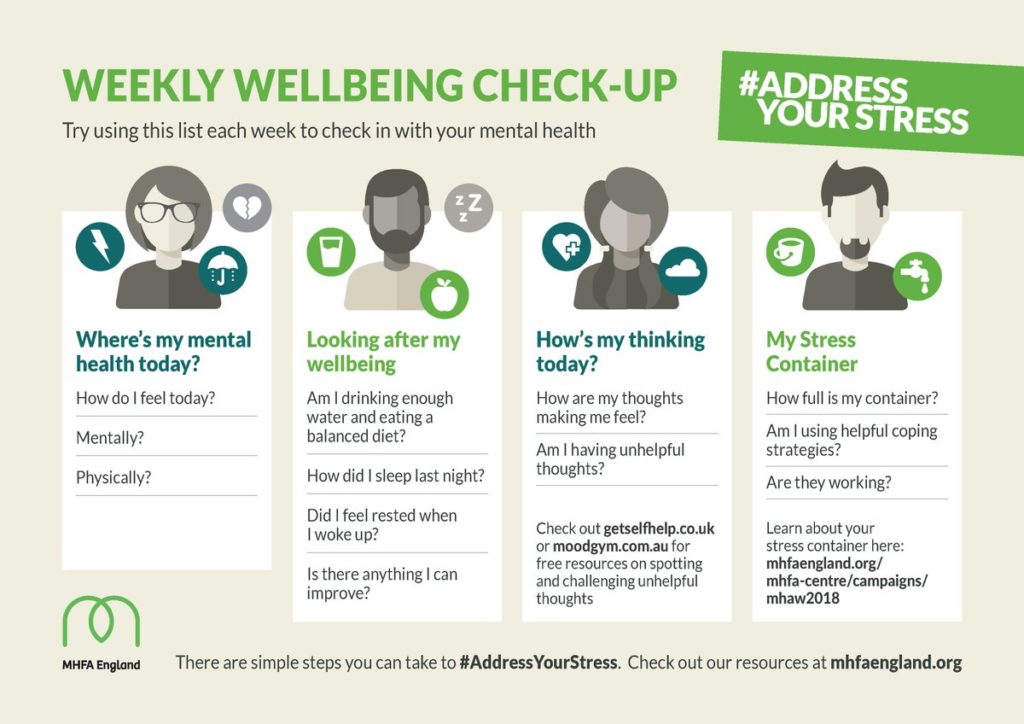 2. The more we learn about ourselves the better we can help ourselves. That's where personality tests can come in handy. 16personalities is a highly recommended personality test that provides pretty accurate insights about someone – including yourself.
3. Get into the habit of journaling your day-to-day life and revisit your entries often. Research has proven that this is a great way to keep track of any negative trends. If you are looking for an app, Stigma is a great one to start with. If physical journals are your thing, check out this nifty list!
Haven't tried journaling? This article will be a godsend for you.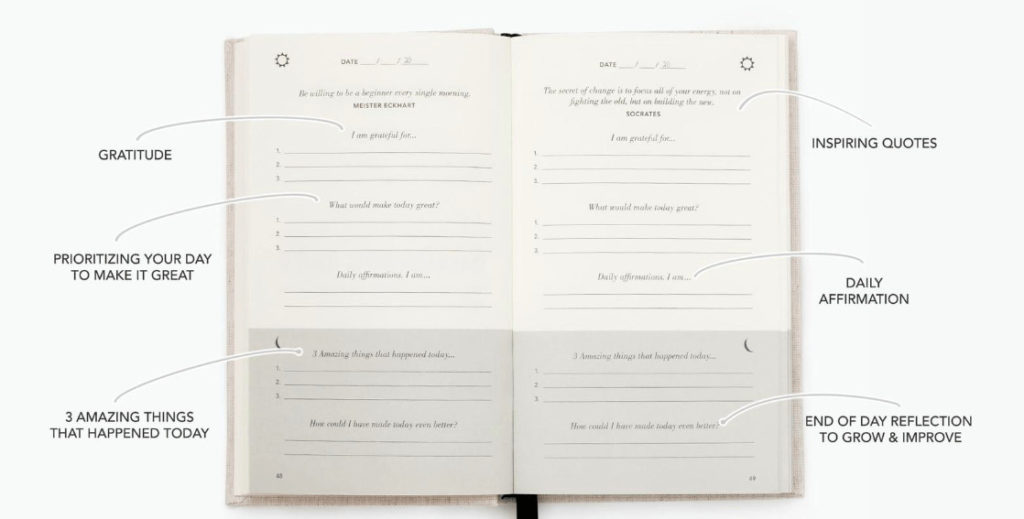 4. Establish a support network—speak to at least one friend/family member every day.
5. Intentionally carve a space and routine.
"I became a creature of habit, but in the best ways. I sort of develop a routine or ritual around all of the activities I knew really helped me manage my mental health from all angles, and approached it the same way I would a project at work.

"Seriously, I treated my situation as though freelancing was my full-time job and self-care was my side hustle. I created systems and process for myself and invested in tools and software to help me follow through with them. I put nightly journaling on my calendar, and added taking my meds and checking in with my therapist between appointments to my project management tool.

"I totally believe this approach was more important than the actual actions I used it on. Systems are supposed to make things easier, right? So when I was depressed and barely had any energy, having processes set up for taking care of myself made it easy enough to keep up with when I was struggling too much to do anything else."
Brittany Berger, Founder WorkBrighter.
2. Set and optimize your 'working schedule'
Having your own schedule is probably the biggest benefit of working remotely, but it can also be the trickiest part. Without a set schedule, you can lose productivity and find yourself rushing through things. Once that happens, trying to catch up is exhausting
"Every morning I jump out of bed and step on a landmine. The landmine is me. After the explosion, I spend the rest of the day putting the pieces together." – Ray Bradbury
Clearly, you don't want to do this ????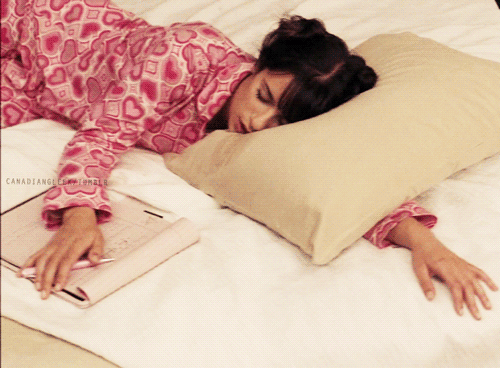 Jason Quey, Co-Founder of Growthramp.io, has a quick tip if you find this happening to you too often.
"Throughout my day, I optimize my schedule so I have high energy levels throughout the day. I do this by doing roughly 90-minute sprints, followed by a break. This routine gets me into a better flow faster."
Here are a few tips to create a productive working schedule:
1. Start and end your day at a fixed time. I like Kate Harvey's idea of scheduling an end of day activity to enforce day end.
"I attend a class that starts promptly at 5:30 pm so I'm forced to end my workday at a reasonable time in order to make it to the class on time."
Win-win, right?
2. Understand your own productivity pattern and stick to the time when you are the most productive. For some it might mean working in the mornings, and for some it may mean being the night owl.
3. Get out of your chair as often as you can – step out for lunch, go for a walk or hit the gym.
"I take a 5-minute break from the computer screen every hour and would do some quick stretches during this time.  I also take a 20-minute nap after the first few hours to refresh my mind." Maisa, remote HR Executive
4. Work in sprints – use apps to break up your time. Check out Tomato Timer app and the Break Timer chrome extension.
5. Set up a deadline and work backward – this strategy has worked for me every single time. You can use productivity apps such as Trello and Todoist to keep yourself in check.
6. Prioritize what's important – the key to staying productive is being able to differentiate between urgent/non urgent and important/non-important tasks.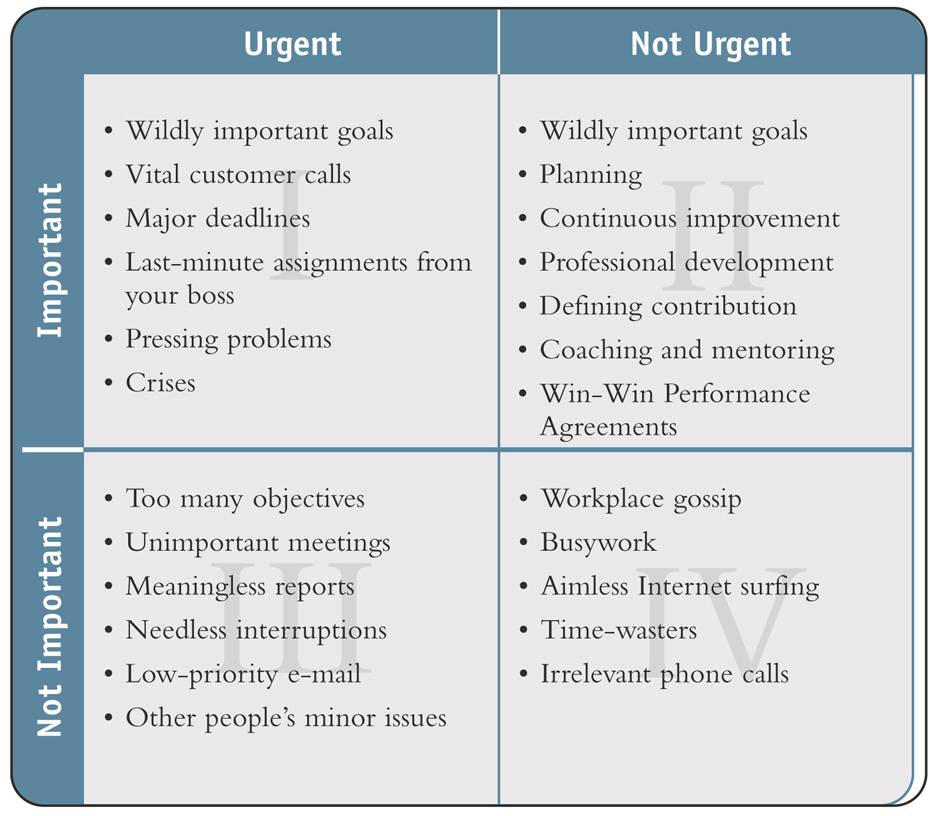 3. Set up a separate remote working space
The State of Remote working Report
by Buffer and Hubstaff states that most remote workers operate from home.
While the idea of working in pajamas from your the couch may seem like a comforting thought, it isn't ideal if you have difficulty staying focused.
This 'casual' approach interferes with productivity and will limit you from having an actual time-out from your work.
In the long – or maybe not-so-long – run, being too casual will add to the stress and can lead to a burn-out. It is therefore wise to either create a "home-office" set-up or find a space that lets you stay productive, even if that means working from your favorite coffee shop or a co-working space if that's what needed.
A dedicated work-space allows you to:
Stay on a schedule
Keep a gap between personal and professional space
Stay focused on tasks and be able to fully disconnect whenever required
https://www.instagram.com/p/BgoxUgaFgVR/?utm_source=ig_embed_loading
"If I spend the whole day working from home, my mood and productivity take a hit. I tend to break up the day by going to a lunchtime yoga class, or I work from cafés and coworking spaces. While I prefer to work independently, I have come to realise that being around other people energises me – even the smallest of interactions with the person making my coffee can seriously lift my mood." – Lucia Fontaina-Powell, Community Marketing Manager at Quuu
Worried about the costs involved in setting up a dedicated workspace? It  shouldn't cost a bomb. In fact, you don't even need a whole room for setting up a home-office. You can utilize spaces under the staircase, your garage or even use a quaint corner to get started.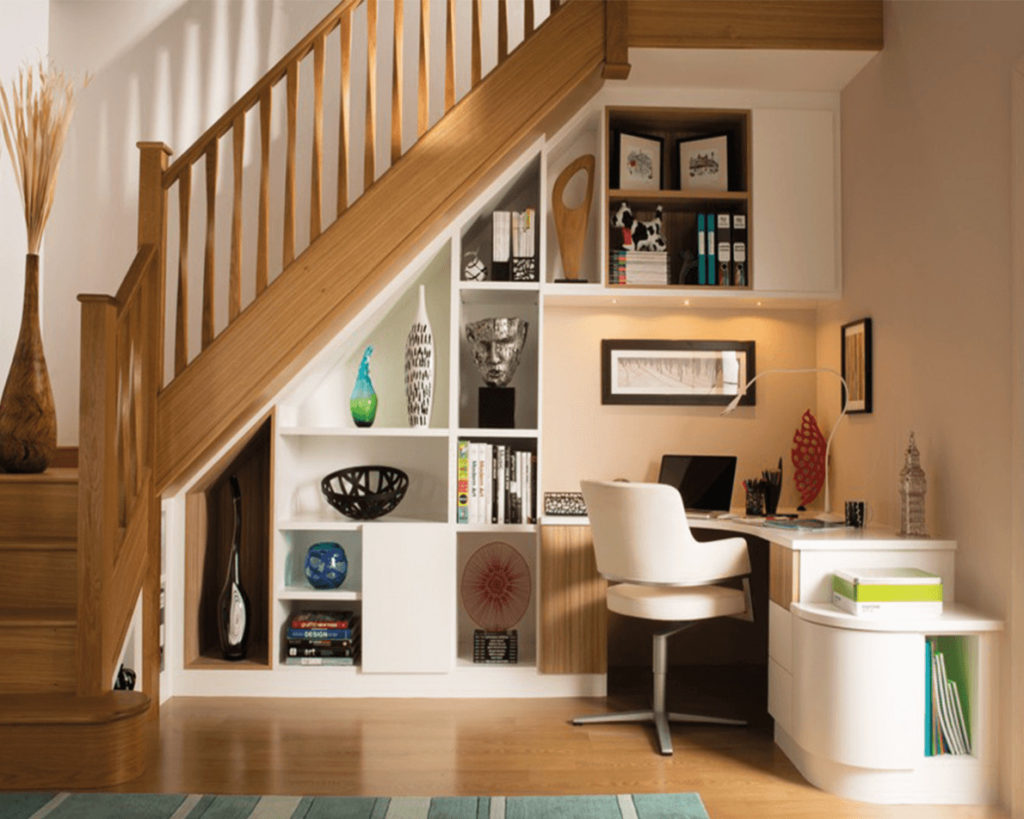 Image source: Homebliss
The idea is to keep it comfortable and work-conducive. Kaleigh Moore, a successful freelance writer and consultant, recommends these items for a home office investment under $100 in this delightful post.  
If you're a remote employee, chances are that your employer will cover costs for your home office. Many remote companies, like Buffer, even offer remote work specific "perks" to their employees. For freelancers, the cost of your home office is part of your cost of doing business.
4. Prioritize overall health
Let's accept it, managing a healthy lifestyle is tough in general, but with a remote lifestyle, the chances of slipping are that much greater. That's why it is essential to put in extra efforts to bring a mind and body equilibrium.
A good way to prioritize this is by tying it in with activities that make it fun. For example, you can find yourself a gym buddy or a walking partner or even sign up for a guided meditation session. You can also enroll for group Zumba lessons if your co-working space offers them. The idea is to keep it consistent and do what helps you rejuvenate —spa, sauna and power nap sessions included.
Another aspect of good health is eating right and you should keep yourself away from quick cheat meals that get devoured on the go— a common practice with most remote workers I know.
"It's important to have a strict workout regime and also look after your diet, including cutting out processed foods and meat. A vegan diet may be the best option, but as long as it's "clean eating", which means unprocessed wholefoods."  William Furney
5. Connect with the outside world
Loneliness and social disconnect are often touted as a modern plague, in fact, they are also the two biggest struggles for remote workers—21% of remote workers who took part in a survey indicated this. Remote working is often demanding and sometimes constrains people. For a lot of us, chatting on Slack or on social media seems fulfilling, but it isn't the same as meeting people in person and exploring things outside.
It's therefore vital to take extra efforts to have a routine that includes getting out and connecting with the "real" outside world. You can step out for coffee, walk a pet, run errands or even indulge in a sports activity that you like.
Nichole Elizabeth DeMeré
, a remote consultant for SaaS businesses, has found an innovative way to stay connected with people.
"I host a weekly co-working space in which other local remote workers drop by and we work together from 11:00 AM to 6:00 PM. This creates a sense of community."
6. Invest in self-care
Self-care is extremely vital for mental health and I can't emphasize its benefit enough. That's why investing in self-care should be a conscious effort for all those who work remotely. Maintaining healthy eating and sleeping patterns are a part of self-care, but there are tons of other things that you can do to keep yourself free of anxiety.
Disconnect from tech and have digital detox days.
Take time to indulge in a hobby/side hustle.
Allocate one day in the week to meeting someone in person.
Join a club that matches your interests.
Find yourself an accountability partner –

Focusmate

is an excellent tool to look at here.
Learn conscious breathing exercises.
Image source: Eumoir 
Join a community that focuses on self-awareness and care
A side note for companies hiring remote working employees
Remote working is fast becoming a norm and there's a whole lot that companies need to know before they hire remote employees. Whether you are a fully distributed team or have a few remote employees, the idea is to have enough talk and actions around maintaining positive mental health.
Here's what you as an employer can do to help your employees feel at ease:
Acknowledge mental health and its effects.
Create a friendly environment that allows people to express their feelings without being judged.
Trust your employees with tasks.
Dear tech companies,

Employees don't need ping pong tables or beer fridges at work. ?‍♂️?‍♀️

Employees need flexibility to do their best work and enjoy life. For instance, working remotely. ?‍♂️?‍♀️

Please offer trust, not toys. ?

— Rodolphe Dutel (@rdutel) September 15, 2018
Interact with your employees — have regular video meetings/ 1:1 meetings and keep a check on their progress.
Offer therapy sessions/co-working as an added perk to all employees.
Invest in company retreats/meetups.
https://www.instagram.com/p/BkKyiQdFntk/?taken-by=quuu_co
Stress family and me time, consider mandatory leave and paid vacations as part of your offer. In fact, implement a

reminder system

.
Dwell on daily mindfulness or fun activities in your Slack channels.
Ross Simmonds, a known name in the SaaS marketing world and someone who runs a successful marketing agency with a team of remote employees shares his two cents:
"One of the best things that we've invested in at Foundation is a daily stand up bot that asks everyone a series of questions each morning. The bot reaches out to each person individually on Slack and asks them 4 simple questions:
What did you accomplish since last check-in?
What will you be working on today?
What's your #1 priority today?
Is anything blocking your progress or slowing you down?
But once in a while we switch things up with a 5th question that gives the team a chance to get to know one another a little better. It might ask a question as simple as what's something on your bucket list? or What are you looking forward to doing on the break? These simple questions don't replace the value of one-to-one conversations but they are a fun way to keep the team connected and know a little more about the person behind the pixels."
Over to you
Remote work is becoming increasingly popular, and while the web is inundated with the positives that it offers, it is equally important to have a conversation around the negatives of this lifestyle.
I would love to know your experiences with remote work. Were there days when you felt anxious, lonely or depressed? What were a few ways in which you took care of yourself?
Please share your thoughts in the comments section below! You can also join me at Quuu's Twitter chat on Tuesday 16th October at 1pm BST, when we'll be discussing Remote working and mental health (just follow #Qchat to follow the conversation).