Instagram hashtags: caption or first comment?

3

min read
Reading Time:
2
minutes
Instagram hashtags are a divisive, confusing subject for social media marketers. Which hashtags will get us the most reach and engagement? How many hashtags should we use? And where do we put those hashtags?
It seems like everyone has a different opinion. Hashtag placement, in particular, is a big source of debate. Some argue that it's best practice to put Instagram hashtags in first comment; others think that the caption is their rightful place.
To settle the matter once and for all, we've teamed up with competitor analysis platform, Socialinsider.
They looked at 649,895 posts from over 6700 accounts of varying size to analyse how hashtags affect growth, engagement and reach on Instagram. No more rumours, hearsay or wild guesses – this is solid data that will help you develop an effective strategy for your business.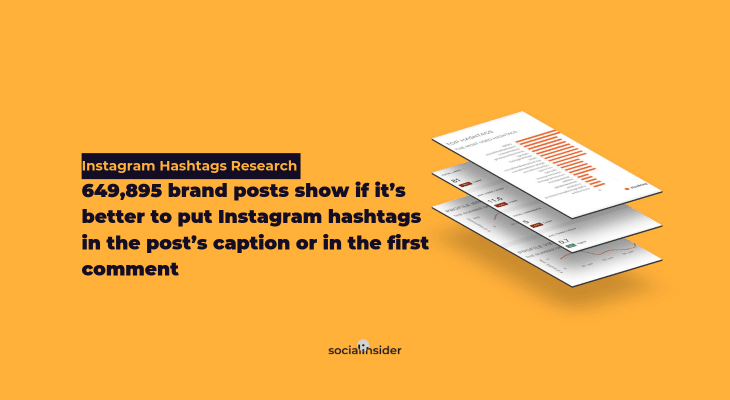 Here are the key findings from the report.
7 takeaways from our Instagram hashtags research
87.7% of brands prefer to use hashtags in the caption. An overwhelming majority of posts include hashtags in the caption: 93.8% vs 6.2%.
Brands use fewer hashtags when placing them in the comments, and more hashtags when using them in the caption. Most posts have 2 hashtags when looking only at hashtags in the first comment. However, when brands are using hashtags in the caption, most posts have either 7 hashtags, or between 27 and 30 hashtags.
Posts with 27-30 hashtags do not bring the peak engagement. Despite not performing badly across the board, posts with close to 30 hashtags never went up to the higher levels of engagement, compared to posts with a lower number of hashtags.
Profiles up to 100k followers have a better Reach Rate when using hashtags in the caption. Data shows that using hashtags in the caption brings small and medium-size Instagram pages more reach per post.
Profiles with more than 100k followers have a better Reach Rate when posting their hashtags in comments (15.9%). Judging by the reach metrics, large Instagram profiles – with over 100k followers – perform the exact opposite from the smaller and medium sized profile.
The Engagement Rate calculated per Post is affected by the placement of the hashtags, the number of hashtags and the size of your Instagram profile. It is not enough to only look at the placement of the hashtags to understand what works best when it comes to engagement.
The engagement rate per post is higher when posts add shown hashtags in the first comment or insert hidden hashtags in the caption. Brands prefer not hiding their hashtags across the board, but that's not always the best decision. Hide the caption hashtags, but don't hide the ones in the first comment.
For more insights and tips on how to use Instagram hashtags, download the full report here.
What strategies have you found work best for Instagram hashtags? We'd love to hear from you!