Our friends at PromoRepublic provide an overview of some proven tips that can help you build an epic social media strategy as a one-person marketing team. Let's dive right in!
If you're a one-person marketing team or solopreneur, you may be wondering how to handle and prioritize different social media tasks and create a consistent plan to manage them all.
Why it's not so easy: challenges as a one-person marketing team
Managing everything at once is easier said than done. You've got all sorts of different tasks to do: developing a strategy and implementing it, working on tactics, and creating content — a big factor here — that you're going to use for social media marketing. As a one-person marketing team, you cannot focus on the strategy alone but have to save time for other things.
All this can lead to conflicting priorities between tasks — and this is not the only issue you will face. You may also experience a lack of time or energy, and a tight budget, which may affect the overall performance level dramatically. Still, a properly defined social media marketing strategy (even by one person) can make life a lot easier.
How to prioritize: tips for maximum effect
Setting priorities is vital for any form of work, and developing a social media strategy is no exception. By accurately prioritizing tasks, you'll be able to manage your workload and reach all deadlines effectively. Additionally, you will free the necessary space for strategy in your daily schedule.
Use a task list
Developing a marketing plan always involves dealing with dozens of small (but important) details and being able to see a bigger picture, first of all, you need to put everything on a task list and break it down by monthly, weekly, and daily goals. Start with separating the wheat from the chaff. Get all your tasks in one place, either in a Google doc, an app, a notebook, or even a piece of paper.
Separate the urgent from the important
It's time to prioritize. Use this famous matrix developed by the former US president D. Eisenhower — it helps to determine the tasks that need doing right away (the urgent ones) and the things that are not necessarily urgent, but still, have to be dealt with soon.
The matrix looks like this.
Eat the frog
When you have established your priorities, get into the habit of "eating the frog" in the morning – which means start with the task that is the least pleasant for you (unless you're a stork who enjoys the taste of fresh frog, but you get the idea!). In this way, you'll be rid of the most difficult task, feel inspired by what you've achieved, and set a positive tone for the rest of the day.
Eat the frog
When you have established your priorities, get into the habit of "eating the frog" in the morning – which means start with the task that is the least pleasant for you (unless you're a stork who enjoys the taste of fresh frog, but you get the idea!). In this way, you'll be rid of the most challenging task, feel inspired by what you've achieved, and set a positive tone for the rest of the day.
How to develop an SMM strategy as a one-person marketing team: the plan
Identify your social media goals with business objectives in mind
Whether you're simply after brand awareness or striving to drive consistent traffic to a particular product, or social network, the bigger picture should always be in the back of your mind, particularly when you're laying out social media marketing goals. Assuming that social media marketing is an integral part of your overall marketing strategy, the way you define it can really affect your business performance.
Set S.M.A.R.T. goals
Good results call for goals that are specific, measurable, achievable, realistic and timely. Define your exact KPIs (Key Performance Indicators) are, what business goals you need to hit, how much time it would take and how you plan to evaluate the results.
Here are some helpful tools to make it easier for you:
Get to know your target audience better
You typically engage with your target audience through all sorts of different social channels. So if you have detailed information about their behavioural patterns on your website, content preferences on social media platforms, devices, and locations, you can come up with better-informed decisions, and as a result, optimize your social media strategy and existing workflow.
Here are some tools to help you with the research:
Even though some of these tools allow you to do basic research on social media channels, it still can be worth manually checking Instagram, Twitter, Facebook, Pinterest, LinkedIn — to get an idea of what your buyer personas look like.
What's your competition up to?
Info about what your competitors are up to, how they do it, and why they do it, in terms of marketing, is not something you can overlook. In this way, you can examine their strengths and weaknesses.
Based on your results, you can decide where you want to focus your social strategy's efforts. For example, if your competitors are active on Facebook, but don't have a Twitter account, you might want to go there and get the most out of it!
Social listening can help you understand how other businesses communicate with their clients and what works better for them. Or what doesn't — that's your cue to take away.
Find inspiration!
There is no shame in drawing inspiration from others. Look for the success stories, award-winning strategies, and marketing campaigns that brought success to other brands and influencers. Create a shortlist of your faves and study their every step. Here is some inspiration from other brands to help boost your online performance.
You can also use these tools as an additional source of inspiration:
Use a social media content calendar
A social media calendar is a must-have for someone who dares to embrace the challenge of managing an entire marketing strategy as a one-person team or small business! If you don't have the right means to keep all your social content organized, it will soon turn into a total mess. Create a decent posting schedule using your most effective social platforms and think of how you can reuse your old content.
For example, you can create different social media posts based on your latest blog post. Then, if some posts appear to be more popular than others, update and repost them again after some time – but don't overdo it. Here are some great ideas on how to build the perfect content calendar in 2020.
Use these tools to plan your social media activities.
Test, evaluate, and adjust your strategy.
It's crucial to measure and tweak your social media marketing plan: learn what's successful and what isn't, and what you can improve on. By doing that, you will save plenty of time and money on repeating only the types of content that win over your audience. So, track your website data to know which posts bring the best results. Do it either with website analytics or campaign-featured metrics.
These tools will be of great help.
Automate as many processes as you can (free your hands)
First of all, try automating routine tasks – in this way, you can free up some time and focus more on strategic objectives. These tools below can help curate and share content, analyze audience behaviour, check out competitors, and more.
Here they are:
To wrap up
Developing a one-person social media strategy seems challenging at first: plenty of tasks and no time or budget to accomplish everything. Yet by prioritizing, you can make it much more manageable. Consider using the tools mentioned above to boost your social media campaigns, analyze the results and automate the most time-consuming of your tasks.
Alternatively, you can check the map of marketing services providers to see if any of them suit your needs. Remember that priorities are great, but you have to be realistic about how much work you can do in a day as a one-person marketing team. Good luck with your social marketing!
Summary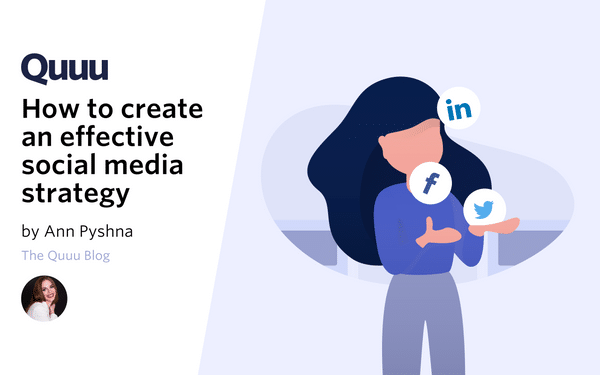 Article Name
How to Create an Effective Social Media Strategy as a One-Person Team
Description
One-person social media marketing team? We discuss how to handle and prioritize different tasks to create a consistent social media strategy.
Author
Publisher Name
Publisher Logo