Our friends at PromoRepublic provide an overview of some proven tips that can help you build an epic social media strategy as a one-person marketing team. Plus, we have a few bonus tips from the team at Quuu. Let's dive right in!
If you're a one-person marketing team or small business, you know exactly how many plates you must keep spinning to keep your social media marketing ticking over. Despite what some colleagues may think, you don't just post content all day.
You're probably already using several different tools and platforms to help you work. But we'll go into more detail about how you can effectively prioritize your workload, use curated content, and more.
Solo marketing success awaits!
Why do you need a social media marketing strategy?
If you're new to the social media game, you've probably seen social media posts from businesses and brands you follow and think it looks pretty easy. But a lot of work goes on behind the scenes before those posts end up on your timeline.
Your brand, and others across the world, are on social media for a reason. To grow their audience and boost sales. Without a solid strategy, you'll have no idea if you're achieving those goals.
You need to know how to organize your social media schedule, analyze your content's performance, and how your audience reacts to certain types of content.
Why it's not so easy: challenges as a solo marketer
Managing everything at once is easier said than done. Many social media tasks must be completed each day and week to create high-quality content and consistently drive traffic to your website.
We know what it's like. You get to your desk first thing in the morning, and you're overwhelmed by the sheer amount of stuff you have to do.
You've got to develop a strategy and implement it, work on tactics, and create content — a big factor here — that you're going to use for social media marketing.
It's a lot. And as one person, you can't focus on the strategy alone. You have to put aside time for other things.
All this can lead to conflicting priorities between tasks, which is not the only issue you will face. You may also experience a lack of time or energy and a tight budget, which may dramatically affect the overall performance.
Still, a properly defined social media marketing strategy (even by one person) can make life much easier.
How to prioritize: tips for maximum effect
Setting priorities is vital for any form of work, whether in your professional or personal life. Developing a social media strategy is no exception.
By accurately prioritizing tasks, you'll be able to manage your workload and reach all deadlines effectively.
Additionally, you will free the necessary space for creating a strategy in your daily schedule.
We're going to recommend certain ways of doing things, and we're going to suggest certain programs or software that can help you.
But it's important to remember they're just that, suggestions. You're a human, you're unique, and you know how you work best. Some people like to use purpose-built task management software. Others love the dopamine hit from crossing something out on a physical to-do list.
Whatever your particular style, use the tips in this article to help you achieve social media success with the tools that work for you.
Use a task list
Developing a marketing plan always involves dealing with dozens of small (but important) details and being able to see the bigger picture.
With so many tasks, it can be difficult to list them all and prioritize them at the same time. To make this easier, it's best to start with a master task list.
This bit's simple. Just put every little task in one list. Don't worry about organizing it, get everything down on a document, scrap of paper, wherever. This is your master task list.
Once you're confident you've got everything listed, you can start prioritizing your tasks by monthly, weekly, and daily deadlines. This is the most basic form of task management and is a good foundation from which to organize your tasks further.
Separate the urgent from the important
It's time to prioritize. There are several ways to do this, so let's jump straight in. You're a busy bee, after all!
The Eisenhower Matrix
This is a simple four-quadrant box developed, funnily enough, by former US president Dwight D. Eisenhower. It helps to determine the tasks that need doing right away (the urgent and important ones) and the things that aren't necessarily urgent but still have to be dealt with soon.
The matrix looks like this: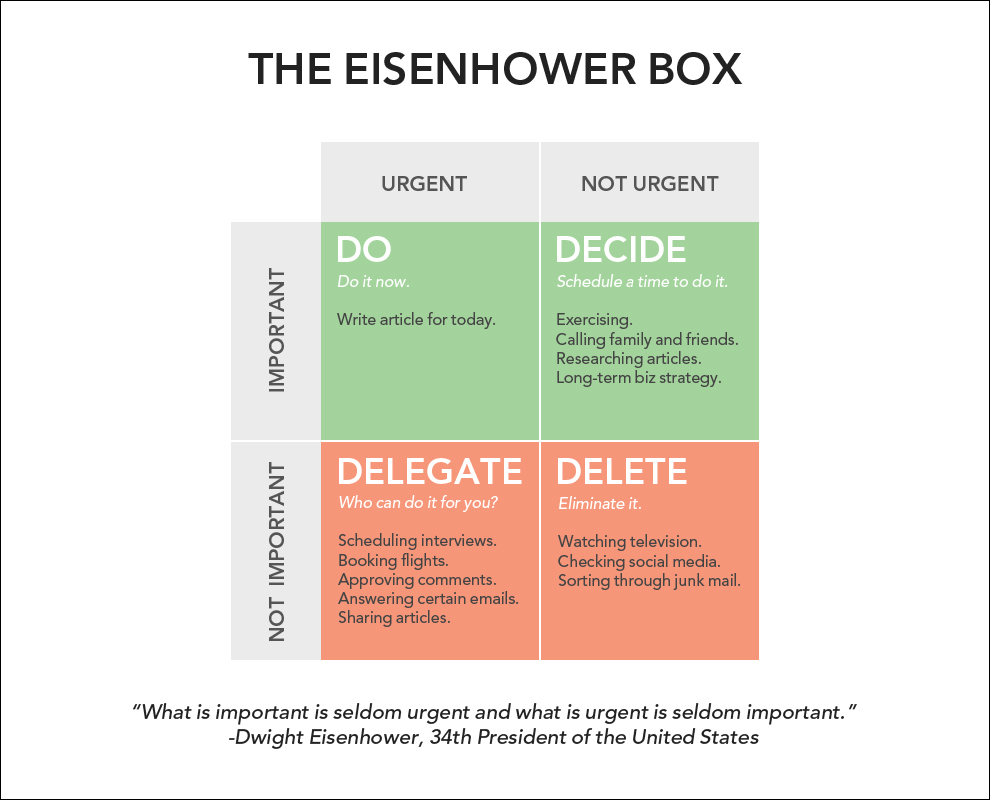 Categorizing your tasks correctly using this matrix can be tricky, but once you know which quadrants they belong to, it makes it much easier to prioritize them.
Unfortunately, as a solo social media marketer, you might struggle to delegate those that are urgent but not important.
Work out which will benefit your brand most and re-organize them into the correct quadrant.
If anything falls into the not important and not urgent box?
The Ivy Lee Method
Sometimes it's impossible to separate your tasks, and the urgent and important quadrant of the Eisenhower matrix fills up while the others remain unpopulated. Don't worry, the Ivy Lee Method can help you get back on track.
This simple method forces you to plan your day by following five simple rules:
At the end of your day, write down the six most important tasks to complete tomorrow. Don't write down more than six.
Prioritize them by their true importance.
The next day, focus completely on the first task. Don't do anything else until it is done.
Complete the rest of the list in the same way. If any tasks are left at the end of the day, move them to a new list for tomorrow.
Repeat every day.
Limiting yourself to a set number of daily tasks allows you to think about each one properly. And by restricting yourself to working on one task at a time, you're ensuring you give it your full attention, so you'll get it done quicker and to a higher standard.
The ABCDE Method
The Ivy Lee Method is great for prioritizing your work on a day-to-day basis. But what about those tasks that feel like they're equally important? This method helps you figure out which jobs are the highest priority.
Here's the super simple step-by-step guide for the ABCDE Method:
Give every task on your list a letter from A to E (A being the most important).
Group the ones with the same letters, and assign each one a number. This is the order you will complete them in.
It's simple but incredibly effective if your tasks all feel like they have the same importance.
All of a sudden, you know how important each job is and the order they need to be completed.
Eat the frog
No, not like that. Put the frog down, please.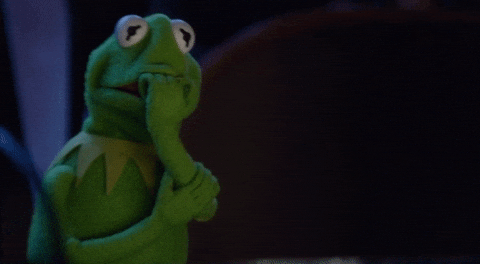 Eating the frog is the act of completing the task that is the least pleasant for you before all others.
Sure, it's tempting to plow through the easier tasks first in an attempt to gain some momentum and feel good about yourself. But you'll spend a lot of that time thinking and stressing about the bigger and more daunting one that's still to come.
Or, as Mark Twain put it:
Eat the frog. You'll be rid of the most challenging task, feel inspired by what you've achieved, and set a positive tone for the rest of the day.
How to develop an SMM strategy as a one-person marketing team: the plan
Identify your social media goals with business objectives in mind
Whether you're simply trying to increase brand awareness or striving to drive consistent traffic to a particular product, the bigger picture should always be in the back of your mind. Particularly when you're laying out social media marketing goals.
Assuming that social media is integral to your overall marketing strategy, how you define it can affect your business performance.
Set S.M.A.R.T. goals
Good results mean you have to set goals that are specific, measurable, achievable, realistic, and timely. Define your exact KPIs (Key Performance Indicators), what business goals you need to hit, how much time it would take, and how you plan to evaluate the results.
For example, let's say you set a specific goal of achieving 100 new newsletter subscriptions via your social networks over the next month. That goal is specific. It's measurable. Your newsletter software will tell you where your new subscribers have come from. Based on your social media analytics, you'll know if it's attainable and realistic. It's time-bound with the one-month deadline.
Keep all these things in mind when setting your goals, and watch them get smashed!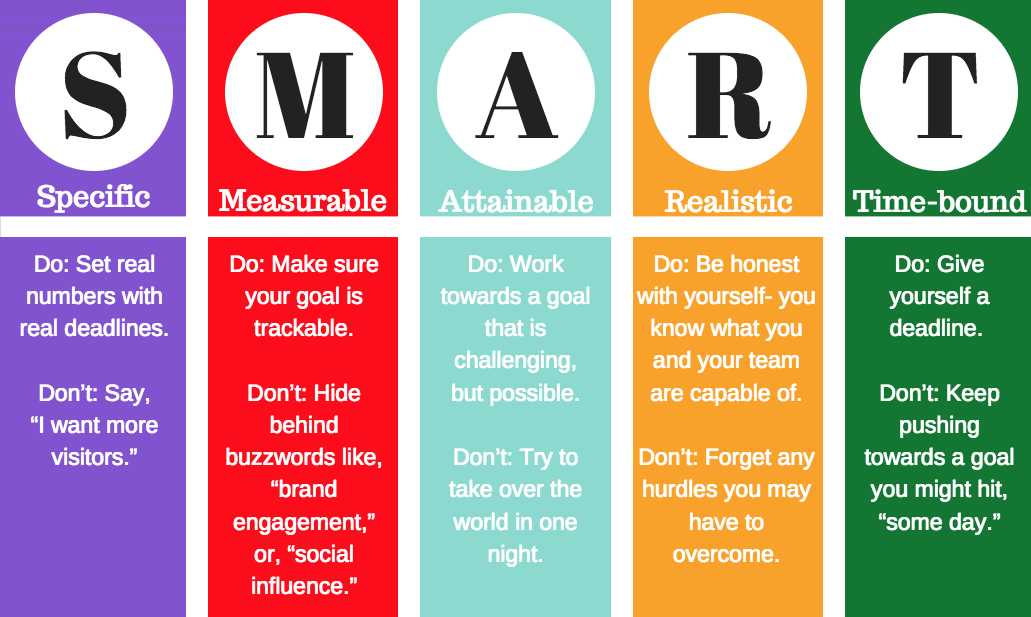 Here are some helpful tools to make it easier for you:
Get to know your target audience better
You typically engage with your target audience through all sorts of social channels.
Through their social media presence, you have access to a wealth of information about your audience. You know the brands they follow and their engagement rate with different types of content. 
You also have detailed information about their behavioral patterns on your website, devices, and locations. With all this information, you can come up with better-informed decisions and, as a result, optimize your social media strategy and existing workflow.
Here are some tools to help you with the research:
Even though some of these tools allow you to do basic research on social media channels, it can still be worth manually checking Instagram, Twitter, Facebook, Pinterest, and LinkedIn to get an idea of your buyer personas.
What's a persona?
Don't worry, we're not just gonna drop a phrase like buyer persona on you without giving you some more information.
A persona is a fictional character created using customer data to represent somebody that might use your product or follow your brand on social media. Once you have a buyer persona, you know who you're speaking to. And you know what questions they want answering.
You can start creating yours by using their demographics. These are easy to define. They're things like age, location, gender, and occupation.
This part isn't too in-depth, but it gives you the building blocks for your personas and helps create content. If your buyer personas are all in the 40-plus age category, focusing on TikTok content is unlikely to succeed.
You will also need to use psychographics to create more in-depth and helpful personas. These will give you the extra edge in defining your personas. They include things like their opinions, attitudes, aspirations, and beliefs.
Once you have all that information, you'll better understand how to communicate with your audience.
User-generated content
Utilizing content that your users create has several benefits
It saves you time
It populates your content calendar
It shows your audience you're listening
It gives more trust to your brand
User-generated content requires little effort from yourself other than hunting down content that you think would be great to add to your campaigns. You can even simplify that part by creating a hashtag for your audience to publish all their content in one place.
Camera manufacturer Nikon has a great Instagram hashtag. With #NikonCreators, all they have to do is find the posts they want to feature.
As well as making your job easier, this also positively affects your audience.
If they see you sharing user-generated content, they will immediately feel like yours is a brand that listens to their customers and engages with them.
If they see people using your products, they're more likely to trust that than a post you created yourself. After all, you're paid to big up your own products. Your customers aren't.
Curated content
Curated content is any content you share that you don't create yourself. User-generated content is an example, but you can use any kind from external sources.
Curation can be as quick and simple as retweeting something from a thought leader in your sector or getting involved with a news story that is relevant to your sector.
Take HootSuite, for example. Sure, they post a lot of their own content, but their Twitter timeline also features content from others that they think their users might find helpful.
Much like user-generated content, curation frees up your time, fills up your calendar, and elevates your brand. If you need more inspiration, here are 15 great content curation examples.
What's your competition up to?
No social media audit would be complete without checking in on your competitors. Info about what they're up to, how they do it, and why they do it, in terms of marketing, is not something you can overlook. In this way, you can examine their strengths and weaknesses.
You can decide where to focus your social strategy's efforts based on your results. For example, suppose your competitors are active on Facebook but don't have a Twitter or Snapchat account. In that case, there's an opportunity for your brand to be first on those social media platforms.
Likewise, if you notice a competitor likes posting lots of memes, have a look at how their audience is reacting. If it looks like those posts are getting very low engagement, you know they probably won't work for you, either.
Social listening can help you understand how other businesses communicate with their clients and what works better for them. Or what doesn't. Having a good grasp of your competitor's social media output and your own is a big help when it comes to planning your content strategy.
Find inspiration
There is no shame in drawing inspiration from others. Everybody does it. From social media marketers right through to Hollywood directors.
Look for the success stories, award-winning strategies, and marketing campaigns that brought success to other brands and influencers.
You can even look at campaigns and content that didn't work. At the very least, you'll know what to avoid. Or you might be able to update a failed campaign with your own unique spin and turn it into a successful social media marketing strategy.
Create a shortlist of your faves and study their every step. Here is some inspiration from other brands to help boost your online performance.
You can also use these tools as an additional source of inspiration:
PromoRepublic offers an impressive bundle of visuals. There are more than 100,000 images in stock for your inspiration.
Reddit and Quora are the best places to ask and get help — find a feed or start a new one, and you'll get some reliable insights.
Forekast helps you discover what's happening online, offering you a weekly selection of the most trendy topics online.
Use a social media content calendar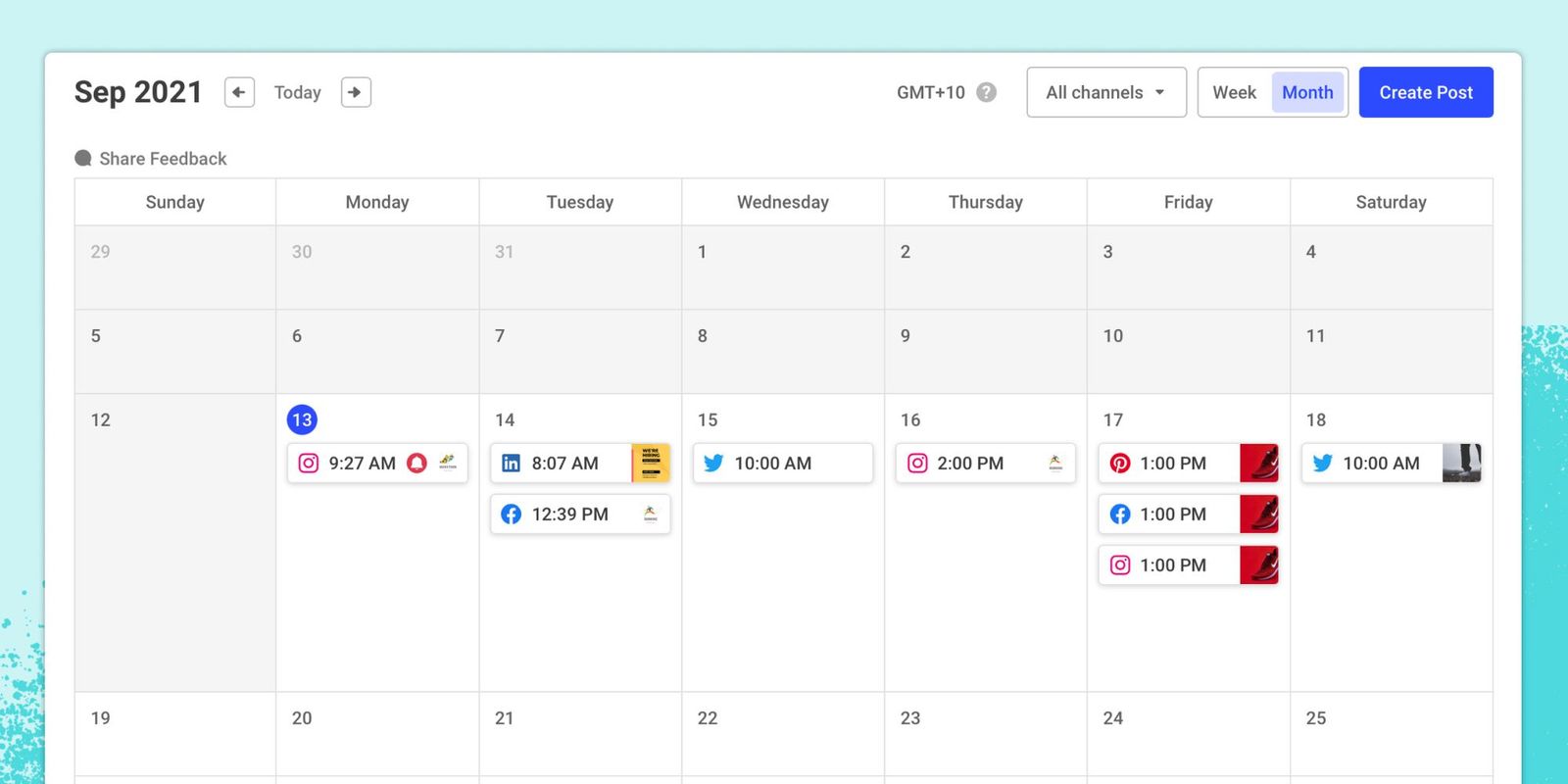 A social media calendar is a must-have for someone who dares to embrace the challenge of managing an entire marketing strategy as a one-person team or small business!
It will soon become a total mess if you don't have the right means to keep all your social content organized. So, create a decent posting schedule using your most effective social platforms, and consider how to reuse your old content in different formats.
For example, you can create different social media posts based on your latest blog (more on that in a second). Then, if some posts appear to be more popular, update and repost them again after some time – but don't overdo it. Here are some more great ideas on how to ace your social media content plan.
Use these tools to plan your social media activities.
Repurpose popular content
Content creation takes a lot of time. But repurposing popular content is one of the best ways to maximize your brand's reach and get your posts in front of potential customers that may not be aware of it already.
Let's say you have a blog post on your website that's been performing particularly well. That's great, but at the moment, all that helpful information is only available to people that are visiting your blog and prepared to read it all. Don't forget there are more formats than just the written word at your disposal.
Head over to Canva and break your blog down into an infographic that can be easily digested. If you've written a tutorial, you can consider repurposing it into a video for social networks such as YouTube or TikTok. Not everyone likes reading lengthy blog posts, so consider turning them into a podcast.
Once you start repurposing content regularly, you'll have a great template for future content, and your social media calendar will fill up much quicker.
HubSpot has a great article detailing 20 more ways that content can be repurposed.
Test, evaluate, and adjust your strategy
It's crucial to measure and tweak your social media marketing plan in real time. Learn what's successful and what isn't, and what you can improve on. Doing that will save plenty of time and money on repeating only the types of content that win over your audience.
Of course, you want your brand to appear fun across all platforms. You want to jump on the latest TikTok trends or the most popular hashtags. But there's no point doing that if the last time you tried, your audience didn't engage with you.
Looking at your metrics will also help you understand what works best on each social network. More formal, business-centric posts will work on LinkedIn, but they're unlikely to gain any traction on Facebook or Instagram.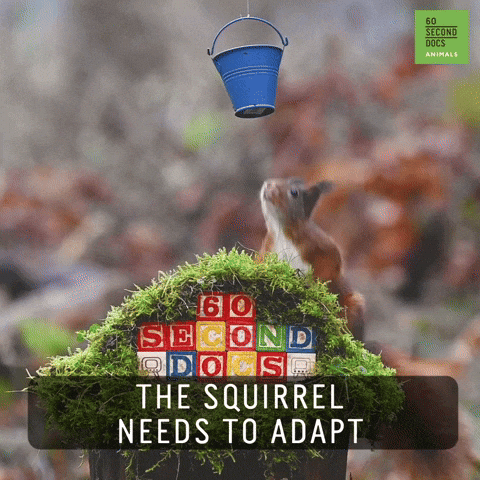 So, track your website data to know which posts bring the best results. Do it either with website analytics or campaign-featured metrics.
These tools will be of great help:
MailChimp automates email marketing campaigns and transfers the results into useful insights, such as the open/reply rate.
Google Analytics provides a deeper understanding of digital marketing campaign success: get conversion rate insights, compare traffic trends, and more.
HubSpot allows you to measure campaign outcomes and how they influence your interactions with the audience or website traffic and gives grounded reports.
Automate as many processes as you can (free your hands)
First of all, try automating routine tasks – this way, you can free up some time and focus more on strategic objectives.
These tasks can all be automated to some degree:
Social media post scheduling
Task management
Social media post scheduling
Chances are, you're already using software such as Buffer or Hootsuite to keep on top of your social media posts. But did you know these tools can also automatically schedule them too?
Both platforms mentioned above can analyze the performance of your social media posts. Once they've done that, they can schedule your social media posts for you at a time that will ensure maximum engagement. You no longer have to spend hours trawling through data, trying to figure out why this post worked but that one didn't.
Task management
We've learned all about how you can organize and prioritize your workload. Still, automated task management software can save precious minutes each week by automatically adding recurring tasks to your schedule and notifying you of upcoming deadlines.
It might not seem like much, but spending half an hour every Monday organizing the same weekly tasks is a significant amount of time. If you choose to automate your task management, you'll free up more time for other work, such as creating content.
The tools below can also help automate your workflow to some degree. Whether it's curating and sharing content, or analyzing audience behavior, we think they're worth checking out.
Here they are:
Conclusion
Developing a one-person social media marketing strategy seems challenging at first. There are plenty of tasks and no time or budget to accomplish everything. Yet by prioritizing, you can make it much more manageable.
Consider using the tools and techniques featured above to boost your social media campaigns, analyze the results and automate the most time-consuming of your tasks.
Alternatively, you can check the map of marketing services providers to see if any of them suit your needs. Remember that priorities are great, but you must be realistic about how much work you can do in a day as a one-person marketing team.
Do you have any tips that could help those traveling the social media marketing road on their own? Let us know in the comments!