How digital marketing agencies can use content marketing to drive conversions

13

min read
Reading Time:
10
minutes
Digital marketing agencies are good at content marketing, right? Well, yes – apart from when it comes to marketing themselves.
We know that content marketing generates approximately 3 times as many leads as traditional outbound marketing, but costs about 62% less. This explains why many businesses increase their content marketing budget every year.
However, many digital marketing agencies are still struggling to figure out how to leverage content marketing for lead generation. And rather than crack the code, they focus on other channels.
According to the 2018 State of the Digital Marketing Agency report by Wordstream, most agencies depend on referrals and upsells to acquire new clients, while only 11% are really leveraging content marketing.
It's ironic, considering these same digital marketing agencies get paid to help clients generate leads and increase sales. Worse, some parade themselves as content marketing ninjas, when they can't even make it work for themselves.
Yet, according to the same Wordstream report, a whopping 37% of digital marketing agencies admitted that getting new clients remains their biggest challenge.
So, how can a company that helps others to market their brand market itself using content marketing? This post will answer that big question.
But to start with, let's look at the four big mistakes digital marketing agencies make when implementing content marketing for their own businesses:
1. Not treating content as an important tool for conversion
Most digital marketing agencies downplay the power of content when building a system to increase conversions. They push content creation and marketing to the rear, while focusing more on stuff like landing page design, A/B testing CTAs, and email funnel setup.
But the truth is, quality content must be integrated as part of every strategy aimed at increasing conversions.Treating it as a separate, less important entity usually has negative effects on results.
Steve Toth
, SEO strategist, argues that quality content and cheap writers don't mix:
"A lot of SEO agencies struggle with getting their message and positioning right. As search marketers, we have the luxury of speaking to our prospects at the moment they want to learn about us.
This means that we've got their attention and most of us will be happy with the conversions that result out of that, but many of us are missing an important part: the ability to position yourself against competitors and persuade users who are on the fence.
It's easy to forget that your visitor likely has your competitors open on the other tabs of their browser; when you adapt your mindset to that reality, writing for CRO becomes a no-brainer."
The bottom line: Content is an integral element of conversion rate optimization, and it must be utilized at every stage of the sales funnel.
2. Not having a system for producing quality content
It's one thing to be aware of the effectiveness of content in conversion optimization, but it's another to create quality content. Most digital marketing agencies suck at content creation, especially when marketing themselves.
According to Dan Christensen, a digital marketing strategist:
"Digital marketing agencies often fail to generate leads because they don't have a consistent system to produce content for the purpose of growing their business. They may have a content schedule and strict guidelines for their clients, but they sometimes procrastinate on doing the heavy lifting for their own agency."
Worse, some see content creation as no more than outsourcing their article, graphics, or video production tasks to amateurs on platforms like Fiverr. And the results are as bad as expected.
Just look at any platform that connects people to writers, like Problogger.com's job board. Employers expect to hire writers to create solid content about SEO and marketing. That's not a good strategy.
We both know that those who quit never win. The same principle applies to creating quality content: those who hire cheap writers won't go far.
As an agency owner, you have the expertise. However, you may not be a great writer, so instead of expecting the writer to create what you want, play to your strengths. Write what you want in your own words and then have the writer polish it. That's a much better strategy.
The bottom line: Each agency must have a system in place for consistently creating quality content for its own marketing needs and for clients.
3. Not creating the right content
Another big mistake many digital marketing agencies make is creating content that goes totally off track. When this happens, results are poor regardless of the quality and quantity of the content.
Bill Widmer, a content marketing expert, gives a vivid description of the problem and its implications:
"[Their content is bad] Because they either aren't writing about the right things that their potential leads care about, or they are but they don't have a way to convert them from readers into leads (such as a highly targeted content upgrade).
Oftentimes I see people with great content, but their lead magnet is totally irrelevant to the specific piece of content. For example, let's say you wrote a guide to SEO. But then your lead magnet is a guide to growing your business, and you splatter that lead magnet across all your articles. It may be a great lead magnet, but the relevancy isn't there. Your readers aren't reading a guide to SEO to have you teach them how to grow their business – they're reading it to figure out how to do SEO.
A better lead magnet would be an SEO checklist, worksheet, cheat sheet, etc. – something directly related to what they're trying to learn."
The bottom line: To really attract new leads using content, agencies shouldn't just produce any old content. They should focus on producing content that caters to their potential customers' needs.
4. Adopting a more-is-better approach to content marketing
In virtually every aspect of life, quality always supersedes quantity. Content marketing is no exception. But sadly, many digital marketing agencies don't approach content creation and publishing with this principle in mind. They shy away from high-quality content that would produce stunning results. Instead, they resort to volume to make up for the huge deficit in quality.
But this approach doesn't work well. It results in situations like having thousands of daily blog views, but less than 10 monthly conversions. No one wants that, but that's what digital marketing agencies do to themselves.
The bottom line: Detailed, valuable, high-quality content published occasionally brings more impressive results than sub-par content published regularly and in huge quantities.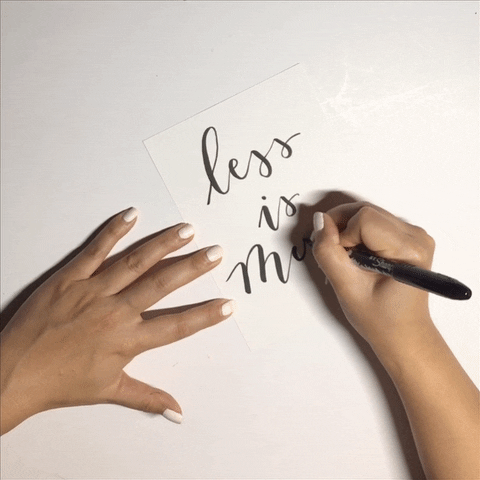 With all of the above in mind, let's now discuss how digital marketing agencies can leverage content marketing for increased conversions.
How to drive conversions using content: a guide for digital marketing agencies
To build a strong pipeline of quality leads, digital marketing agencies need to start acting as publishers rather than advertisers.
This is because brand storytelling and offering invaluable information are fast replacing sales-led marketing. Agencies should flow with this trend in order to remain in business.
Here are the steps to create content that is optimized for agency conversions.
Step 1: Figure out the right metrics to track
In marketing, the only way to know if a strategy is effective is to measure it objectively. So, your first step towards creating an effective content marketing system is to have a method for tracking and analyzing conversions. Otherwise, there's just no point.
There's a lot more to this step than setting up Google Analytics for your agency's website. You need to fully understand what to measure constantly.
Generally, the most important metrics for agency websites include user demographics, landing pages, average session duration, bounce rate, new versus returning visitors, conversion rate, and a few others.
For digital marketing agencies, conversion rate is by far the most important metric. So, you must master how to use the "Goals" feature to track your conversions. This article explains how to do that.
Step 2: Understand how your customers search the web
Since your goal is to drive conversions with your content, you need to create content that matches the needs of your potential customers. One objective way to do that is keyword research.
Figuring out the search phrases that your target audience uses when looking for information related to your business can seem simple, but most agencies screw things up when it comes to a more important factor — search intent.
Search intent is what differentiates between a keyword used by someone who is desperate to buy your services and another used by someone who (for example) only wants to understand how something works. So, the difference between "PPC for beginners" and "Best PPC expert in Chicago" is quite glaring.
Your ideal keywords are those indicating the user's desperate need for your services. You need to master how to identify such keywords.
Step 3: Figure out your customers' pain points
It's one thing to craft content that is optimized for buyer-intent keywords. But to get that content to convert, you must craft it in such a way that it hits hard on your potential customers' pain points. That is, the problems they're facing that prompted them to use those search phrases in the first place. The better you are at doing this, the more effective your content will be.
Sometimes, your customers' pain points can be easily figured from keywords like "low sales despite high traffic", "why is my traffic dropping?", and so on. But there are times when you'll have to take extra real-world measures, such as getting feedback from your potential or existing customers or spying on the competition.
In any case, note down the solutions that your business has to offer. After creating a list of your customers' pain points, cross-reference both lists with the keywords you found from your research. This will help you to understand the right words to choose when addressing your customers' problems in your content.
Daniel Cuttridge, marketing strategist, puts it well:
"In my opinion, marketing agencies that fail at content marketing do so because they often forget that their target audience isn't necessarily interested in marketing tactics.
Rather than creating marketing content for marketers, create content for business owners and entrepreneurs that just so happens to come from a marketing agency.
Shoulder niches or niches that are closely related to your main topic often drive better growth with content marketing in my experience."
Step 4: Craft quality content tailored to customers' needs
Quality content, in itself, does not generate sales. But you must still focus on crafting and publishing epic, high-quality content that solves the problems of your potential customers.
Epic content attracts backlinks. The more links your content attracts, the higher your site's domain authority (DA) goes. And over time, your service pages start to rank. Alternatively, your epic content ranks and prompts the reader to find the link to your services page.
Every successful business started in the same way: at some point, the owner or founder identified certain customer pain points and decided to develop a product or service that could solve those problems. Content marketing should be done in the same way. You'll attract more customers by focusing on creating content that addresses their pain points with mind-blowing solutions.
When crafting quality content, keep your buyer-intent keywords in mind. Remember that engaging titles play a huge role in drawing the attention of your target audience, and should include your target keywords.
The body of your content is equally important. Write detailed and valuable stuff without holding anything back. The more valuable your customers deem your content, the more trust they'll have in your business, and the higher the chances that they'll hire your services. And don't forget to garnish your content with relevant statistics, graphics, videos, and so on.
Above all, your CTA is the "icing on the cake". After your content has done the hard work of wowing your potential customers, your CTA is what finishes the job by driving them deep, deep down your sales funnel. The articles here and here detail how to use customers' pain points to craft killer content.
Even Steven Kang, a digital marketing strategist, agrees that CTAs are important:
"Lack of Strong Call to Action – Call to action must be placed throughout the content or there won't be enough triggers to nudge a reader to take action."
Step 5: Promote your content
Newly created content is like a new product on the market – nobody knows about it until you promote the heck out of it. So, if you want your content to really serve its purpose and generate quality leads, you must proactively promote it through the right channels.
Bear in mind that there are multiple options for content promotion. These include sending email broadcasts, guest blogging, influencer marketing and linkbuilding, as well as publishing on social media groups, content promotion networks, forums, and online question-and-answer communities. You'll have to pay to have your content displayed prominently on some platforms.
While you may not necessarily focus on all these content promotion options, you'll have to test each one to figure out those that produce impressive results and those that don't. Subsequently, keep the winners and ditch the duds.
Get your content shared by real people in your niche using Quuu Promote
Wrap-up
It hurts to admit that many digital marketing agencies are doing content marketing the wrong way – especially when they promise to help their clients do it right.. This guide has explained the reasons and how agencies can turn things around for their own benefit.
All the important points and details shared in this post are succinctly captured in this commentary by Austin Mullins, a renowned copywriter and content marketer:
"I think the reason many marketing teams fail to make content marketing work for them is that they have too narrow a view of what content marketing is, or what it requires. Simply writing a blog post and hoping for the best is not content marketing.
You need to take the time to research what your potential customers are interested in at various stages in their buying journey, make sure the content you create educates them better than anything else out there, provide a clear and reasonable call-to-action, and promote the content you create across multiple channels.
Furthermore, content marketing is a long-term game. You shouldn't expect significant results in a month or two, but rather 6-12 months if you're executing at a high level. There's never been more competition, but the rewards are well worth it."
Do you have any other tips for how digital marketing agencies can succeed using content marketing? I'd love to hear them!