Get even more from the content you share with Startafire

1

min read
Reading Time:
< 1
minutes
We make a point in saying that Quuu is here to enhance your existing strategy and is never meant to entirely replace your social media activity. With Quuu, you're sharing awesome content from great writers, but when someone clicks on a link you've shared, they may not come back to you after, so this is where Startafire.com comes into play, and we think it works great alongside your Quuu posts. 
It's as simple to sign up to Startafire as it is here at Quuu. Just connect with Twitter and then your Buffer account. Startafire will create a cool badge that appears at the bottom right of the screen when someone clicks on a link you've shared!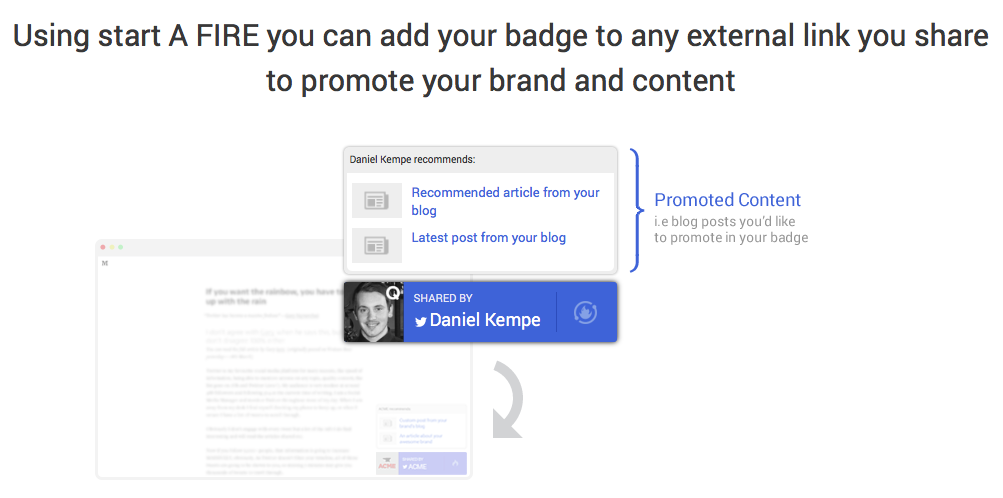 The aim: The readers come back to you or check out other content you promote. You can add links here manually via your Startafire account by visiting the "My Promoted Content" tab.
You still have a choice of short URL when sharing with Quuu and Startafire. If you use a buff.ly or bit.ly short URL already built into Buffer, it will keep that URL, otherwise, it will use the Startafire URL which is stfi.re.
The perfect partnership! Quuu + Startafire. 
Sign up for free at Startafire.com to get even more from the content you share from Quuu. We'd love to hear your thoughts and any experiences you've had with Starafire in the comments below! 🙂