How to come up with fresh ideas for social media

12

min read
Reading Time:
9
minutes
Now more than ever, your social media channels are where strong, lasting relationships with your customers are born. The average person will spend over 5 years of their life on social media – that's a lot of opportunities for you to get your brand in front of their eyes!
The best way to get their attention is, of course, by regularly posting engaging content. And that's easy, right? All you need is a few popular hashtags and some pretty stock photos.
Wrong. Content is only truly engaging if it's original. If your customer has 73 other #MondayMotivation posts clogging up their newsfeeds at the start of each week, what's going to make yours stand out from the crowd?
Revolving your posts around every National [Insert Random Thing] Day might make for a satisfyingly full editorial calendar, but it's not a successful content strategy. Sure, posting about a viral hashtag can be a clever growth hack, when done well. But if I'm looking for a knowledgeable expert I can trust to handle my business's SEO, I don't give two hoots if it's National Porridge Day.
The fast-paced, ephemeral nature of social media does allow you a greater degree of experimentation – and fun – with the content you share. However, you should approach it with a similar attitude to your onsite content.
We often talk about the importance of tailoring your blog posts to your audience's interests and needs. The same applies to your social media posts; reflect your brand's niche, listen to your followers and deliver real value straight to their feeds.
You need to think strategically. Rather than being a slave to a rigid schedule of cookie-cutter posts, think about what it is you're trying to achieve through your social media content, and let your ideas develop naturally from these pillars.
Here are some of the ways we come up with fresh ideas for social media posts at Quuu.
Share aspects of your company culture
A strong brand is crucial to your business's success for a number of reasons. It goes much further than simply having a catchy name and a well-designed logo; to build a positive reputation and a loyal following, you need to tell the story of who you are as a company.
"Good content isn't about good storytelling. It's about telling a true story well." – Ann Handley
So go ahead and tell the true story of your brand! Giving your followers an insight into the who, what, why and how behind your product will allow you to connect with them on a much more powerful level.
Things you can share
Photos of where you're working
A lot of B2B brands make the mistake of thinking that their industry or product is simply too boring for social media – particularly for visual platforms like Instagram.
But beautiful flat lays aren't just for B2C brands. Thanks to the evolution of modern working environments, there's plenty of room for all sorts of companies to include aspirational lifestyle content into their social strategies.
For example, remote working is on the rise among SaaS startups like us, and it's a trend that's proven advantageous for our social media content. Each week, we put together a little album of #remoteworking photos and share them on our social channels – they're one of our top performers for organic engagement on Facebook.
Whether you've got a super cool office or have the luxury of working from home, take some snaps of where you get your best work done.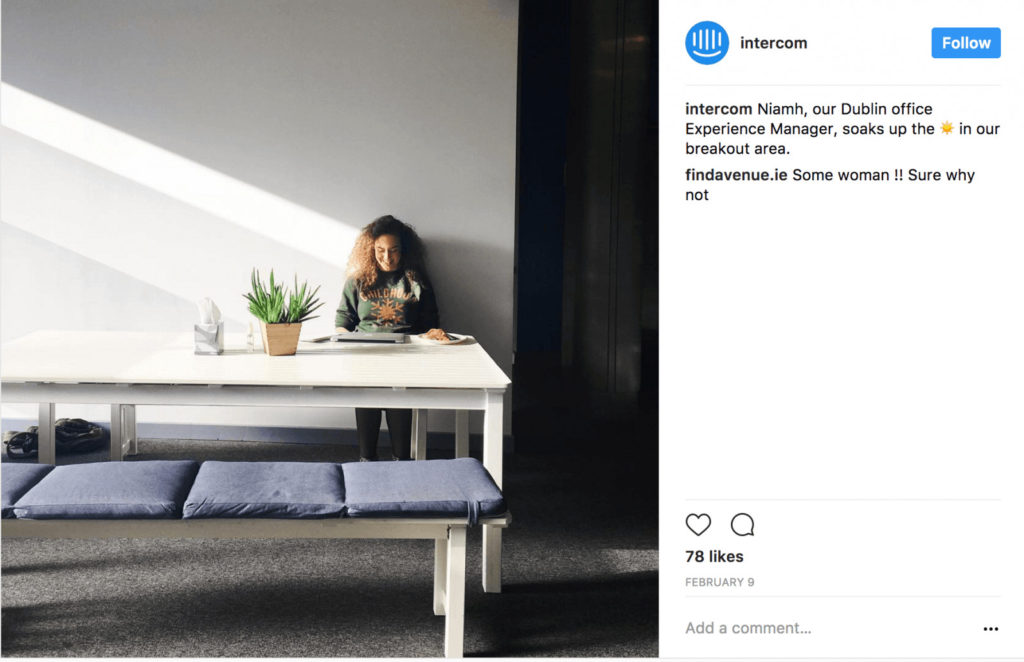 Photos of you having fun (within reason of course!)
Building trust is critical if you want to change a passive follower into someone who actively engages with your content, and, ultimately, your product. One of the easiest ways to do this is to simply be human. That's why influencer marketing has taken off in the past few years; people are much more likely to buy a product that's recommended to them by a real person they admire or relate to than a faceless brand.
It doesn't have to be all work and no play! Show some personality and build common ground between you and your followers. Everyone needs to let their hair down once in a while, so don't be afraid to document those Christmas parties and post-work drinks.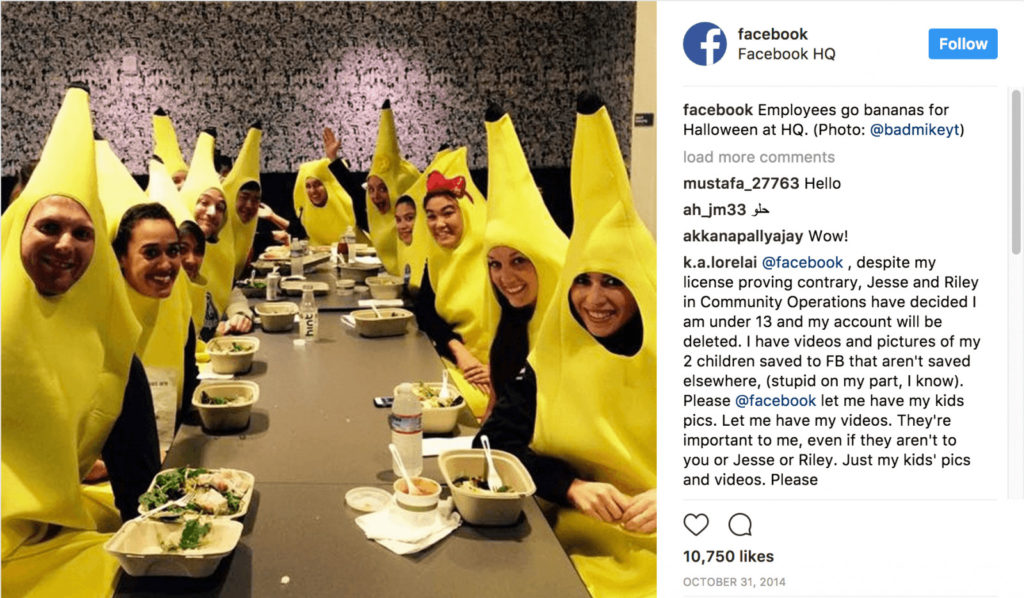 Day-in-the-life videos
In today's startup culture, businesses are becoming increasingly transparent about the way they operate, further breaking down barriers between themselves and their customers. Instagram, Facebook and Snapchat Stories are a great way to show your followers what you're up to throughout the day.
Quuu's co-founders, Matthew and Daniel, have started a vlog that follows their journey running a business. It's still early days, but they hope that these videos will give our followers a fun, behind-the-scenes glimpse into what's going on at Quuu, as well as helping and inspiring fellow business owners.
It's best to avoid using this kind of content to blow your own trumpet! Share moments your audience can relate to, and ideas that they can implement in their own lives – for example, the tools you can't live without, or your favourite productivity hacks.
Team playlists
Music is a powerful motivator, so why not share the tunes that get you in the zone?
Streaming services like Spotify hold a huge online community that not many brands have tapped into yet. Take a leaf out of Nike and Coca Cola's books and create themed playlists your followers can listen to.
You can make your playlists collaborative, so that everyone in your team can add to them – if you're a remote team, this is a nice way to incorporate a joint experience into your day. Spotify playlists have a shareable link, meaning you can post them on your social media channels.
Quotes
OK, so this can fall into the 'predictable' category. There's no doubt that quotes have a huge success rate on social media – the problem is, now everyone's doing them. To make yours stand out, try making them as personal to you as possible. It could be a quote from your favourite book or even some words of wisdom straight from your own mouth (although it might be advisable to build up a name for yourself first!).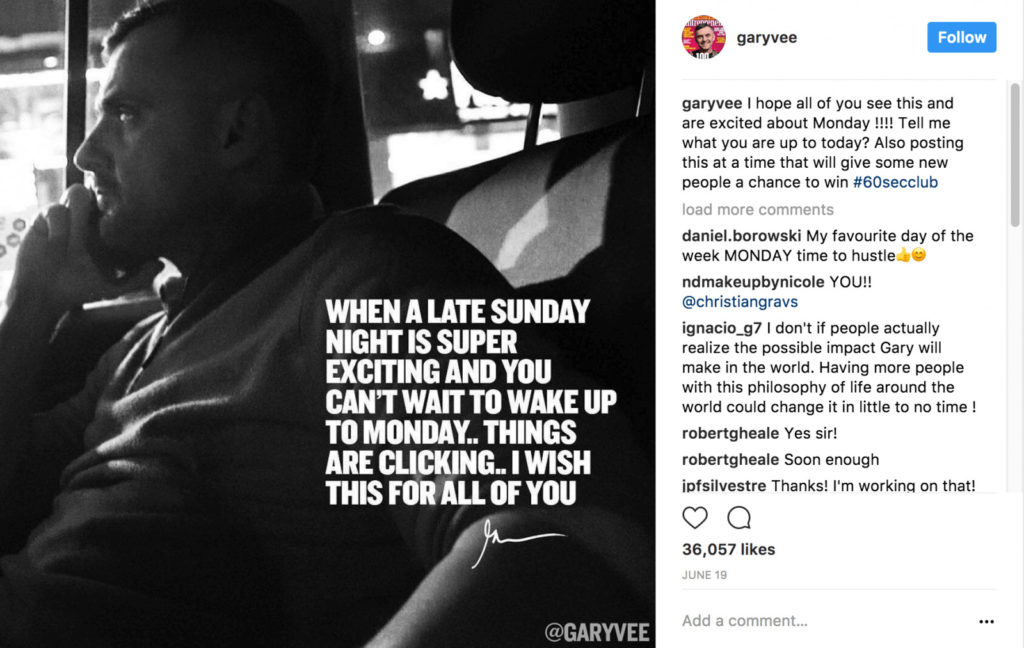 If you're not quite in Gary Vaynerchuk's league yet, you could simply share interesting stats or anecdotes about your business. At Quuu, we share the weird and wonderful facts we come across reviewing the content submitted through Quuu Promote. It's something a little different, as well as being directly linked to the service we provide.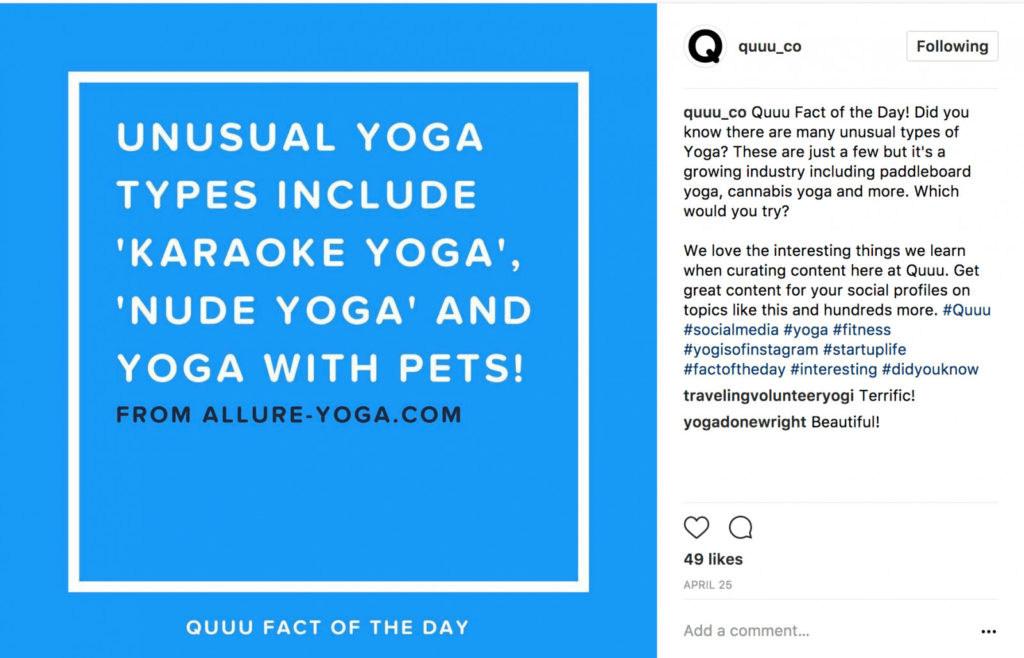 Start conversations
Remember that social media is about being social. It's a two-way street, and the content you share should be the starting point of a conversation, rather than all about you.
Ideas for posts that start conversations
Competitions and giveaways
Several of the post ideas we've covered so far could be used as prompts for your audience to send you their own content. If you discover a topic that particularly resonates with your followers, you might want to consider starting a UGC campaign. For example, you could ask your followers to show you their working environments.
As a team of digital nomads, Buffer often themes its posts around travel. Using the hashtag #buffercommunity, they invite their Instagram followers to share photos they've taken in exotic locations around the world. Buffer then regrams the best photos et voila: a gorgeous feed with minimal effort.
You could take this a step further by incorporating prizes or rewards into your campaign, such as company swag or free credits to use your product. By doing this, you're creating a positive interactive experience that allows your followers to connect with you, and each other.
Live videos
Live video is probably the most effective way to showcase the people behind your brand; raw, unedited footage feels genuine and authentic. It also allows you to have conversations with your followers in real-time, as they can talk to you in the comments section while you're on air.
This makes live video ideal for AMAs or mini webinars, in which you can demonstrate your expertise on a relevant topic, addressing questions from your audience as and when they come up.
Polls
Polls are an under-utilised yet very effective way to engage your followers in conversation.
Lots of brands simply pick subjects they know will divide opinion – it's a quick hack to encourage debate and fuel engagement.
However, polls can be a highly useful tool in your overall business strategy, too. Instead of running a complicated survey, you could use social feedback to influence important decisions you make in developing your product, for example. Asking your audience their opinion will make them feel valued, and much more likely to invest in your services.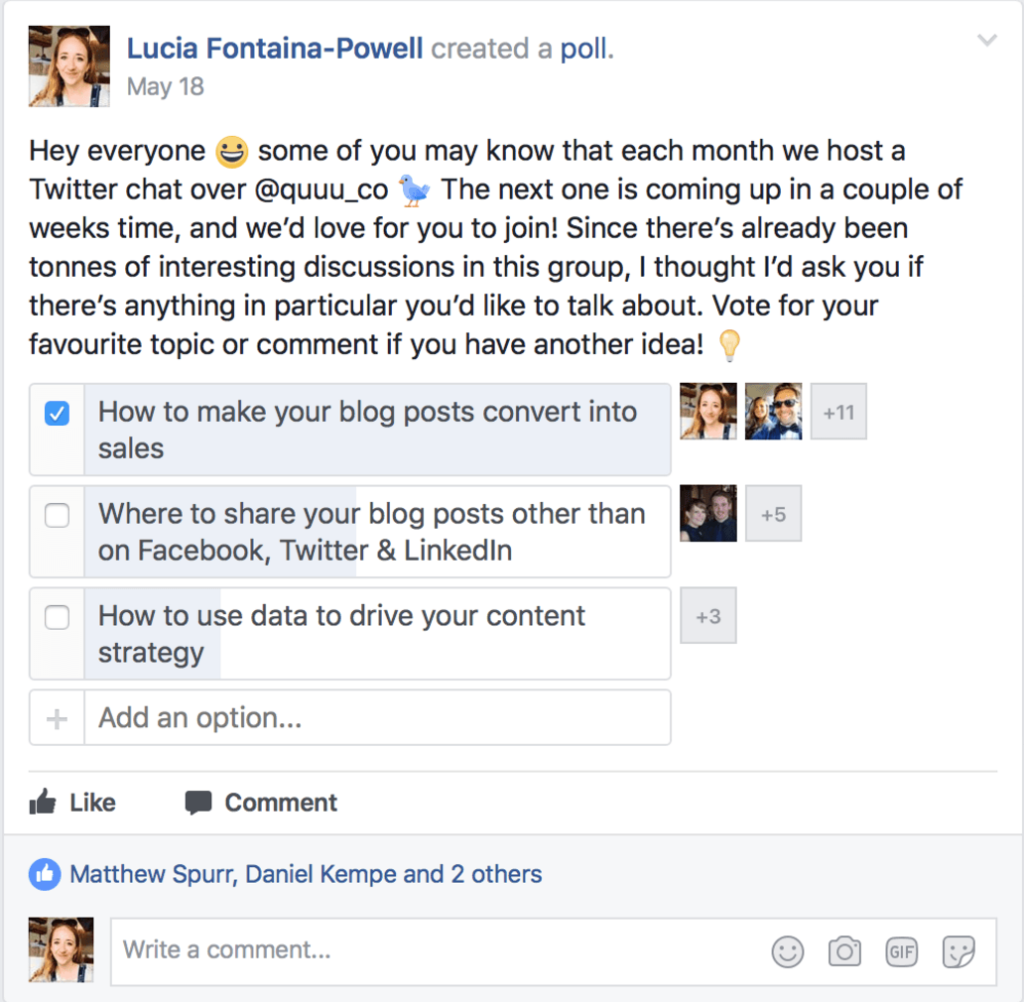 Twitter chats
A successful Twitter chat generates not just one, but tonnes, of social posts. It'll help you build a large, engaged following on Twitter, with plenty of opportunities for cross-promoting and repurposing content on other channels.
At Quuu, we host a #Qchat once a month. It gives us the chance to have a live conversation with our followers, and often sends our reach and engagement through the roof. Once you've got a popular hashtag going, you're essentially building a mini-community within your following, with conversations continuing long after the chat is over.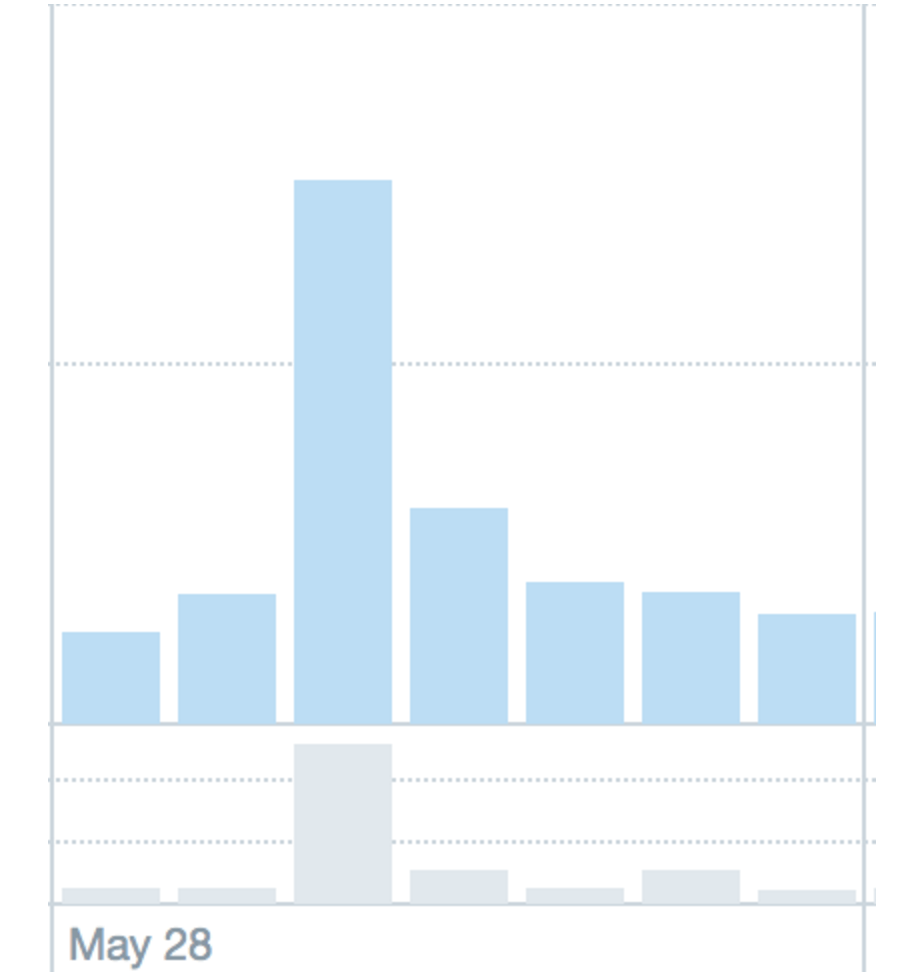 Impressions for our last #Qchat were more than triple what we usually see in a day.
Curate content
The worst mistake you can make on social media? Only posting about yourself or your brand. The 80/20 rule is useful framework to ensure your content doesn't become repetitive – or annoying. Curation is a powerful form of content marketing guaranteed to establish a strong presence on social media.
Aside from using Quuu, there are several ways you can capture your audience's attention by sharing other people's content.
Fun ways to curate content for your following
Twitter Moments
Twitter Moments are a really quick and easy way to curate content from other sources. Here are some ideas to get you started:
If you attend an interesting Twitter chat you could

pull together your favourite Tweets

, providing a recap with the most helpful tips.

Create a roundup of industry news stories or content that's been inspiring you recently.

Since Moments are no trouble to put together,

have some fun

with them! Share funny memes or GIFs your followers will relate to.
Make sure to tag anyone who features in your Moments for maximum exposure and engagement.
Revue
Revue is one of our favourite marketing tools at Quuu. It allows you to curate weekly digests to send to your email list. Each newsletter is saved as an issue on your Revue profile, so that you can share it on social media too.
You can use Revue to curate articles, news stories, resources and tools that will be relevant and useful to your audience. Check out their gallery of featured newsletters for some inspiration.
Again, when sharing on social media, make sure to tag the people you've featured!
Facebook Carousel Ads
Facebook Carousel Ads don't need to be reserved for promotional purposes. On Quuu's Facebook page, we've used them as a creative way to curate the posts featured in our Revue newsletter, building our subscriber list and driving more traffic to the posts we've hand-picked from Quuu's content bank – everybody wins!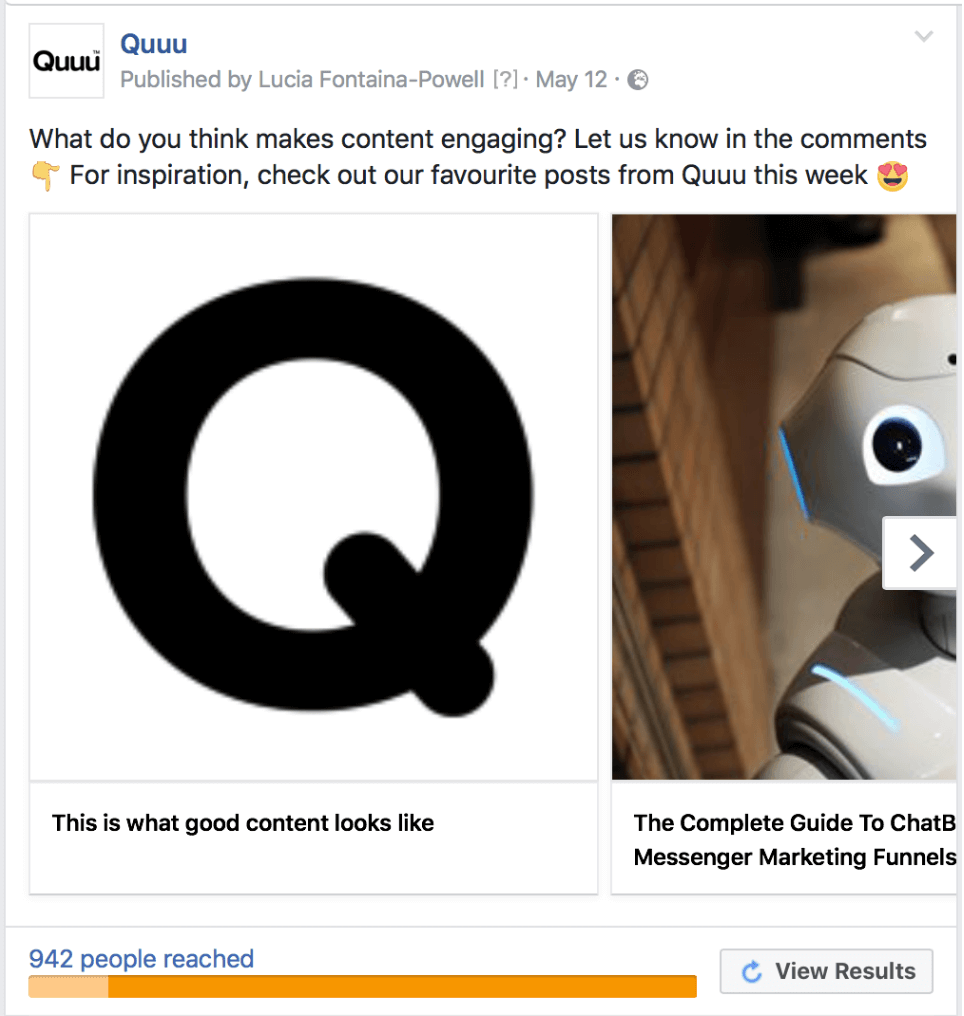 So when it comes to your social media content, think outside of the box! Social platforms are adding new posting features all the time – don't be afraid to play around with them and see what works for you.
Repurpose content
Lots of the ideas we've covered so far don't actually require you to create new content from scratch. And in fact, you might already be sitting on some ingenious ways to engage your audience.
Your blog is a treasure trove of fresh social media content just waiting to happen.
"Look through popular blog posts and come up with actionable snippets to take from them. Summarize the takeaways." – Stuart Brent, UserInputIO
Your best-performing blog posts have done well for a reason: they provide genuine value to the reader. So capitalise on this by repurposing them into different formats, thus unlocking further potential for traffic and conversions.
Ideas for repurposing your blog content
Videos
Video content is here to stay and increasingly we see brands publishing blogs in this format alongside the written version. It's one thing to write with confidence on your chosen topic; talking about it in person will build your authority and gain your audience's trust even more.
Break down your blog post into key takeaways and walk your audience through each one. Professional equipment or fancy editing software isn't necessary to make these videos effective – you can simply hit record on your webcam and share your screen to illustrate what you're saying.
Graphics and infographics
Thanks to tools like Canva, you don't need a degree in graphic design to make cool visuals to complement your content. Making a graphic with an inspiring quote or stat, or even a list of important points, is a nice way to spice things up when promoting your blog on social media.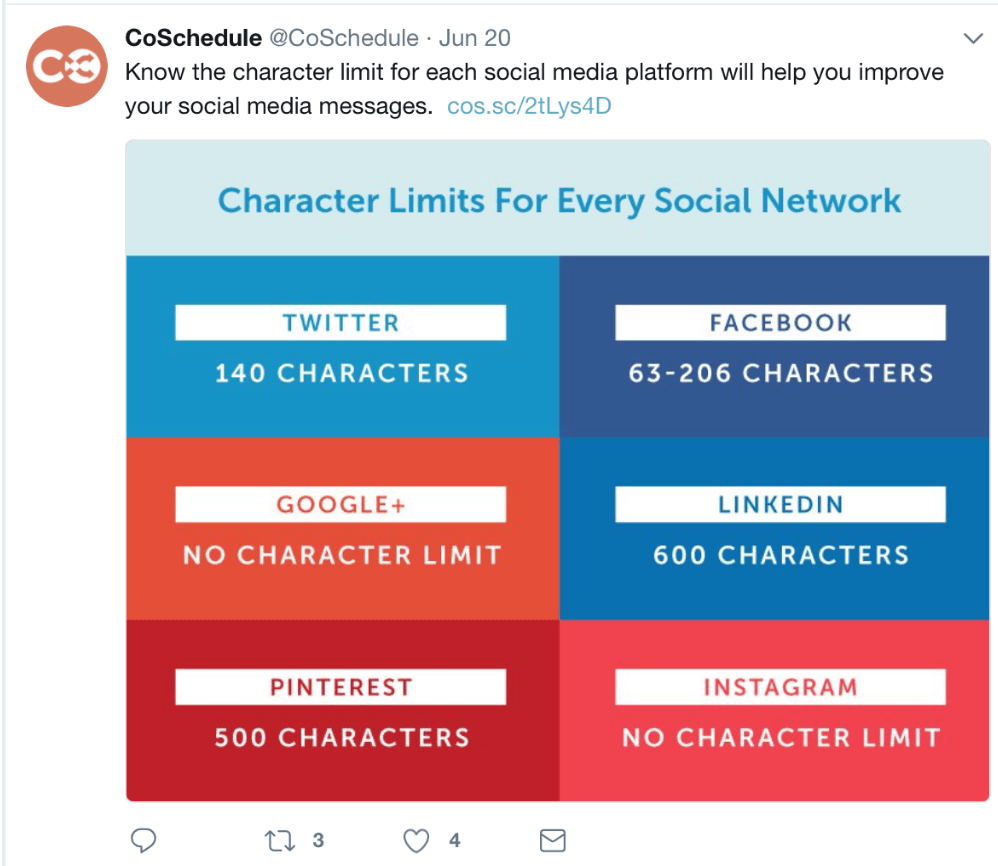 Slideshows
Why not take it one step further and create a series of graphics, turning your blog into slideshow? LinkedIn SlideShare is a particularly good platform for B2B brands looking to supercharge their content marketing efforts.
Your LinkedIn SlideShare should contain a good number of slides (research shows that the most popular presentations have 37+), but try to keep the text in each slide short and concise.
Early this year, Instagram also introduced a new slideshow feature, making it possible to post a series of scrolling images at once.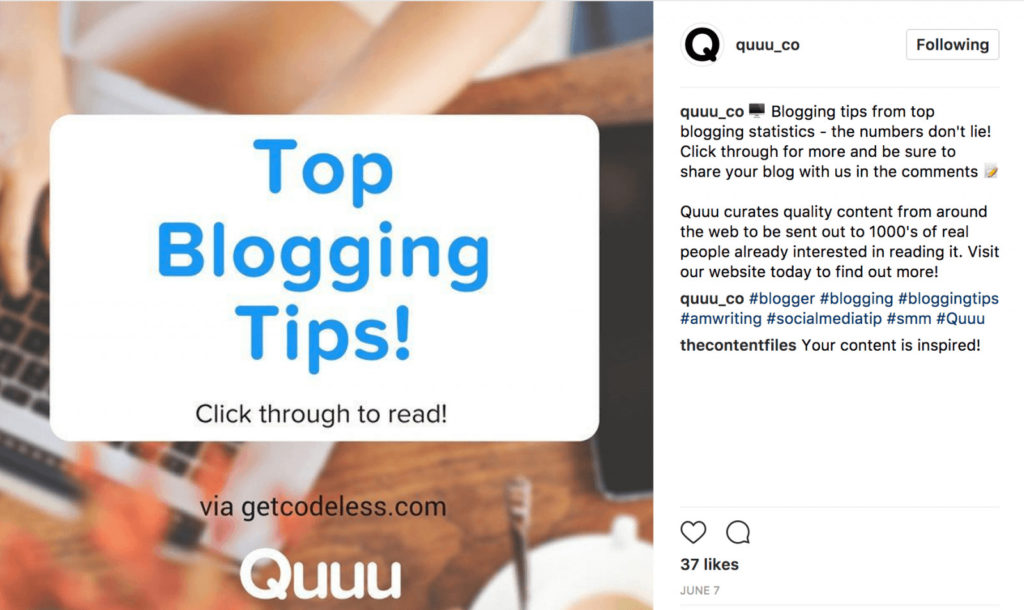 How do you come up with fresh ideas for social media? Have we missed anything? We'd love to hear your thoughts and experiences in the comments.