How to completely declutter your social media

7

min read
Reading Time:
6
minutes
Social media is designed for distraction. If you use social media for your business, this isn't always a good thing.
Sure, it can get your audience hooked on your blog, your brand, or your product…but it can also get you hooked. Usually on things that are less than productive.
But it doesn't have to. With the tips in this post, you'll be able to declutter your social media, clearing away the irrelevant stuff. Not only will this minimise opportunities for procrastination, but it will help you better interact with your audience – the foundation of any good social media strategy.
If you don't have time to read all of these tips, don't worry! We've put the easiest and most effective at the top, so you can see results in minutes. Those who want a more serious clear-out, be sure to read through to the 'expert' tips at the end.
Let's get started.
Simple ways to declutter your social media
Unfollow the unfollowers
This may feel a little mean, but by far one of the easiest ways you can clean up your newsfeeds is by unfollowing people who aren't following you. Not only does this clear a lot of clutter you don't need to see, but it also helps you start conversations with people who like your brand.
It's fastest (and ruthlessly satisfying) to do this on Twitter. Crowdfire is a free online tool that will tell you not only the 'unfollowers', but also any inactive accounts you are following. Simply sign in, wait for it to generate a list, and then click 'unfollow' next to any account you want to ditch.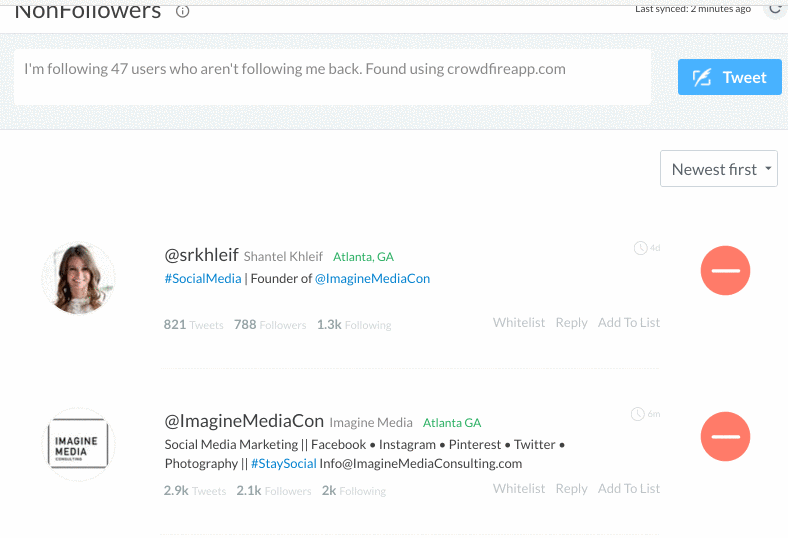 Similarly, Cleaner for Instagram will do this on your iPhone, allowing you to clear away unfollowers and 'ghost accounts' in a few taps.
(If you're wondering how you're still going to keep up with your favourite publications or brands, don't worry – we'll get to that.)
Unfollow the…unsavoury
Rants, humblebrags, cat videos – there are plenty of ways for people to annoy us on Facebook. Thankfully, there's a way of hiding those awkward friends and distant relatives without causing World War Three: the 'unfollow'.
Unlike other social networks, to 'unfollow' someone on Facebook basically just means hiding their updates – they won't know you've done it, and they'll still be your 'friend' (well, sort of).
The Twitter equivalent of Facebook's 'Unfollow' is called Mute, which does the same thing. Simply click on the … next to a tweet, then 'Mute @username' to stop seeing their updates.
Unfollow tags, groups, pages and lists
Many social media sites now have ways you can follow masses of content at the click of a button. This is great if you want to keep up with a specific topic, but it can build up quickly if you follow everything you're interested in indiscriminately.
On Facebook, this includes groups and pages you've 'liked'. If you can't remember the last time you visited or interacted with anything from a group or page, leave or unfollow it. For Twitter, Lists are the major culprit. If you've joined any that were created by somebody else, visit them and see how good the posts are. If it's a lot of mumbo-jumbo, unsubscribe from the list.
Change your notification and email settings
This one is fairly self-explanatory: if you're getting too many emails, dings and pop-ups, go through the settings in each social media account and turn some off. If you're always checking social media anyway, there's no need for all those notifications.
While you're at it, try cleaning up your inbox too with this guide from Hubspot.
Next-level ways to declutter your social media
Use Twitter Lists
Having just recommended unsubscribing from Twitter Lists, we're now going to recommend making your own.
Aside from being quite a useful tool for Social Media Marketing, Twitter Lists allow you to compartmentalise. There are many ways you can use them to organise your account, but here are a few favourites:
Friends, family or your team at work.
Publications and news outlets.
Thought leaders/role models in your industry.
Potential leads or clients.
Your competition.
The great thing about Twitter lists is that you don't have to be following the account to add it to your list – so you can keep an eye on them without publicly announcing your fandom. We like using TweetDeck to quickly view our Twitter Lists from one dashboard.
For more inspiration, this guide from Buffer lists 23 creative ways you can make use of Twitter Lists.
Take the 'news' out of 'newsfeed'
I know – it's really convenient to read the news on social media. However, it is also plain distracting.
If you're using social media for your business or your career, it's all too easy to go on Twitter with good intentions…until you see an intriguing hashtag. FOMO tells you that you should click on it, and the next thing you know, you're enraged because of the tunnel 'they' want to build beneath Stonehenge. (Seriously.)
Then there's the whole fake news thing, which makes reading updates on social media even less appealing.
By putting your news outlets somewhere else, you make keeping up with current events an intentional activity – not an interruption that constantly distracts you from your work (or gets you involved in any 'debates'). You can do this in several ways:
Add news publications to a dedicated Twitter List (see above).
Set up an email or paper subscription (remember those?).
Subscribe to RSS feeds for websites and blogs – Feedly is a great tool for this.
If you want to rid yourself completely of the 'corrosive' news cycle, read Nat Eliason's how-to.
Give Facebook a makeover
It's all well and good to unsubscribe from don't follow from cropping up?
FB Purity is a great browser extension for Firefox that allows you block almost any feature, or post type, on Facebook. You completely hide all the bits of Facebook that lead you down those rabbit holes, like the 'Trending' section, or posts with links from people you don't know. If you want to go all Marie Kondo, you can basically reduce Facebook to its main components: Messenger, the Newsfeed, and your public profile.
As of writing this post, FB Purity's website looks a little outdated – but it's the real deal.
Expert ways to declutter your social media
Focus on your audience
As we've already mentioned, TweetDeck is great for focusing on current or potential clients, customers or users – but there are tools that can do this for all your social platforms at once.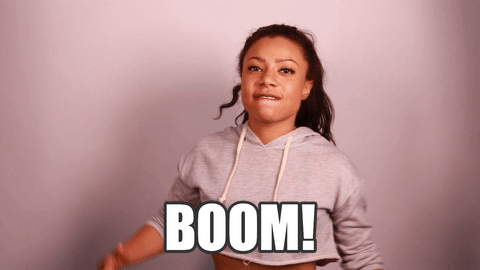 Hootsuite and Hubspot are social media management tools that allow you to see key info about your audience at-a-glance. You can see what's trending, relevant conversations, and how much engagement you're getting across your accounts – and all without getting bogged down in a busy newsfeed.
Listen to your customers
Similarly, you can zoom in on what your customers are saying on social media in one place using Front. Front is like an all-in-one inbox; it gathers all the external messages you get via Twitter, Facebook Messenger, text message and email in one application. This is invaluable if you provide customer service through social media, as you don't need to keep checking multiple feeds to address their concerns (or thank them for their praise).
Just delete it
People typically use social media in two capacities: social, or professional. If a platform is not doing much for you in either respect, it might be time to ditch it. This is especially true if you run a business and have vacant accounts, as these can give a negative impression. Not sure if an account is worth keeping? Ttry this simple guide to carrying out a Social Media Audit.
All done?
Phew. Now that your social media accounts make sense, make managing them even easier with Quuu's automated, hand-picked content. 🙂
Got any other tips for decluttering your social media?