Co-marketing: the infallible strategy no one talks about

13

min read
Reading Time:
10
minutes
Co-marketing is a low-risk, high-impact marketing strategy. So why is nobody talking about it?
Video. Personalisation. Gen Z. Yawn. Feel like this year's marketing trend reports didn't tell you anything new? You're not mistaken – we've heard it all before. 10,000 times before.
While it's definitely worth keeping yourself abreast of the latest industry news, if there's one thing I've learned from interviewing top marketers on Quuu's podcast, it's that successful marketing is based on three key principles:
Truly understanding your customer

Creating quality content
Building relationships
So, if you're fretting over social media algorithms or losing sleep because you haven't built a chatbot, relax! It's really quite simple.
This year on the Quuu blog, I want us to discuss good, solid marketing strategies, rather than passing fads or growth hacks. Strategies that don't depend on the latest piece of tech, specialist skills or an insane budget. Strategies that I've seen real-life brands using for real-life customers.
Strategies like co-marketing.
Co-marketing (not to be confused with co-branding) is nothing new, but, based on my own observations, more and more brands are incorporating it into their strategies. However, Google 'guide to co-marketing' or 'co-marketing examples', and there are a disappointing number of up-to-date resources. So, based on my own experience running co-marketing campaigns at Quuu and other brands I've been inspired by, I decided to create one.
In this post, we're going to look at what co-marketing is, why you should consider it, how to do it, and campaigns we can learn from.
What is co-marketing?
According to HubSpot, "Co-marketing is when two companies collaborate on promotional efforts for a co-branded offer. In a co-marketing partnership, both companies promote a piece of content or product, and share the results of that promotion. By levering the relationship and reach of a partner, co-marketing campaigns are designed to deliver more leads, buzz, and awareness, with less work."
When you think about it, co-marketing makes perfect sense. Two companies combine their resources, skills, ideas and reach to create a powerful campaign that taps into a much wider audience than each of them could achieve on their own.
Co-marketing can manifest itself in lots of different ways: a blog post, a piece of research, a Twitter chat, an Instagram Story takeover, a webinar, or even an IRL event.
What are the benefits of co-marketing?
A successful co-marketing campaign should benefit both parties. As Rob Steffens points out in this post for BluLeadz, co-marketing offers bigger companies the chance to reinforce their brand identity and provide a consistent experience across a large audience. For smaller companies, it's a no-brainer boost in publicity.
At Quuu, we've collaborated with brands like Hopper HQ, Meet Edgar and Instasize on some really fun – and effective – co-marketing campaigns. Here are some of the benefits I've noticed:
If you're a small (in my case, one-person) marketing team, you're effectively outsourcing content creation – for free!
It's great for building relationships with industry peers.
It offers an interesting insight into how other marketing teams operate – you'll invariably learn something new.
It gives you the chance to take your content in different directions: what you create for another brand's audience isn't necessarily what you'd create for your audience.
It helps you 'fill the gaps' in your own skills or resources, as the other brand might have the budget or expertise that you don't.
It's much easier than influencer marketing. I'm yet to encounter a brand that's said no to co-marketing proposal, but I've spent many hours of my life trying (and failing) to get through to high profile influencers!
These days, it's only getting harder to stand out online, which means brands are taking greater risks to get noticed – spending more on ads, for example. For me, co-marketing represents a safer, but still highly effective, bet, since you're pretty much guaranteed to reach a larger audience and, crucially, the right audience for your brand.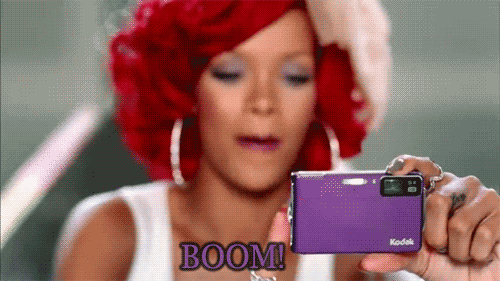 How to pick your co-marketing partner
Deciding which brand to collaborate with will be crucial to the success of your co-marketing campaign. Ideally, the brand will be in the same or a similar industry to you, but not one of your competitors.  
You've likely already identified a few brands you want to work with, but before you approach them, consider the following:
Do you have the same target audience?
Will they have similar goals to you? (they may not be exactly the same, but think about whether each party's objectives will be met)
How much effort are you willing to put into the campaign and what will you expect from them?
Is the end result going to be worth the effort?
What expertise can each of you bring to the table?
Does their brand have a good reputation?
Will their team be easy to work with?
Further reading: this post by Brian Peters has some great tips on investing in strategic partnerships.
The last question may not be top of mind when you're thinking about collaborating with another brand, but it's actually really important – to the success of the campaign and your own sanity! For this reason, I tend to approach brands whose teams I already know.
Before you go straight in with a campaign proposal, it's a good idea to get to know the company's employees first. Find and follow them on social media (LinkedIn is an easy way to find the right contacts, plus lots of people put their company handle in their Twitter bios), and build a rapport with them. Not only is this a nice 'warm up' to a direct email, but it should give you an idea of whether they're the sort of people you'd like to work with.
How to make sure your co-marketing campaign runs smoothly
When you've decided it's time to 'make your move', email the relevant contact at the company you want to partner with. Try to get in touch with the person who will be directly responsible for the campaign (i.e. the social media manager if it's an Instagram Story takeover), but you can always ask an existing contact to introduce you to the relevant person.
Your initial email should be friendly, clear and as concise as possible. This email sent to me by Caitlin from MeetEdgar is a really good example: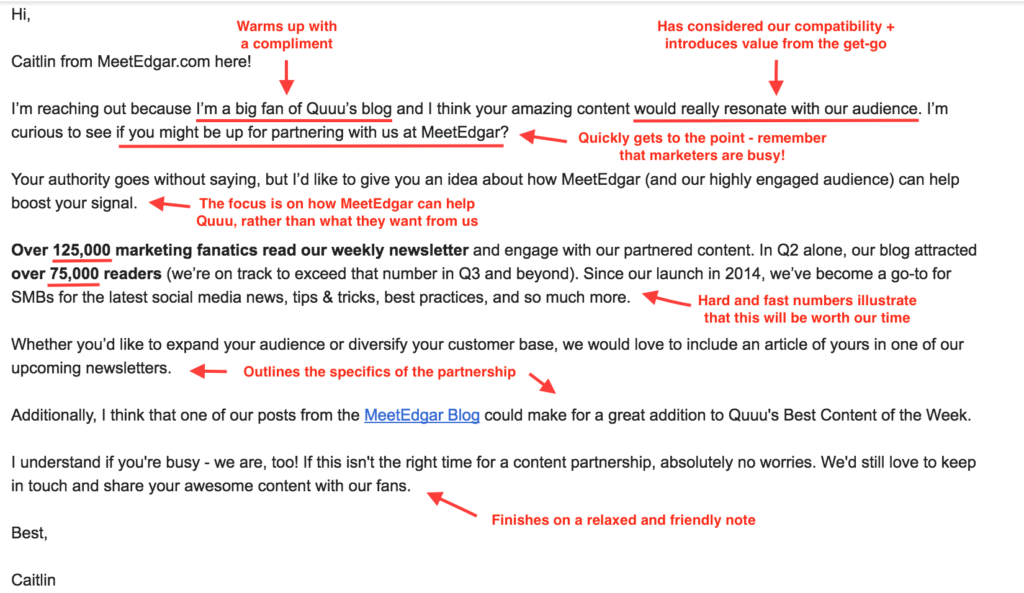 This particular partnership was an example of co-marketing on a small scale – we simply linked to each other's content in our newsletter – but I appreciated how Caitlin laid out the value it would hold for us at Quuu. In fact, this was the beginning of our relationship with MeetEdgar, and we've collaborated on several campaigns since.
Once you've agreed to work together, here are a few tips that will help you execute the campaign smoothly:
Set dates for when the campaign will run and deadlines for when work needs to be completed.
Think about how best to communicate and share assets. For example, if several people are going to be working on the campaign, a

Trello board

might be easier than a long email chain. You'll also want to make sure everyone has access to the files they need, so you could set up a

Dropbox

folder.
Keep each other informed at every stage: when a file has been shared, when a post has been published, the results of the campaign.
Say thank you! It really does pay to be nice – be friendly and appreciative, and they'll want to work with you again.
From my experience, there's usually a close knit circle of marketers in each industry. People talk, so make sure you're a pleasure to work with, and your partner will be the first to recommend you for another project!
3 examples of effective co-marketing campaigns
Hopefully by now you've been persuaded that co-marketing is an effective strategy for your business, and you're feeling confident in how to run a successful campaign. The big question is, what will your campaign look like?
To give you some ideas, let's take a look at some of my favourite recent brand partnerships.
Girlboss x Uber
Girlboss
is the brainchild of former Nastygal CEO and author Sophia Amoruso. It aims to give millennial women the knowledge, tools and connections to succeed in their careers – at the same time, redefining what 'success' actually means. Right now, Girlboss is building a community of female entrepreneurs through its editorial content (blog posts and
podcasts
), but rumour has it they're developing an exciting new social media network – sort of like LinkedIn, but cooler.
As a relatively small team, Girlboss have built co-marketing into their business strategy from the very beginning; partnering with big, established businesses means they can provide their audience with more resources than they could alone.
A brilliant example is their campaign with Uber, with whom they partnered to launch a competition for female entrepreneurs.
What was it?
Girlboss and Uber joined forces to create Uber Pitch, a programme where up and coming female entrepreneurs could enter to win $200,000 in funding for their business idea. The campaign was big in scale, also including a series of workshops at the Girlboss Rally in New York, a podcast hosted by Away co-founder Jen Rubio, and dedicated resources on the Girlboss blog.
How did Girlboss benefit?
Girlboss already had the brainpower to create high quality content and experiences for their audience – but these things cost money! Sponsorship from Uber allowed them to go that one step further in empowering their readers, offering them resources and opportunities that could make a real impact on their lives. This level of commitment from a brand is a surefire way to build long-term customer loyalty. Furthermore, backing from an OG unicorn startup, like Uber, would have been a big boost to Girlboss's Silicon Valley street cred.
How did Uber benefit?
Despite being a benchmark of success for tech startups world-over, the Uber brand is less than squeaky clean, thanks to a long list of scandals that includes reports of a company culture plagued by sexual harassment and misconduct. Partnering with a company like Girlboss was a chance for Uber to repair their brand image and show that they take gender equality and diversity seriously, hopefully winning back some favour from audiences they had alienated.
Bumble x HBO
Bumble was founded off the back of a very public fallout between founder Whitney Wolfe and her ex-colleagues at rival app Tinder. Less of a dating app and more of a social network, Bumble lets users swipe to date, make friends or connect with professional contacts. The premise is that women have to make the first move when they match with a member of the opposite sex, "shifting old-fashioned power dynamics and encouraging equality from the start".
As the company has grown more ambitious in its mission to build healthy relationships ("Bumble is more than an app, it's a movement"), it's started to partner with other brands, both big and small, across several of its marketing channels.
An example that I particularly liked was their recent campaign with American TV station HBO.
What was it?
For the 'Stay home to the movies' campaign, Bumble and HBO hosted a series of movie screenings in New York. They hired out a plush apartment and invited couples and friends to come and watch a selection of Hollywood hits and all-time classics, complete with popcorn and cocktails.
How did Bumble benefit?
Dating apps often come under fire for encouraging superficial values and unhealthy habits (with so many options to swipe through, people become disposable). While Bumble's core mission has always been to combat this, its intentions to protect users from bad experiences, while noble, are difficult to achieve. To make sure its users don't become jaded by the world of online dating and quit the app for good, it's got to work harder to build a brand its audience believes in. Encouraging IRL connections and experiences is a great way to do this.

How did HBO benefit?
Established TV networks, like HBO, are fighting to stay relevant as companies like Netflix and Amazon Prime start to infiltrate the market. Collaborating with a younger brand like Bumble is a good way to appeal to a millennial audience and reinforce HBO's identity as a titan of quality TV content.
Buffer x Social Chain
So far, the co-marketing campaigns we've looked at have been collaborations between consumer, lifestyle-oriented brands. Social media scheduling tool Buffer is a fantastic example of how this strategy can work just as well for B2B brands.
The Buffer blog delivers up-to-date strategies, insights and tools to help its readers stay on the pulse of social media marketing. They're another company who, like Girlboss, have realised their content can be significantly bolstered by working with brands who offer something they can't produce internally – in Buffer's case, it's often data.
Take a look at this report they published in partnership with Social Chain.
NB: I know I dissed social media trend reports at the beginning of this post, but Buffer's is not included in this! The difference being that the State of Social tells you what real-life marketers are actually doing in their strategies, rather than offering a vague overview of so-called 'trends'.
What was it?
The State of Social is Buffer's annual report collating insights from marketers across a range of industries. It aims to provide readers with an overview of how marketers are using social media, so that they're equipped to develop an effective strategy for the year ahead. The data was collected by social media marketing agency Social Chain, then the Buffer team wrote this up into a report for their blog.
How did Buffer benefit?
Brian Peters, Buffer's Head of Strategic Partnerships, approaches brands with the kind of audience Buffer wants to target:
"Each year we look to partner with a large publication and/or agency on the State of Social Media Report in order to gain new perspectives into the world of social media as well as access to a well-aligned target audience. Doing so helps to increase the overall reach of the report to targeted people in the social media community as well as provide us with data points that we might not have been able to gather alone."
Here are the results the campaign has achieved so far:
"The State of Social Media 2019 Report has received more than 17,000 page visits in just one week (significantly more than our average article) and has generated more than 3,000 shares across social media. We expect to continue to see tremendous results of this campaign over the course of the year due to a strong SEO component, as well as the hundreds of backlinks that it will generate. In total, we expect the page to drive more than 75,000 page visits in 2019," says Brian. Pretty darn impressive!
How did Social Chain benefit?
For Social Chain, a global agency whose clients include Amazon, Fifa and Universal, this campaign is very much about reinforcing brand identity and positioning themselves as a thought leader in the social media space.
Conclusion
Co-marketing offers a myriad of benefits for companies of all sizes, whether you're a fledgling startup or a global enterprise – which is why all the best brands are doing it! It's true what they say that two heads are better than one. 
I hope that you've been inspired by the co-marketing campaigns we've analysed in this post – are there any other brand partnerships you'd add to the list? Let me know in the comments.