Branding yourself on social media – 5 actionable tips

7

min read
Reading Time:
5
minutes
As Jeff Bezos famously said, "Your brand is what others say about you when you're not in the room." Why does this quote resonate with so many marketers? Because, ultimately, branding is all about reputation—and building that takes time.
Social media is the place to be as a brand. More than 3 billion of us are using social networks across the globe and we spend about 135 minutes daily checking our various social media platforms. It almost goes without saying that social media provides a great opportunity for businesses to connect with their audience, deliver their message, and convert that audience into paying customers.
However, the competition is tough. If you want to be a social media success story, you need a really strong brand. These five simple tips will help you get better at branding your business, make you more recognizable to your target audience, and improve your overall connection with your customers on social media.
Tip #1: Be consistent
You want your social media posts to be an extension of your brand. When you post on social media, you're sharing a piece of who your business is. Not only do you want to create an accurate picture of what your customers will find when they interact with you offline, but you also want to be sure that they have the same experience every time they interact with your business—regardless of who is actually behind the keyboard. Try some of these strategies to ensure your branding is consistent whenever you post on social media.
Create a social media guide. Your guide should indicate who is responsible for posting on social media, who is allowed to post on behalf of the company, and when posting should happen. Not only that, your guide should offer clear instructions for how to post: the tone you need to take, the type of language you want to use, and whose voice should shape your posts. You want your social media guide to reflect the tone of your business as a whole.
Create a posting schedule. Your customers have a pretty good idea of what to expect from you. Now, they need a better idea of when to expect your posts. Make sure you have a regular posting schedule. Try to post consistently, at the same time of day and on the same days of the week. Don't flood your customers' newsfeeds; post at well-timed intervals so they'll regularly get reminders of what's going on with your business.
Tip #2: Get active
How do you choose to connect with your customers on social media? Social media is the perfect venue for connecting with your customers on a more personal level. You'll get to know them, understand their concerns, and get a better picture of what they want from your business. Doing this will shape your interactions with them in the future. Try:
Chatting with customers regularly. Get involved in the comments section of your posts, participate in Twitter chats, answer personal messages.
Connecting in groups. Many industries have active, growing communities on social media. Discover the ones for your industry and jump in! You can create your own group or participate in other groups (like Quuu's Facebook group) related to your industry, based on your specific needs.
Tip #3: Share quality content
When your fans come to your social media pages, do they find genuinely useful content? Every time you post new content, ask yourself what it offers to your readers. Is it funny? Does it offer entertainment value? More importantly, are you providing content that answers questions or solves problems for your readers?
Evaluate your content carefully before you share it. Keep in mind that you don't have to create original content! You can also share content created by others in your industry – preferably with direct links or appropriate attributions so they get the credit they deserve for their work.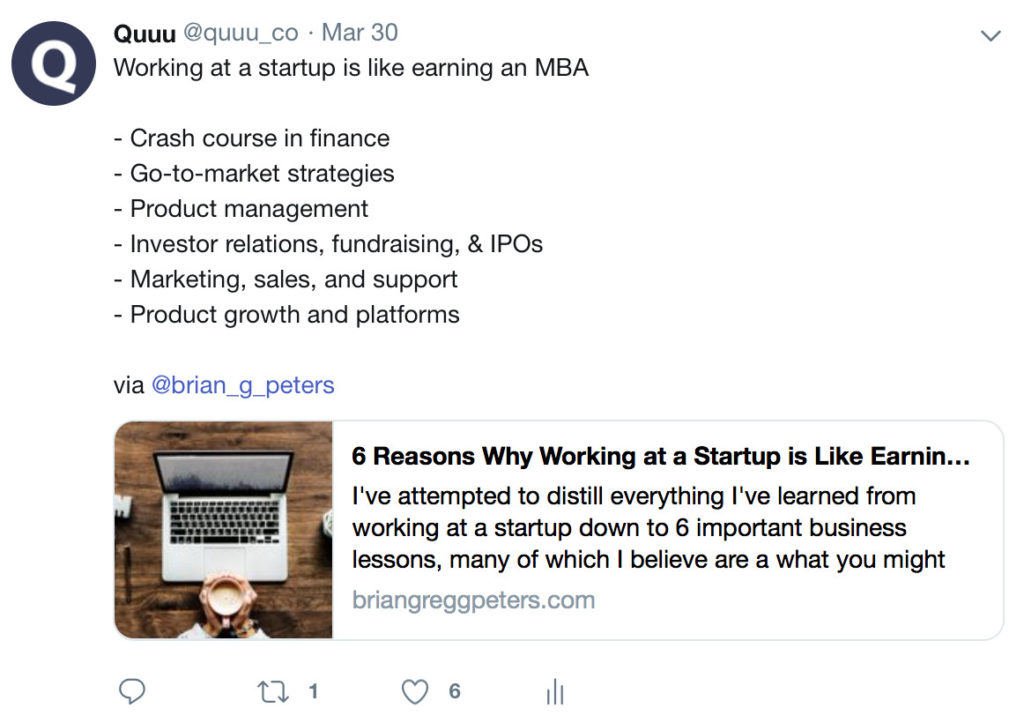 Tip #4: Tell stories
Storytelling is a really important part of branding. Your customers are highly interested in what you have to say about your company, the people behind it, and the existing customers you serve. Use your social media accounts to share these stories. This might include:
Telling your story. How did you create your business? What made you decide to focus on this particular area of your industry? You can also tell the stories that help shape your business: defining moments and learnings from other staff members, for example.
Telling your customers' stories. How has your product or business been able to help your customers? What have you offered them that has helped change their lives–and how can that help you connect with other customers?
Offering a story unique to your business. In some industries, you may be able to create a mascot to help offer those fantastic stories. Your mascot should represent your business and tell a story that will help guide your customers through their journeys.
Tip #5: Be visual
Posts alone offer valuable content to your readers, but visual content offers an even higher level of value. Think about how images, graphics, animation, and videos all grab the eye and help your visitors connect with your website. The same goes for your branding on social media.
While Facebook for business is faltering thanks to recent algorithm changes, video is the one kind of content Facebook continues to prioritize. Instagram Stories often garner a high level of attention for your business. YouTube continues to grow, quickly becoming bigger than ever. If you're not taking full advantage of video creation opportunities, you're missing out on the chance to grow your business–because video simply wins in social media algorithms.
Optimize your videos. Optimize your video for social media: make sure that you're using proper naming conventions and putting in the right meta descriptions! Without those key attributes, you may miss out on much of what your video content can offer.
Use captions. Many social media users choose to watch videos with their sound off–so make sure you use captions to help spread your message and ensure that no one misses anything.
Set your videos to the right audience. When you put your video on Facebook, for example, make sure it's targeted to the right users. You want your video to end up in front of the most relevant users, not just a random audience.
Use the right hashtags. If you're sharing your video on Instagram, make sure you're using the right hashtags. You want to remain part of the conversation, but you don't want to use so many hashtags that they overwhelm your video.
Find the right person to produce your video. Booking a filmmaker can help take your video further than you can on your own–not to mention taking much of the weight of that content creation off of your shoulders.
Conclusion

Branding yourself on social media is an ongoing process, from creating a highly visual content library to staying active, consistent, and engaging. With these strategies, you can increase your social media engagement while staying true to your brand.
Do you have any other tips for building a brand on social media? I'd love to hear them in the comments.