Blog Promotion In the Age Of Content Overload: A 2022 Guide

31

min read
Reading Time:
20
minutes
In 2022, bloggers are facing their toughest challenge yet. Content saturation. Gone are the days when blog promotion meant a single tweet to get people's attention. Now, the competition is fierce. Every brand worth its salt has a blog, and they all want you to read it.
As I write this, 6.1 million blog posts have already been written…today. Tomorrow there will be several million more. And the day after that. So the task of blogging, and standing out, gets tougher.
But here's the thing. Content marketing still works! It drives high-quality traffic and gets you new readers and more subscribers. In 2022, 56% of marketers say blogging is an effective strategy for lead generation. But it's how you promote new content, in the age of content overload, that is key.
In this post, we're delving into the blog promotion tactics that will get you great results.Even if, right now, you feel like no one is listening.
Key takeaways
Make your blog promotion memorable and have an opinion
Know who your audience is and where they spend their time online
Make sure your blog has top-notch SEO
Make content that people need
Embrace guest blogging
Find your audience on social media
Work with micro-influencers
Don't be afraid to pay for promotion
Embrace the power of email marketing
Make your blog promotion memorable
It's easy to automate your blog promotion. Add the URL to your social media management tool of choice and immediately send it to all your profiles. Easy. Job done.
Not so fast. You can do much better than that. Sure, it's going to take a bit more work, but the results will be worth it.
Have a voice
It doesn't need to be groundbreaking or controversial. But your content should have its own voice.
It should sound like a real person talking to their audience. No one likes to read dry, corporate-sounding language, and when it comes to promoting a piece of content online, it's the personality that catches people's attention.
If you're a freelancer, run a small business, or work alone, it's often relatively easy to infuse personality into your posts. However, working for a larger organization can be more challenging. If you're responsible for your content promotion strategy, it's time to create a voice for your brand that people will remember.
Think your industry is too bland for this? Check out these great brand voice examples.
Have a viewpoint
No one wants to stand out for the wrong reasons. So, it's understandable that many great content creators shy away from being too opinionated.
But standing on the sidelines also sends a message. It could seem like you don't care about what your audience cares about. That's not a good look.
Brands and blogs that have a viewpoint are becoming increasingly popular, especially amongst millennials and Gen Z:
"Gen Z wants to support and participate in brands that they believe in and that reflect them…They are loyal to brands that they feel understand them and reflect their values." – Chad Kessler, Brand President at American Eagle.
Issues like equality, the environment, and mental health are highly important to them. You might think that your blog has nothing to do with this 'big picture' stuff, but brands and bloggers who take a stance on what they believe in.
Aerie, are out-performing their more old-school competitors that don't take a stance. Their strategy of using everyday women rather than those that look like supermodels in their marketing has resulted in double-digit growth for the last six years. And teenagers say it's their favorite brand.
Think about design
"Great marketing with poor design is poor marketing."
This quote from Megan Otto, marketing design lead at CoSchedule, also applies to your blog. And your blog promotion, for that matter. Graphics, Facebook ads, email marketing – whatever methods you're using, design has to be a consideration.
38% of users will leave a website if they think it's badly designed. And this applies to your blog posts and promotional content too.
If poor design can stop people from completing a purchase, imagine how quickly it stops social shares, retweets, or sign-ups.
Design isn't everyone's forte, but with tools like Canva – which provide a huge number of beautiful templates and a free Design School – it's easier than ever to get started.
Before you post your blog
We know you can't promote a blog if you haven't published it, but several things you can do before you even start writing your blog will maximize your promotion results.
Know your audience
The more you know your audience, the more likely they will enjoy and relate to your content. You might have a vague grasp of who they are, but knowing them in more detail can make a big difference. If you're writing an in-depth guide to SEO in digital marketing, your audience probably already has some experience in the field. So you don't need to spend time explaining basic concepts.
You can create marketing personas to determine who the individuals in your audience are and what they want to gain from your brand.
Knowing your target audience is good. Having customer personas is even better. But while it's useful to know your ideal customer is:
A woman
In her 30s-40s
And needs help finding time to shop for clothes
…that information doesn't tell you one crucial thing. How to reach them.
You need to know how that ideal customer uses the internet. Where they hang out, how long they spend there, what apps and social networks they use, and why. Essentially, you need to go beyond just who they are, and start thinking about how they behave.
The more detailed you can be, the better. For example, what hashtags do they use? Who do they follow? Find out and keep a record. This will help you when it's time to create super-relevant content and put your promotion strategy into action.
Once you know that, you can not only give them the information they desire, but you can also write the way they talk. Get rid of formal words like therefore. Who uses that in conversation? Nobody.
Write how your customers talk, and they will instantly find it easier to relate to your brand.
Give it SEO superpowers
Search engine optimization is a huge topic we can't cover here. However, injecting just a bit of SEO magic into your web pages gives you a critical advantage over other bloggers. Please search engines, rise through the ranks, and you literally rise above the competition.
Say you've gone for a problem-solving type of post. What keywords is your audience typing into Google to find the answers they need? Focus your keyword research on search terms that show intent – to act, join, sign up, or purchase.
For example, if you're an SEO marketing agency looking for more clients, then 'SEO marketing' is a reasonable key term to optimize for. But is someone who types that into Google on the verge of making their decision and making a purchase? Not necessarily.
Someone Googling 'SEO marketing' could just be in the very early stages of their research. The number of potential leads might be larger, but they won't be as committed.
You can also find related terms using keyword tools such as SemRush or Ubersuggest.
By targeting terms such as "Best SEO tools for digital marketing," you are answering specific questions people are asking. Because they're asking these, they're already further down the funnel. This means they're more likely to read your blog and more likely to make a purchase.
Targeting a specific question or keyphrase also means you're more likely to rank higher on search engines, because there's less search traffic, and fewer results to contend with.
Of course, this isn't as easy as it sounds. Nothing ever is, is it?
You need to identify the questions or phrases with a decent search volume.
At the same time, you don't want to create content around a search term with really high keyword difficulty. You need to strike a balance between answering questions that are being asked often enough and easy enough to rank on Google for.
The trick is identifying the search terms that have enough search traffic to be worthy of creating new content that will also be of value to your audience.
Using keyword research is good, but attracting blog traffic that already wants what you offer is next-level. This episode of Whiteboard Friday from Moz shows how this works:
Incorporating your keywords into your blog takes skill, but thankfully there are a couple of plugins that can guide you along the way.
Clearscope is an SEO writing tool that you can use with Google Docs and WordPress to keep on top of your keyword usage. You feed Clearscope your keywords, and it produces a list of words and phrases it recommends you include in your article to achieve the best search engine results.
If you get stuck, it also provides a list of similar articles and examples of how to use each phrase in your article.
Unfortunately, Clearscope isn't able to offer any guidance on how well you're incorporating your keywords. For that, you will need to use the Yoast SEO plugin on WordPress. Like Clearscope, you let Yoast know your keyphrase, but it can also tell you if you're using your keyword too much or not enough. It will also let you know how easy your blog is to read.
It's a great tool to strike the correct balance between readability and search engine optimization.
Make blog content that people can't do without
It sounds obvious, but high-quality content is valuable content. Just covering a topic your audience is interested in isn't enough. It has to give them something they want or need badly enough to take time out of their day to view it.
It will either:
Answer questions better than anyone else. 94% of people who share blog posts do so because they think they're helpful.
Cover a trending topic or provide a 'hot take' in a way no one else does. (Try using Buzzsumo for inspiration.)
Make viewers feel an emotion they want, whether that's laughter, joy, motivation, hope, self-righteousness, superiority…even outrage.
If your content is not doing one (or more) of these things, what reason will people have to click through? Try and make sure every new blog post serves one of these purposes.
"When prospects seek solutions to their needs and challenges, they expect highly specific information tailored to their exact predicament or they'll bounce." – Skyword.
Make it visually engaging
Visual content is attention-grabbing. 40% of people respond better to visual content than plain text. So, share content that mixes text with multimedia.
How do you react when you click on an article only to be greeted with a wall of text?
I'll show you how I react: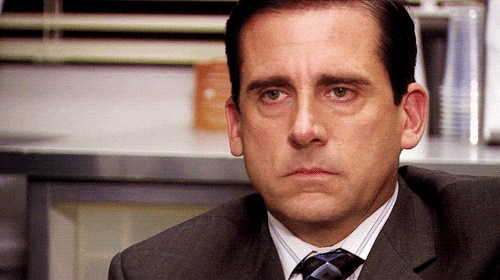 Infographics and interesting images are good. Content that moves is even better, especially when it comes to social sharing. Choose animated or visually stimulating formats like:
GIFs & gifographics (basically infographics with moving elements)
Video
Slideshare presentations (or Prezi, which is ideal if you're not a designer)
This also applies to your email list, so don't forget to include these assets in your emails whenever you announce a new post.
Complement your writing with anything you think adds value to your piece.
Once your blog is published
Before you start, it's a good idea to have two cheat sheets at the ready to speed things up:
A document with relevant information
This helpful file will help keep all the information you need for promoting your post in one place. You can add whatever's relevant to each specific article.
The URL for your blog post
Any headline variations for specific platforms
Both shorter and longer messaging
Any hashtags or specific contact information
Contact information for any brands or people mentioned
It might not be the most exciting or ground-breaking revelation, but it's an excellent way to stay organized and speed up the promotion process.
A document with your promotion tools
Knowing where you will promote your posts can save you a lot of time and frustration. You can use many platforms and tools to promote your content, but they're not all created equal. Some content will perform better on certain platforms. And each platform has to be approached slightly differently.
Once you know which ones you're using, you can devise a strategy that works best.
Social media marketing
There's no escaping social media. It's permeated every aspect of our lives. And that's why, in 2022, it's an incredibly important part of any successful marketing strategy.
But because everyone's active across multiple social media sites, they can also be quite cynical when it comes to content marketing. This means you can't get away with a simple link to your latest post and an image. You have to be smarter than that.
Each social network is different. Each one attracts a slightly different demographic, so you'll have to alter your messaging and tone of voice to suit.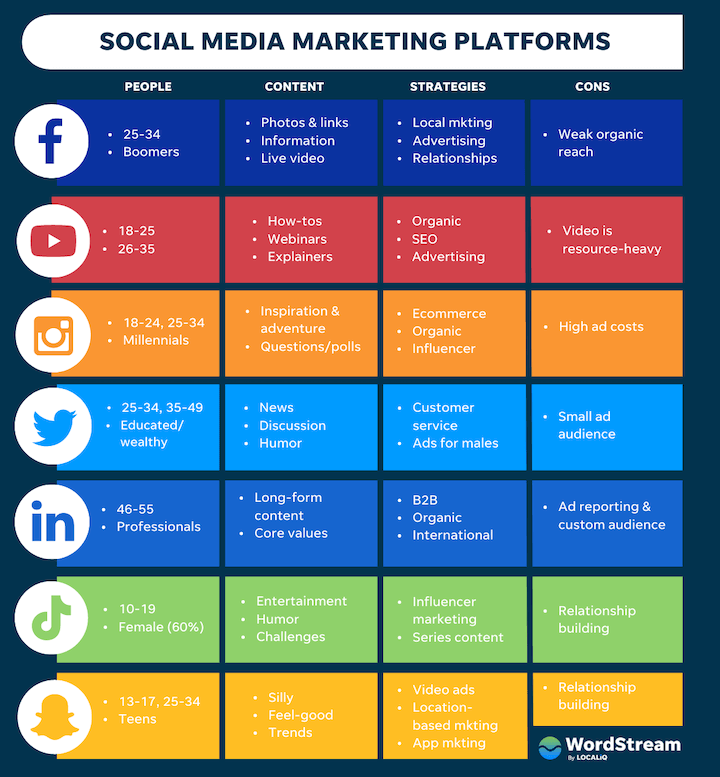 Remember the marketing personas you created before getting to work on your blog post? They can also be a great help here, too. You should know which social network your audience prefers, and that's where you should focus your promotion on social media.
You'll also have to keep up with the latest algorithm changes. Since the rise of TikTok, both Facebook and Instagram have focused more on video content.
That doesn't mean you have to create a video whenever you want to promote a blog post. But if you've used a video to help support your blog content, sharing it on Facebook to start the conversation certainly isn't a bad idea.
Being approachable, relatable, and selective is key to a successful social media marketing strategy.
If your users see you interacting with your followers and keeping the tone conversational, they're more likely to trust your brand. Likewise, if you're selective with the blog posts you promote, your target audience will respect that you're only giving them the information that they want. If you promote every single blog post, your promotion efforts could appear spammy. And nobody likes spam.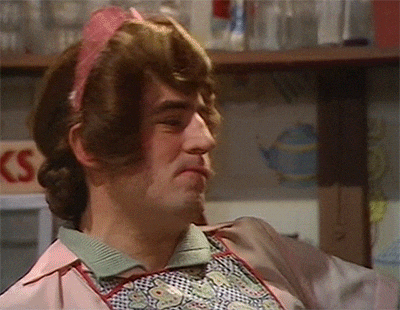 Social bookmarking sites
You may not have heard of that phrase before, but if you're an internet native, you probably use the biggest social bookmarking site of them all. Reddit.
These sites allow users to share their favorite content with others, who can then choose to do the same. In Reddit's case, the upvote feature allows popular content to rise to the top and gain more views.
You have to be clever with your content promotion here. First, you must find a relevant subreddit with an active community. Don't post anything for a while. Observe how the community interacts and get a feel for the type of content and posts that perform well.
Once you think you've found the right subreddit for your content, you can start getting involved with its users. But don't immediately start posting links to your latest content. Get involved in conversations, and interact. If you become a popular and trusted community member, people will respond positively when you promote your own content.
But once you get to that stage, don't think you can stop engaging. If you want people to engage with your content, you need to engage with them more often than you explicitly link to your website.
If you want some more concrete guidelines, SEOChatter recommends building up your Reddit karma for 30 days before posting any links. After that, they recommend posting 15-20 comments for every link you share.
Sure, it sounds like a lot of work, but if you're engaged with a Reddit community, you're also exposing yourself to great content and ideas from others in your niche. And what's not to love about that?
Flipboard is another bookmarking site that doesn't require as much work as Reddit. In fact, if your blog has an RSS feed, it requires almost no extra work at all.
Flipboard allows users to share articles, which are then added to categories, which they call "Magazines." These "Magazines', and their smaller cousin, "Storyboards," make it easy to curate your content, so it's easy for your audience to find what they're looking for. The platform has over 100 million active monthly users, so there's huge potential for getting your blog content in front of new users. And with that many people, you're sure to find your niche.
With Flipboard, you can also let your users help you out with blog promotion. Add their button to the sharing buttons already on your blog posts, and they're only a click away from sharing your latest blog.
Guest blogging
It might seem like an ancient tool for blogger outreach, reserved only for elder internet users, but guest blogging is still a great way to promote your blog and build relationships.
If you're unfamiliar, guest blogging is the art of writing blogs for other websites that link back to your own website or content. It's a good way to attract new visitors, earn precious backlinks from valuable websites with high domain authority, and build relationships with others in your sector.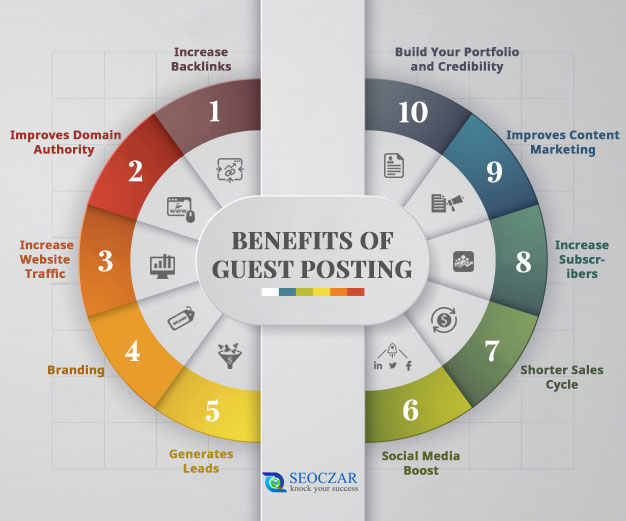 If this is your first time guest posting, there are a few steps you need to take before you can start creating your article. First, you must research and identify popular blogs relevant to your brand with high domain authority.
Once you've identified the websites, come up with a definitive list of topics for your guest blogs that will benefit all parties. Just like when creating your own blogs, do your research and answer people's questions.
Now it's time to put together your pitch and contact the relevant people. You'll be contacting these people cold, without any prior communication, so keep it short, to the point, and personalized. Tell them why you'd be a good choice for a guest blogger and what benefits your content would bring.
It will take time to write all your outreach emails, and unfortunately, not everybody will accept your offer or even respond.
But you'll be able to build long-lasting partnerships with the people and brands that do respond. And those relationships will ensure you've got outlets for guest blogging in the future, which will continue to drive new users and traffic to your website.
While guest blogging on trusted websites with high domain authority and engaged users is the most effective tactic, other platforms are available. I'm talking about Medium.
If you didn't know, Medium is a free-to-use blogging platform with 136 million monthly users. With numbers like that, there's a potentially huge audience out there for you to tap into. There are plenty of topics and communities with active members contributing their own articles and comments.
Unfortunately, all external links from Medium are nofollow, which means Google doesn't count them toward your page ranking. However, Google does take into account the domain authority of the site, and with such a high domain authority, you still get SEO benefits from using Medium.
The upside to using Medium is that you don't need to wait for approval from anybody else before you start guest blogging. You can jump straight in and get writing. The downside, of course, is that there are thousands, if not millions, of blogs to contend with.
To gain better traction on Medium, you can treat it a bit like you would Reddit. Find your niche community, and engage with others already publishing content.
Tap into niche communities
From your persona research, you know who your audience is, and you know where they live. No, not like that! You know where they live online.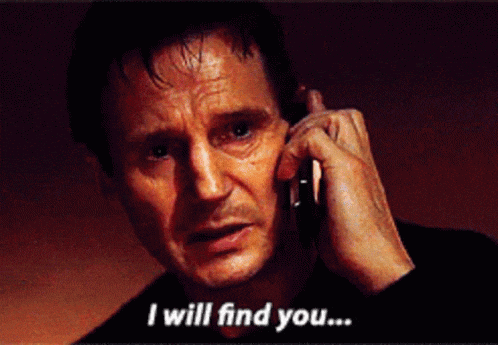 The internet is big. It's "wow, that's a big number" big. That means there are thousands. No! Probably millions of niche communities that you can engage with and use to promote your blog.
Once you know where your audience lives, you can start making a name for yourself there. Joining online communities has a lot of benefits. Still, in the age of content saturation, it's even more useful for gaining readers, subscribers, and followers who are specifically interested in what you offer.
Niche communities can be found all over the internet, but here are some good places to start:
Reddit. One of the most visited websites on the internet. It's built around niche communities, so definitely be able to find a home for you and your brand.
Quora. This is an online community where people ask questions, and other users provide answers. Hundreds of categories are available, and you can even create your own.
LinkedIn groups. There are over 2 million active groups on LinkedIn, and they provide a great opportunity to network with others in your sphere and can be a perfect space to share your know-how.
Facebook groups. If you need something less formal than LinkedIn, Facebook caters to everybody, and there are groups dedicated to every topic.
Forums. Yes, youngling, forums are still a thing, and many people still use them. Forums are where you'll find the truly hardcore and dedicated fans.
Discord. This platform hosts the chat rooms of the 21st century. You can create groups for any niche you like and communicate via text or voice.
Niche communities might seem small in numbers, but they are powerful because their members are engaged. And if there's one thing a content creator needs in 2022, it's more engagement. Rates on Twitter and Facebook are not as high as they once were (Instagram and Pinterest, on the other hand, are only growing).
Here are some of the best groups and communities to join if you're a content marketer.
Work with micro-influencers
When people think of influencer marketing, they often imagine famous people plugging a product on Instagram. But working with micro-influencers – especially within those communities you're now a part of – is also useful for blog promotion.
People have been working with influencers for years to promote their content. If you've ever done any:
Guest blogging or guest posting
Blog swaps
Roundups
Interviews on someone's podcast or YouTube channel
…then you've already benefited from the power of influencers (or at least, people more influential than you) sharing your stuff and generating awareness, referral traffic, and backlinks. In 2022, turn this from a casual activity into a fully-fledged blog promotion strategy, and get more eyeballs on your best content.
But why are micro-influencers better than, err, bigger influencers? The simple answer is engagement. You know the people following micro-influencers are doing so because they're interested in what they have to say. That means you're more likely to see engagement if you use micro-influencers for your blog promotion.
Not only are their engagement rates higher, but they can also produce a 20% higher conversion rate than bigger influencers for a much lower price.
Practice smart content syndication
Content syndication is the act of sharing your content on other websites. At face value, it might not sound like the most effective tactic, but it can have a great benefit.
Syndication helps get your content in front of a new audience, which can increase your website traffic, grow brand awareness, help build relationships, and increase link building.
This tactic is a great replacement if you're a small startup and don't have the people power for regular guest blogging. The traditional way is to reach out to similar websites and ask if they would like to republish any of your content. If they do, you've expanded your audience and built a new relationship that could come in handy in the future.
If you're looking for outlets that don't require contacting webmasters, Flipboard and Medium, mentioned earlier in this post, can be used for content syndication.
It's important to note that you can't just copy and paste your articles onto other websites. They have to be slightly different. This will stop your content and website from being penalized by Google.
You'll also want to ensure you don't overdo it. This can look spammy and might result in lower engagement. However, you won't be penalized for posting the exact same content on Medium or Flipboard.
Share it on visual social media platforms
If your audience loves Facebook or lives on TikTok, then your content needs to be shareable – and look its best – on those newsfeeds. And nowadays, just about every social network has features that make people stop and pay attention.
One of the best is auto-play, which will automatically start playing a video as someone scrolls past your content. Make use of this by ensuring your content has an accompanying video, even if it's only 30 seconds long.
Again, movement from animations and GIFs is also handy for getting people to stop and watch…and then click through and read your unique content. Use the analytics on your Twitter account, Facebook Page, or whatever platform you use – the results will speak for themselves.
Your images don't have to move. You can also use good old-fashioned static imagery. Did you know Pinterest is the 14th largest social network in the world? No? You do now.
And do you know what works well on Pinterest? Infographics. If you've created a nice vertical infographic to embed in your blog copy, why not make it work even harder for you and share it with a link back to your blog?
Infographics work well because they give people the most important information quickly. Images can help people grasp concepts, and since 65% of people are visual learners, they're incredibly important if you want people to remember what you're telling them.
Make your content 'curatable'
It's a bit of an old-school tip, but making sure your content is available on bookmarking tools (e.g. StumbleUpon, now known as Mix.com), content aggregators like Flipboard, RSS feed libraries like Feedly, and hand-picked content curation services like Quuu are a really easy way to get passive traffic and reach a new audience.
People use these apps for content curation, which means they want to share your content on social media – for free! They are goldmines for people who need interesting stuff to share with their audience, and making sure your stuff is on there means more distribution for you. All you have to do is submit your URLs, or make sure you've linked your desired platform up to your RSS feed, and then keep an eye on Google Analytics as more referrals roll in. Making sure your content appears on these tools doesn't take much time, either, so it's worth doing.
You can ensure real Quuu subscribers are sharing your content by signing up for Quuu Promote.
Quuu Promote
Quuu Promote is a tool that can get your content shared hundreds of times across social media.
Our tool gives you instant access to over 600 specialist categories, and access to real people that have signed up to receive promoted content. If they like your content, we make it super easy for them to share on their own social media profile.
Once you sign up (prices start at $75 a month), all you have to do is add your blog's RSS feed. Quuu Promote will automatically pull in your latest content, which will be reviewed to make sure it meets our guidelines. Once that's done, it's sent out t Quuu users that are following that category.
So far, Quuu Promote has been responsible for 50 million shares across social media.
Paid promotion
You knew it would make an appearance here, didn't you? So far, all the other options I've discussed have been free (aside from some tools), so it's understandable if you're not too enthusiastic about paying to promote your blog.
Paid promotion can take place almost anywhere on the internet, so you can place your adverts wherever you think they'll perform the best. In the case of blog promotion, Google search ads are one of the better options.
You've probably seen them and clicked on them without realizing they're ads. They look just like a normal Google search result, which is handy if you don't want your promotion to look too much like an advert.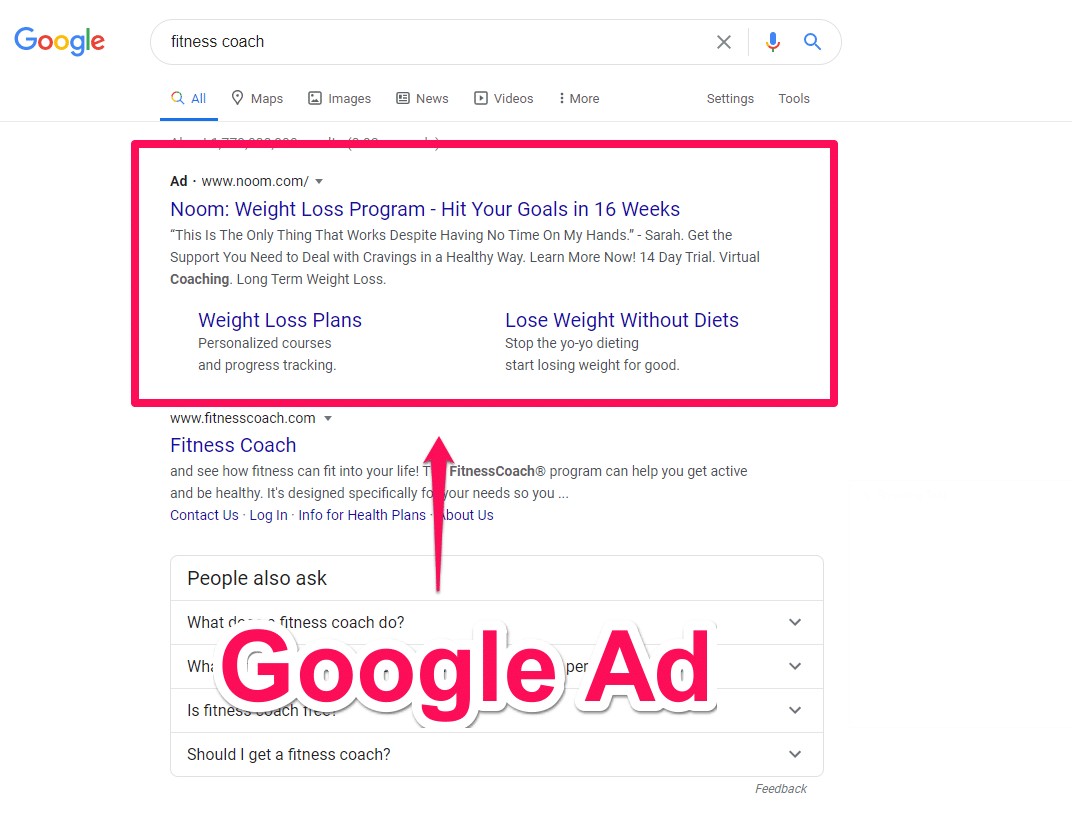 With Google search ads you can choose the keyphrase you want to target. And you should already know that from your keyword research earlier.
You can also pay for ads across social media. And in 2022 social media ads can take on many forms, from sponsored posts to Instagram stories.
Promoting your blog on specific social media profiles you own, or in niche groups is great, because you know you're putting your content in front of people who want to see it. But there's still a huge number of people who might not have heard of your brand and could be interested.
As always, you need to know (and you already do) which social media platform is the most popular with your target audience. From there, you can target your social ads at users already engaged with certain brands or topics online.
Maybe you want to target users that are already following a competitor, or have visited your brand's page but not followed it. All these things are possible with paid promotion on social media.
Email marketing
You've probably got a large number of email subscribers. But how often do you let them know about your latest blog post? They're the perfect audience because they specifically gave you their details so they could hear more about your brand.
Email marketing technology is incredibly clever now, and it can tell you information such as when somebody last visited your site or when they last opened an email.
You can use stats like these to promote your blogs. If your email software is telling you many users didn't open your last email, why not hit them up with an email campaign letting them know what they missed on your latest blog post?
There are endless ways you can personalize your email marketing, so look at your email analytics and find ways to engage with your users while promoting your content.
Email signature
This is a neat little trick. How many emails do you send every day? The average office worker sends over 40 per day. It's not a huge number, but each email is a chance to promote your blog.
Email signature tools like Wisestamp make linking to your latest blog post in your email signature simple. You must add your blog's RSS feed URL when you create your smart email signature.
After that, your emails will always end with a link to your latest blog.
To wrap up
There's a lot of content on the internet, and more is published every second. That means getting your blog in front of more people will only get tougher, regardless of how good it is. And that's why blog promotion is so important.
You can create the greatest blog possible. I don't doubt your capabilities. But if it doesn't feature top-level SEO optimization, and you don't put effort into your promotion, it's really going to struggle to impact the increasingly populated internet.
It's true that some of these tips will mean not everyone finds your content appealing. Standing out inevitably means some people won't like your blog. But try to appeal to everyone, and you target no one. And if there's one lesson you should take into 2023, it's that effective blog promotion in this intensely competitive landscape means not being everybody's cup of tea.
All the tools, tactics, and platforms mentioned above are great ways to ensure your voice is heard by the people who want and need to hear it the most. You don't have to use everything suggested in this article. It's probably better if you don't. But using a few of the options and using them well will undoubtedly result in more visitors to your blog, new leads, and new customers.
Have you been using a particular method to promote your blog that works particularly well? Let us know, we're always keen to expand our knowledge!