5 YouTube tips and tricks to help you promote and grow your business

7

min read
Reading Time:
6
minutes
YouTube has huge promotional potential for businesses – as long as you know how to use this popular social network to your advantage and leverage all of the different tools you have at your disposal.
From consistency in posting content to optimising your videos for SEO, you need to plan and execute a well-thought-out strategy to stand out on YouTube.
In this blog post, I'm going to share 5 YouTube tips and tricks to help your promote and grow your business.
Why YouTube?
Video marketing is arguably the most popular form of digital marketing right now, so why not take it one step further and leverage YouTube?
It's actually one of the biggest websites in the world. With over 1 billion users in 88 different countries and with just as much (yes, 1 billion) hours of video watched every day, YouTube's worldwide popularity is undeniable.
Even though all social media platforms work because of their content – and how much time people spend seeing, reading, watching, and listening to this content – there's something different about YouTube. Think about it: you can easily lose yourself watching video after video – especially if you make the mistake of leaving autoplay on!
Users also actively search for content, which is why the YouTube search engine is among the most popular. And from a business perspective, that means potential: a lot of potential.
There's a huge audience waiting; you just need the content and the strategy to reach them. Plus, you can always repurpose your content for other channels to make the most of it.
So, whether you're already using YouTube or thinking of getting started, here are 5 YouTube tips and tricks to help you promote and grow your business:
Create custom thumbnails for your videos
Custom thumbnails help your videos get noticed by attracting people's attention when they're browsing through search results and telling them what your video is about: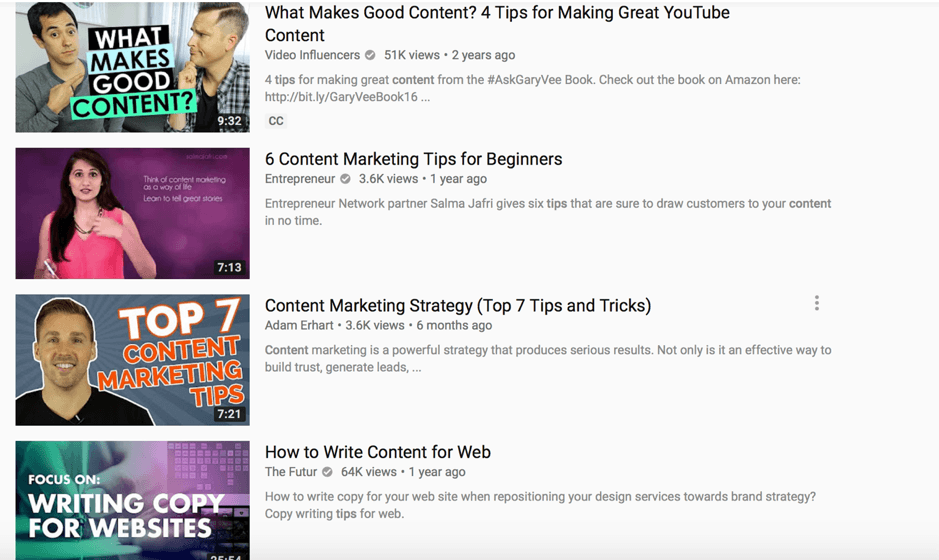 As you can see in the screenshot above, they tend to attract attention through the use of striking colours and large fonts.
Creating your own is very easy and takes minutes. Use a tool like Canva and choose the YouTube Channel art option: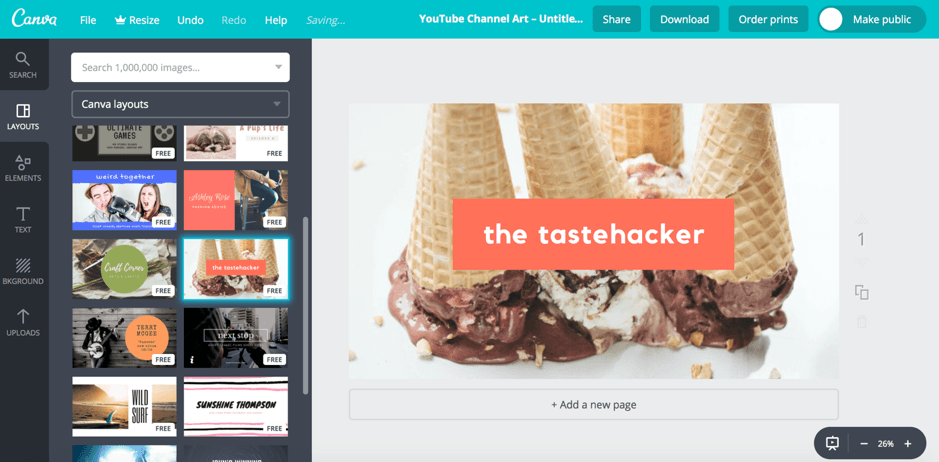 You have access to a large selection of templates (or you can always build your own thumbnail from scratch), which you can then customise with different fonts, colours, and all kinds of design elements. Canva also has a library of free and paid stock images that you can add to your designs; or, better yet, upload your own (something that relates to that video or to your brand/channel).
Add end screens to your videos
Now we've worked out how to grab people's attention initially, end screens are all about getting them to take action after they've seen your video.
These end screens last between 5 and 20 seconds, and they let you promote one of the following:
Your videos or playlists

Your channel, to boost subscribers

A website associated with your channel, or an approved merchandising/crowdfunding website

Another channel, to boost their subscribers
Adding end screens is very easy – just follow the instructions from YouTube here.
To give you some examples of end screens in action, The Tonight Show uses them to promote their videos, their channel, and their app: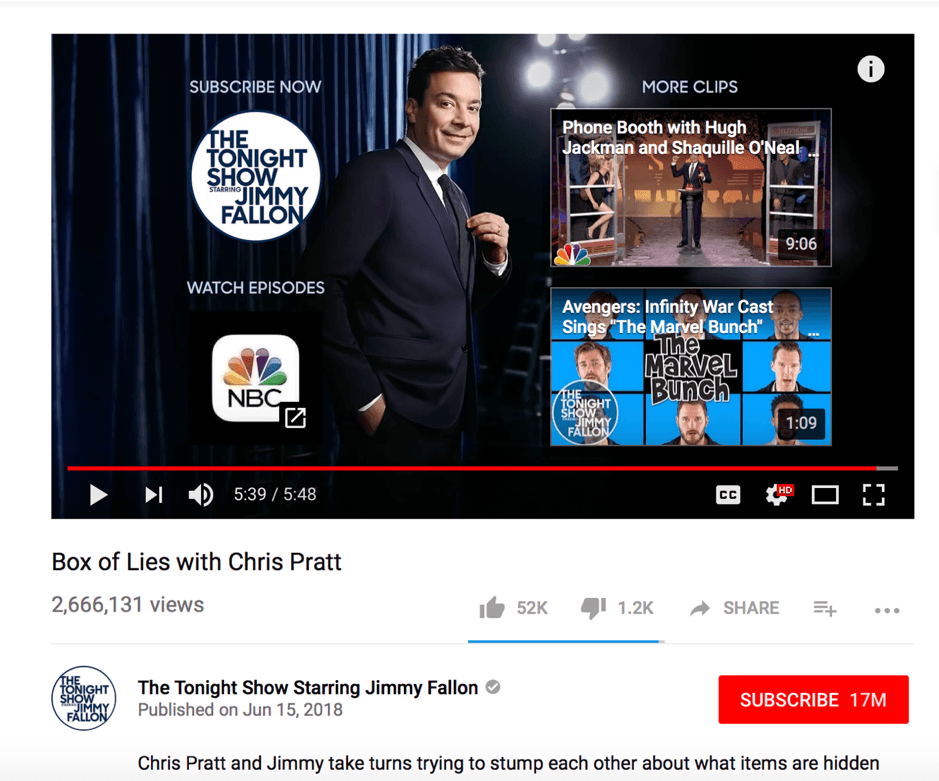 Be social and engaging
If you want to grow your YouTube presence, being social is very important – just like with other social networks.
That means engaging with other users regularly, responding to your video comments, and using monitoring to help you find more opportunities to engage.
However, it can be very time-consuming to manage your YouTube channel without a tool to help. One of the great options for this is Agorapulse, a social media management tool that works with most major social networks.
You can use it to pre-moderate your comments, so you can decide when and what to publish (useful if you get a negative comment about your brand and you want to respond to it before it's published), as well as to manage all of your comments in one place and respond to them: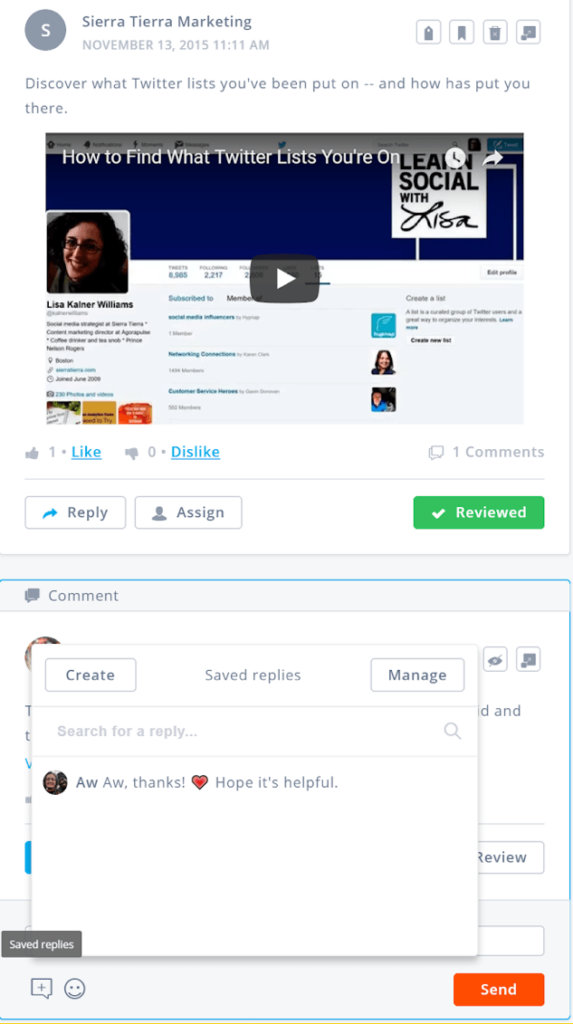 You also have access to YouTube monitoring to help you find any mentions of your brand, as well as team collaboration tools to help you share the workload, and a CRM tool where you can easily access detailed information about the users in your list.  
Optimise your videos with tags and keywords
As I mentioned earlier, YouTube is a very popular search engine, so if you want people to be able to find your videos, then you need to optimise them.
And, like with blog posts, the keywords you use are extremely important. To leverage this, you need to actively and constantly research keywords. Not only should you create content based on these keywords (and the audience interests they represent), but you should also use them in your videos:
In your video headlines, closer to the beginning of the headline

In your video blurb, where you explain what the video is about
These keywords help YouTube understand what your video is about, just like with tags. These, too, are very important, and you should research them regularly to understand viewer interests and make sure you're using the right ones.
Thankfully, there are tools that can help. You can use something like TubeBuddy, which has a pretty impressive selection of video SEO features, among other YouTube tools: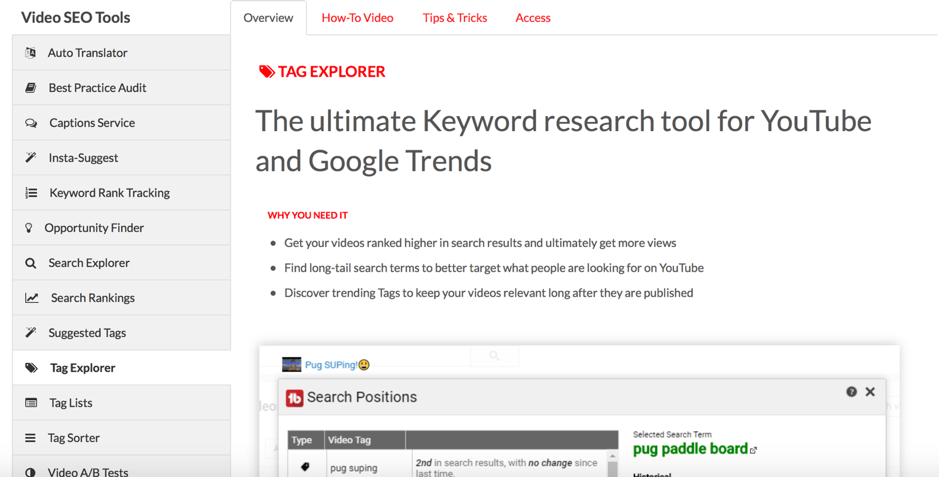 Other elements that contribute to your channel's SEO include: the number of subscribers you have, the number of subscribers immediately after viewing one of your videos, and your video engagement (likes and dislikes, comments, shares). Basically, YouTube uses these signals to determine 2 things about your video: its quality and its relevancy to a particular search.
Use analytics to improve your strategy
One of the best ways to learn and improve your channel and your videos is through analytics. And not just yours, but also your competitors' or other similar channels.
This helps you understand which videos get the most views and engagement, and find out the reasons why they're so popular, as well as which topics to cover, what length your videos should be, which tags you should use, and so on.
After all, the best way to learn is through experience.
Use a tool like BirdSong Analytics. Their YouTube feature allows you to check the analytics of any public channel, so you can get key metrics for any competitor channel (or similar channel) that you want.
And with its help, you can find out some very useful information, including:
Video post analytics, as well as engagement analytics to help you understand what types of posts perform better

Posting frequency

Engagement and views based on video length

Which keywords they use in their titles and descriptions, as well as tags
All of this information helps you optimise your own videos and your channel, based on actual data. For example, you can learn what video length your audience prefers or which tags a very popular channel uses, so you can use some of them on your videos.
Conclusion
YouTube marketing can help you reach a wider audience and boost your results across the board, from more engagement from your fans to more leads generated and sales made.
However, you also need to be consistent to get these results:
Post new videos on a regular basis (create a

content calendar

to help)

Use custom thumbnails to attract people's attention

Add end screens to your videos to promote other videos, your channel, and your website or app

Be social and engage with fans regularly

Optimise your videos and your channel for the YouTube search engine

Use analytics to improve your video strategy
Do you use YouTube to market your business? What are some of your best YouTube marketing tips?
About Lilach:
Highly regarded on the world speaker circuit, Lilach has graced Forbes and Number 10 Downing Street. She's a hugely connected and highly influential entrepreneur. She is listed in Forbes as one of the top 20 women social media power influencers, named one of 10 top digital marketers by Brand24, and was crowned the Social Influencer of Europe by Oracle. She is listed as the number one Influencer in the UK by Career Experts and received a Global Women Champions Award for her outstanding contribution and leadership in business.