4 Types of Content That Can Help with a Better Product Promotion Strategy

9

min read
Reading Time:
7
minutes
If you think that just by developing a product you can increase its sales, you could not be more wrong. Developing a product is only one half of generating sales; the other half is promoting it.
The basic objective of promotional strategies is to trigger and boost sales. It's an important aspect of any business marketing plan. But the secret to a successful promotion strategy for your product is to create various types of content.
Instead of relying on the same method over and over again, you should be playing with different types of content and figuring out which one can give you the maximum results.
Let's take a look at four of the best tried and tested content types that any business can use to create an effective product promotion strategy
1. Leverage Social Media Content
The easiest way to reach and connect with your target audience is through social media. In fact, if you're not leveraging social media content to promote your products, then you are losing out on a lot of opportunities!
Firstly, you must carefully select the social media channel according to where your target audience is – this could be Facebook, Twitter, Instagram, YouTube, etc. These platforms will help you to penetrate that part of your target demographic that may be otherwise difficult to reach.
Social media content is a successful way to build and strengthen your relationships with your prospects. During your promotions, your potential customers can interact with you directly and ask any questions or queries regarding the product. And, by replying to them as soon as possible, you can win their trust.
To start your promotional activity, you could create content for Instagram and Facebook. As of 2017, Instagram has 700 million and Facebook has 2 billion active users monthly.
For example, Wayfair is an online affordable home goods and furniture retailer. They use Instagram to promote their products. They have a huge following on Instagram and they leverage the social platform to the fullest. Their followers can shop for the products using the link in their bio.
This encourages interested consumers and simplifies the process of visiting the website and making a purchase.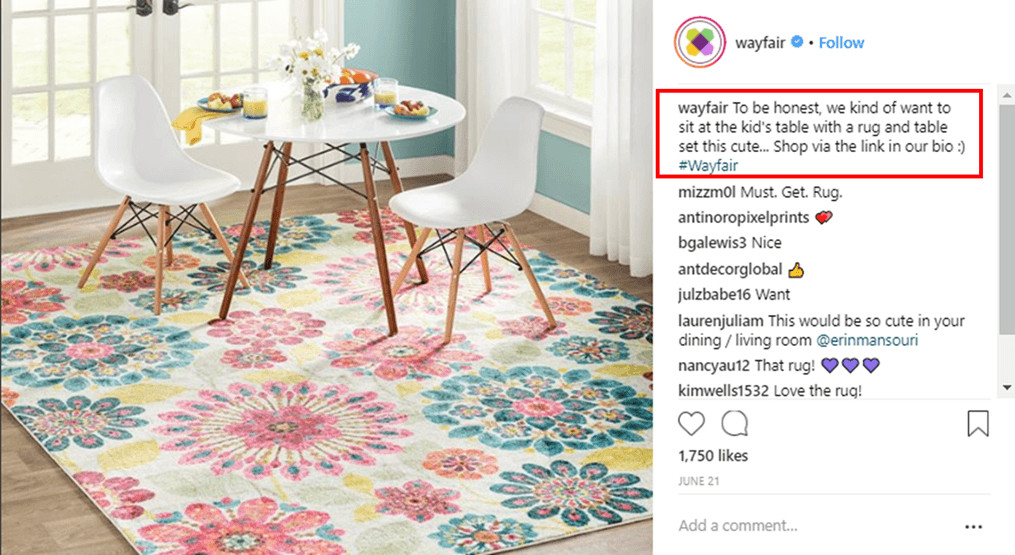 Now, selling on Instagram has become even easier for brands because you can create shoppable posts. This involves tagging the products in your photo, which people can tap on to access more information and get to the product page.
Try not to treat your Instagram feed as a catalogue of photos of your product, though, as this could put followers off – you need to connect with them, not talk at them!
Here are a few tips that will help you create engaging, high-quality content to promote your product on social media:
Consider which type of content will be best for each product. For example, an aesthetically-pleasing product would look great in a photo. But for more functional products, you could consider creating a demo video.




In photos, make sure the product is positioned in a way that looks natural or in a real-life setting, instead of just taking a photo of the product against a white background. Check out Wayfair's composition for the photo above: they have arranged the rug and table set as if it's inside a real home, and have even used props like food and flowers.

For demo videos, showcase the product in use. Help viewers understand what the product does and how they can use it.

Always put a call-to-action in your social media content, so that people know exactly what step they need to take next. Add a caption telling the audience to click on the link, add a comment, etc. (you can also do this at the end of a video).
2. Use Webinars
Many companies use webinars either to promote their product or to showcase their proficiency. According to Content Marketing Institute, nearly 60% of marketers prefer to use webinars to promote their products.
Because webinars are a visual medium, they can instantly grab the attention of your potential customers and retain it for longer. They can digest information much more quickly and easily, compared to written content. That's why a great webinar can effectively encourage your prospects to make a purchase.
When done correctly, webinars don't look pushy or salesy, so they are a great way to increase organic traffic, brand authority, and awareness.
For example, InVision is a popular platform for product or web design. Many famous brands like Adobe, Evernote, Dell, AirBnB, Walmart, Zappos.com, and eBay are their loyal customers.
To strengthen their promotional strategy even further, they conduct webinar events in collaboration with experts in product design.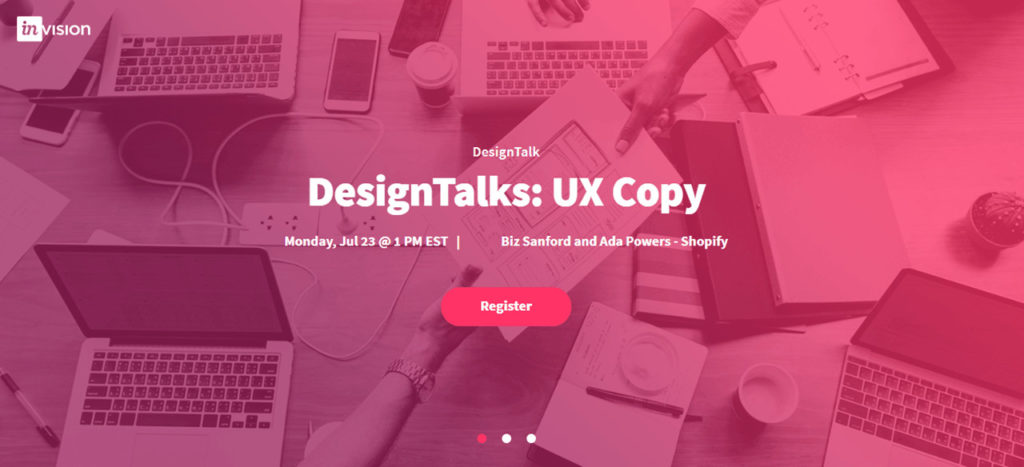 Here are some tips that will help you create webinars to promote your business:
First, think of a topic. What are you an expert in? What do you know that your audience would like to know? If you are a marketing consultant, for example, your webinar topic could be related to the latest marketing trends for small businesses. You get the gist!



Write the script based on this topic. Collect facts, figures, and examples that would make your webinar more intriguing and useful for your audience.



You can use

webinar tools

to create customized webinar rooms, which your audience can join. These tools will let you present your topic in a video. Some even let you display content as you speak and showcase your documents in the form of slides.



After each webinar, get your audience to participate in polls and surveys so you can collect their feedback. Based on their feedback, you can make improvements to your future webinar content.
3. Create Videos and Visuals
Attractive and engaging visuals will have a big impact on the minds of prospects, attracting potential customers to your product. 37% of marketers use visuals to promote their businesses.
One of the most popular forms of visuals is an infographic. You can create an infographic explaining your product or showcasing some social proof.
Did you know that infographics are liked and shared three times more than other forms of visuals on social platforms? So it's no wonder they are a super effective medium to promote your product.
Here are a few tips that will help you create infographics and visuals to use in your promotional strategy:
Pick a topic to create your visual about. It could be about the different uses or benefits of a certain product or how to use it. This could work as an infographic. You could also create visuals about your latest promotions, events, and offers.



Keep copy short and to the point, while getting the idea across effectively.



Look for the right platform to create your visuals on.

Piktochart

and

Canva

are some excellent options. You can choose from several existing templates and then customize them according to your needs.
You can also leverage the power of videos. Try creating videos on the benefits of the product or a guide on how to use the product.
You could set up a YouTube channel, where you can upload educational and useful videos. Did you know every day nearly 30 million users visit YouTube? And it has 1.3 billion active users? So don't forget to include YouTube in your product promotion strategy!
For example, Maybelline New York is a very famous and popular makeup and beauty brand, sold worldwide. They have nearly 230K subscribers alone on their YouTube channel. They create a number of interesting videos on their makeup products and talk about makeup trends and tutorials.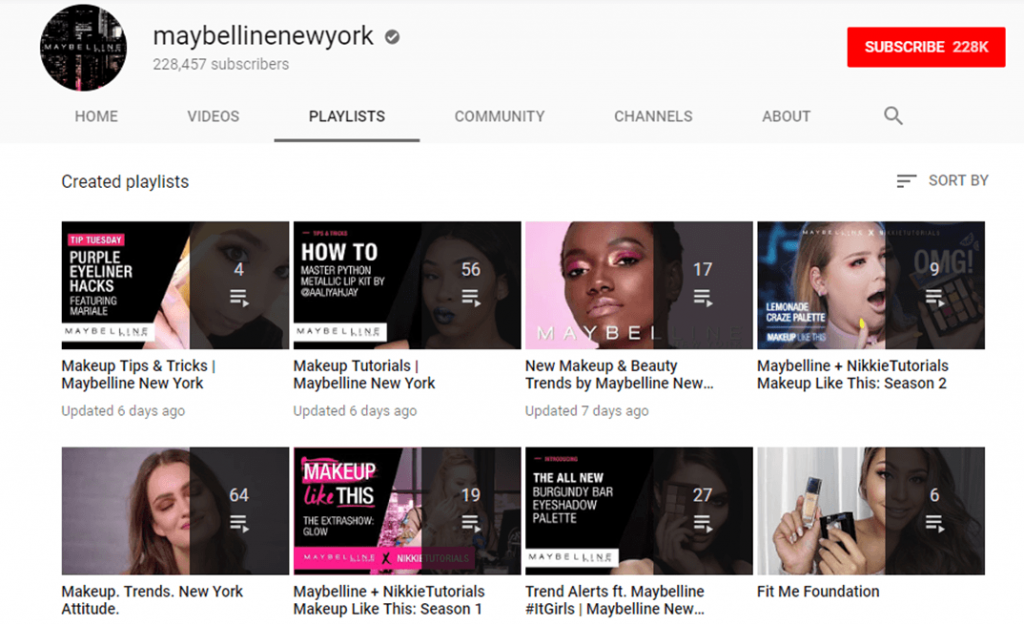 Check out the following tips to create enticing product promotion videos:
Consider the kind of video that would be best to promote the product. Maybe a tutorial video to help your audience learn how to use the product. Or perhaps a video that showcases the product in use would entice your audience to buy the product.



Come up with a direction and storyline for the video. Do you need to write a script? Or will you need some text to include in the video?



4. Guest Posts
Last but not least, guest posts are one the most cost-effective and impactful content types to promote your product. These guest posts can help your increase awareness and tap into new markets, expanding your business.
One of the major benefits of guest posts is that they can help you improve your SEO. All you need to do is find a high authority domain from your niche and request that they publish your guest post. This will positively increase your product's visibility and your chances of converting visitors into customers.
Another benefit of using guest posts is that they can boost organic traffic to your website. Don't worry if you have a tight budget or minimal resources to spend; you can always allocate some time to write a guest post and then have it published on a high authority site at no extra cost.
Guest posts have long-term benefits. When you publish your post on a high authority website, the reputation of your product/brand also gets a boost. And you know a good reputation can take you a long way!
Here are a few tips that will help you get started with guest posting for product promotion:
Conduct a Google search for websites that accept guest posts. Use this keyword combination – "relevant industry/topic" + "submit guest post" or "write for us." For example, "web design write for us" will show you a list of websites that accept guest posts related to web design.
But you shouldn't submit a guest post to just any website. Make sure the website has high authority, which is also a sign that it is reputable and has plenty of visitors. Use the

Domain Authority Checker

to check the DA of potential websites you want to write for.



Once you have a list of high authority relevant sites, review their submission guidelines and see if they accept unsolicited submissions or they require a pitch.



Go through previous content they have published. Based on this, you can come up with ideas for your guest post. But make sure you choose a topic that will allow you to naturally infuse your product into the writing.



If the website requires a pitch, make sure you have an outline in place before you submit your pitch. Have a clear idea of what you want to write and the points you're going to cover.
What Next?
You have learned about the most useful, effective, and impactful content types for product promotion strategies. Although you don't need to create all of these content types, you may want to experiment with each one to see how well it works for you.
Do you know any other content types that can be used as part of a product promotion strategy? If so, then let us know in the comment section.