3 Dos and Don'ts to Follow in B2B Content Marketing

7

min read
Reading Time:
6
minutes
The B2B industry is moving at lightning speed, with marketers struggling to keep pace. Many companies produce content to build their businesses. However, a majority of B2B marketers (53%) in a Content Marketing Institute study said that their content marketing approach is only moderately successful.
Once you choose to integrate inbound marketing into your brand, your company transforms into a publisher. You have the ability to engage present clients and attract prospects by sharing information, tips, and news relating to your business. However, before you jump the gun and start publishing any content, consider these dos and don'ts to help you nail your strategy.
Do Understand Your Target Audience

Create content while keeping your target audience in mind. Failing to do so can turn customers and prospects away from your products or services. A lot of marketers use their content in a B2B scenario to demonstrate their "thought leadership" and expertise in their niche, but a show of vast individual knowledge isn't going to make customers interested in you. Therefore, the key is to focus on producing posts that your current and target customers will want and appreciate.
Neil Patel
, for instance, doesn't blatantly create content talking about what he can do. He creates content that will help readers with their online marketing efforts, indirectly establishing his expertise in the process.
The underlying premise is that you need to understand your audience to achieve this. Doing so will increase the efficacy of your content in the long run. Direct the message at the reader. For instance, if you have a buyer persona, use that data to guide the content you create. The audience should dictate your tone, images, and other content. Knowing your audience will help you develop and market your content better.
Don't Personalize the Content Excessively

There is a school of thought that content should be personalized to suit every stakeholder. This is, however, a strategy that could easily backfire, especially when multiple B2B professionals have a say in purchasing decisions.
Trying to personalize content for each of these stakeholders can have an adverse effect on your content quality. This is because different people will have varying priorities and perspectives. So there will be an indecisiveness about which option to choose.
This can, in turn, result in them going for a lower-priced solution, rather than what would be the optimal solution for their business. An effective B2B content marketing strategy, therefore, should focus on a broad vision and offer collective solutions to point clients and prospects in the right direction.
Do Measure and Analyze Customer Data
Like I mentioned before, it's important that you understand your audience and what they expect from you. To do that, you need to collect as much customer data as you can, be it via surveys, tracking site visitors, or other means.
One way to go about doing this is to use analytics tools like Google Analytics. Bear in mind, though, that while these tools may help you pick up on general trends, they won't provide you with the kind of granular data that drives impactful insights.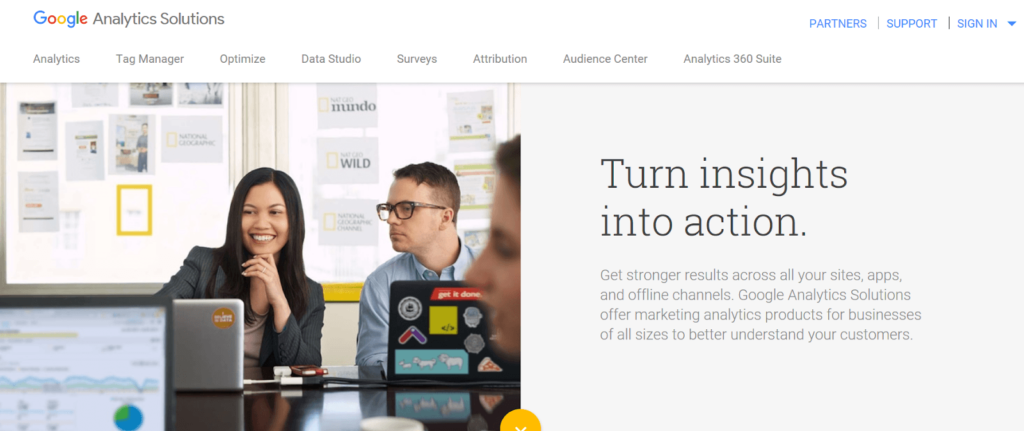 Image via Google Analytics
FoxMetrics
is another great tool you can use. Rather than focus on the pages viewed by site visitors, it concentrates on the actions they take on those pages. You should look at it as a tool to complement Google Analytics and not as an alternative.
If you're looking for something that does more than that, you can use specialized tools like Leadfeeder, for example. Leadfeeder allows you to track site traffic on a per-visitor basis, and to sync that data with your Google Analytics, MailChimp and CRM records. This makes it far easier to identify meaningful consumer insights and patterns.
It gives you detailed information about the companies who have visited your website, including their geo-locations, industries, numbers of employees, and the pages they visited. You can even filter these leads with different parameters to suit your needs, or sort the list of prospects according to their quality so that your sales team can proactively reach out to the most engaged and qualified leads.
Image via Leadfeeder
By knowing what your consumers expect from you, you'll be able to produce content that caters to their needs. Not only that, it will go a long way to convert prospects and visitors into loyal customers.
Don't Neglect the Promotional Aspect

Obviously, it's not enough to simply create relevant, high-quality content. To grow your audience, boost your impact, and consequently grow your business, you need to focus on content distribution and promotion as well.
It's equally crucial to engage your audience – devote time to responding to their comments. A unidirectional communication channel, despite the great content, will do your B2B company no good. Prospects may seek out other businesses to get the interaction they desire.
You can leverage platforms like Medium or Quuu to promote your content to relevant audiences. Simply publish or share your content on them to amplify your social reach. Moreover, content promotion solutions like these help streamline and organize your efforts as well.
Take to social media to market your content and interact with customers. Leveraging platforms like Facebook, Twitter, and Instagram will help you deliver content directly to people you're looking for in a cost-effective fashion. But make sure you always add a relevant call-to-action to let your audience know exactly what you want them to do.
Do Be Professional with a Touch of Emotion

While the goal of producing content is to help capture and maintain customers' attention it's critical that you don't go overboard. Often, content marketers opt for a heavy use of gimmicks to grab eyeballs. This can sometimes cheapen your B2B brand and distract the audience instead. Also, you shouldn't try to deceive readers by painting broad strokes, puffing yourself up, or being too sales pitchy.
Image via Hinge Marketing
Content needs to be thought-provoking and meaningful. Try to ensure your content isn't dry by incorporating an emotional and relatable message. Use humor or emotion so that your audience can connect with your brand on a deeper level.
Be wary that you're not pushing boring and heavily promotional messages, or you'll alienate your audience. Remember, the aim is to tell a story that resonates with people and entices them to act.
Don't Be Afraid to Explore

There are two things to look at here. Firstly, the type of content you produce and market. It's ok to experiment with the nature of the content you put out.
Coca-Cola, for example, uses a 70/20/10 concept. 70% of your content should be low risk and generic. 20% should be advisory content not unlike this article. And the remaining 10% should be high risk, bold content that could swing either way.
Image via Conversant
Secondly, explore various formats of content. Don't just stick to blog posts and articles. Try other types of content such as infographics, videos, and podcasts as well. Different people have different preferences for the content they like to consume.
Be bold and creative with the type of content and its format to get the most out of it. In an intensely competitive B2B environment, it's challenging to distinguish yourself from others. So opt to be a pioneer and explore various forms of media alongside the content material you market.
If you check out the Evergage blog, you'll see different content formats such as infographics, list posts, etc. Switching up your content format can help you engage different types of people.
Conclusion
It's clear that for any B2B content marketing program to be successful, your strategy must be fine-tuned. It's not just about creating an automated funnel to grow your business. It's about adding knowledgeable insights, creating opportunities, and encouraging customers to purchase your product or service.
Got any more ideas to add to the list? Let us know in the comments.